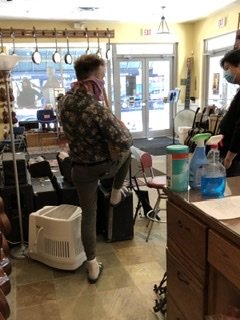 The shop is open by appointment with limited access but we are prepared to help out every customer wants to take a look at a guitar. Every precaution is being taken to prevent the spread of the virus. You can schedule an appointment online or call our store at any time between 11 and six Monday through Saturday.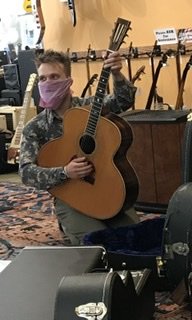 The monster is back! Yes Ryan is back managing things and the big smile underneath that mask. He bought back this Lyon and Healy "Monster" guitar!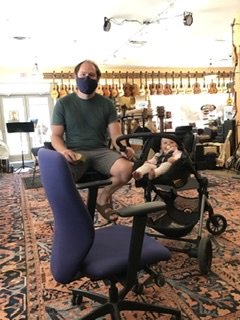 Greg Fair was one of our first employees....but before was an employee he was a customer. While in college he bought one of our first, Eastman Artist Model mandolins that still sounds great this day. Greg is now on to bigger and better things as you can see and we got to meet his daughter!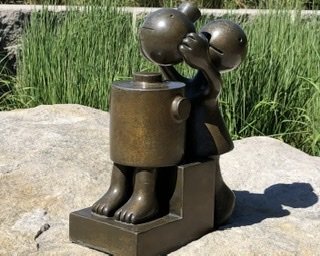 Public art at the Memorial Art Gallery.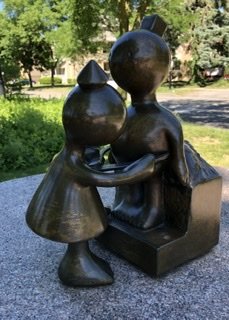 NEWSLETTER Life crisis, panic and the benefits of a pandemic in modern times.
June 15th, 2020
Hello Folks,
First of all I would like to thank everyone for your concerns and greetings while I've been recuperating from back surgery. The most thanks goes to my dear wife, Julie, who has patiently been my caregiver. The surgery was successful but it's going to be a long road to healing. They removed many bone spurs that were pressing on nerves and making it painful to walk just three steps. The pain is now gone and I am so grateful, but the rehabilitation is going to be lengthy. I am still using my little mobility cart a bit and took a ride back from the store on Saturday. Along the way home I took a few pictures of Rochester's great public art. I hope you enjoy them. This is the same artist, Tom Otterness whose sculptures I have photographed in the past at the Scheveningen Beach in the Netherlands. It's so nice to see the same whimsical artwork in my hometown. Today, I am down at Keuka Lake with my fishing pole enjoying the blue waters of the Finger Lakes region. The plan is to spend a good part of the summer recuperating here.
Life crisis, panic and the benefits of a pandemic in modern times.
I'd like to make a few comments and observations about the state of the virus, leadership and a path forward. Obviously this is one of great historic events in our lifetime, comparable to wars, presidential assassinations and great natural catastrophes. Now I'm not trying to be an armchair quarterback here, but I think from the onset the messages from our leaders should have been direct, factual and unifying relaying information as it became available based on scientific findings and empirical facts.
The leadership was also lacking on the "soft side" of things....emotions have been running amok. People panicked very early on....especially young people. It got me to thinking that many of these people had never experienced a true life crisis and reactions varied from individual to individual and from family to family and from community to community, but panic seemed to be more the rule that the exception. What I wish we had gotten from our leadership is a calming voice that said "during this lockdown we are going to get to know each other better and get to know ourselves better. We are going to help our neighbors when we can; we're going to watch out for each other, but most of all we should spend time with creative activities." In this sense art and music are the counterbalance to science and both sides of that equation are needed to battle this pandemic.... especially when you add in the modern miracle of the Internet and our interconnectivity through cyberspace. With time on our side what creative opportunities are available to reassess our lives, to reassess our direction and to help us understand our neighbors in a truly kinder way.
Perhaps this is the impetus behind some of the protests that we are seeing around the country. People have had time to think and people are reacting with strong emotions. Our leaders need to give us the facts and assure us the things will be OK and that we need to use this special time to come out on the other side as a better civilization. It may be only words but we need a powerful message.
Now I am saying all of this because I feel personally, that Julie and I failed in leadership from the beginning for the young people at our store. We needed to instill a sense of calm and I didn't but I also needed to tell those creative young stars that things will be OK if they use their creativity to do things in a whole new way. It is taking us a while but I think we are at that point where our store will transform to something even greater because AND in spite of this pandemic.
Sincerely,

John Bernunzio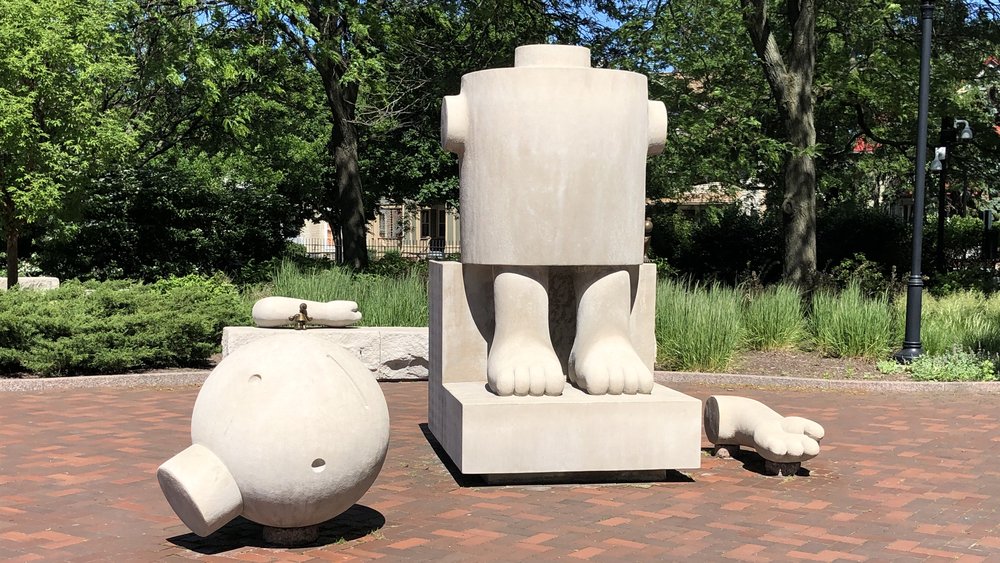 Public Art Memorial Art Gallery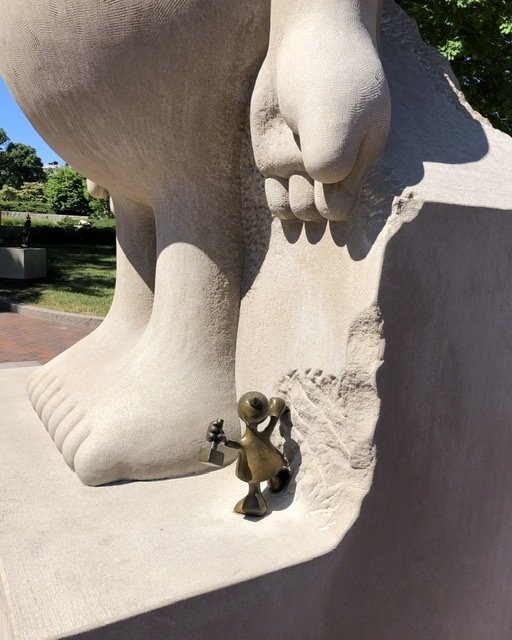 Public Art Memorial Art Gallery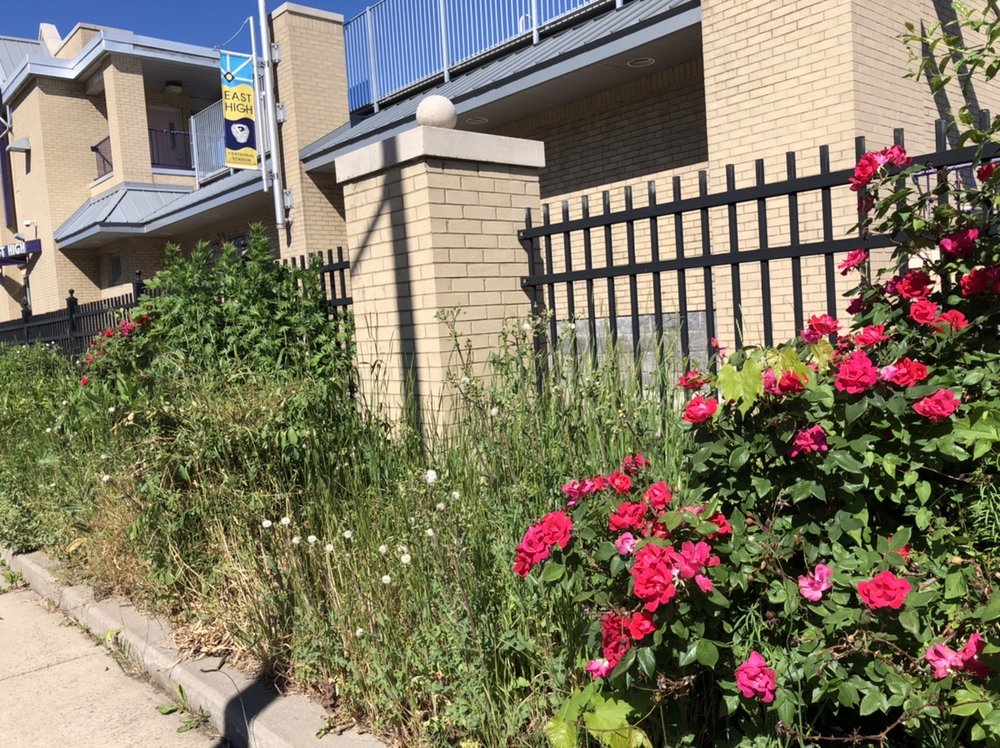 Just a mile away from the beautiful public art of the Memorial Art Gallery lies this deteriorated garden surrounding Rochester's premier high school "East High". These gardens have not been been maintained for years. East's reputation as the school has deteriorated to the point where in recent times the University of Rochester, our esteemed beacon of higher learning has taken over the management of the school. I will tell you one thing, if you ever drive through the campus of the University of Rochester you will see a meticulously maintained Gardens and lawns that the students paying $60,000 here for tuition can be proud of. I am sure that the university is going to claim that the city must take care of the gardens or that the school district must maintain the property, but I will tell you that the community around University of Rochester would never ever tolerate this kind of disgrace in their neighborhood. That in my mind is an example of systemic racism. This neighborhood deserves better!