Nov. 27, 2023 - WELCOME TO THE HOLIDAYS AND A PITCH FOR BERNUNZIO UPTOWN MUSIC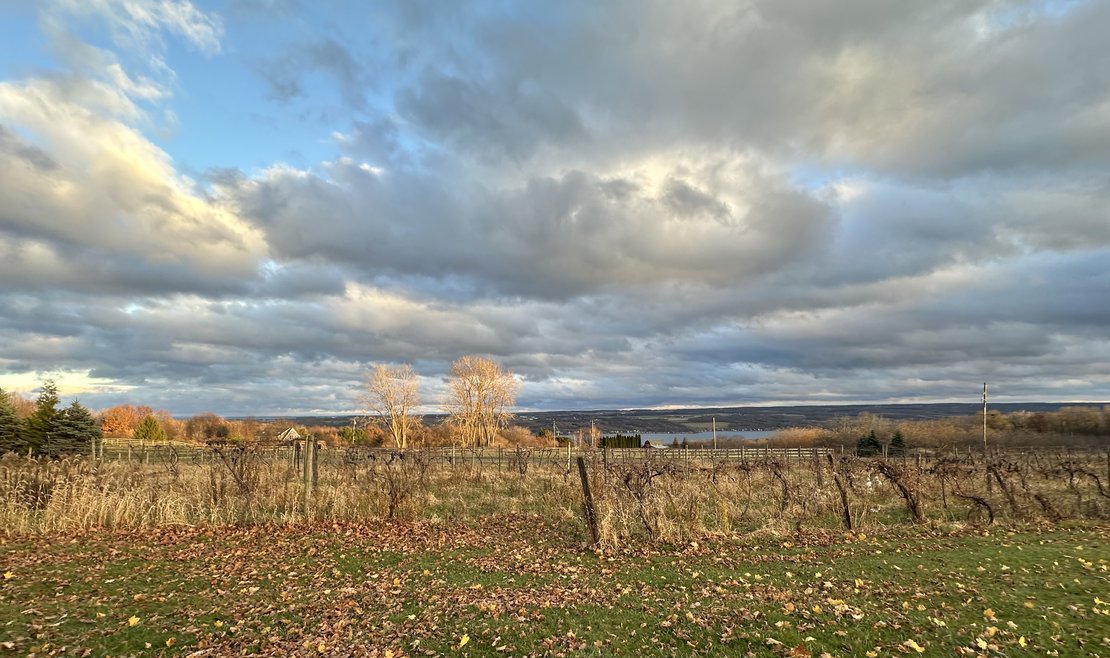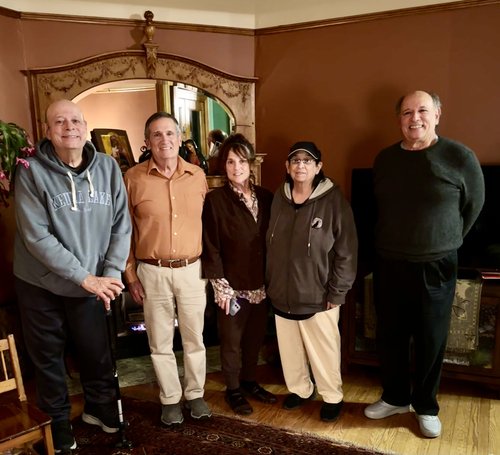 From left to right, myself, my brother Pat, my sister Liz, my sister Mary, and my brother Tom.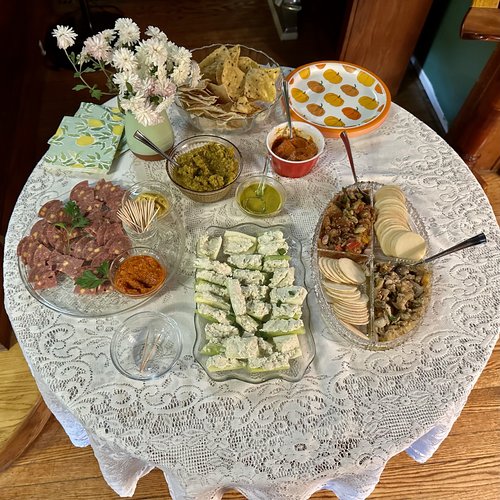 I was in charge of the appetizer table and I led off with Gorgonzola, stuffed celery and lots of eggplant dishes, homemade salsa verde and some venison summer sausage with "Ajvar" sauce.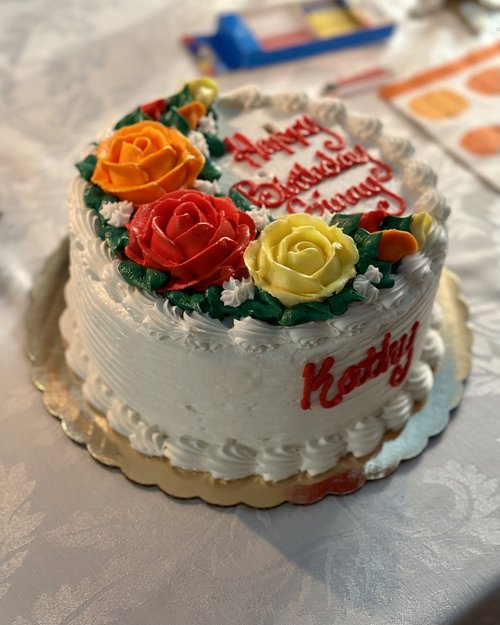 My sister-in-law Ginny's birthday is today and my sister-in-law Kathy's birthday is on December 4th so on Thanksgiving my brother Pat brought a lovely signature cake from his "Leo's Bakery and Cafe". We wish these fine women the happiest of birthdays!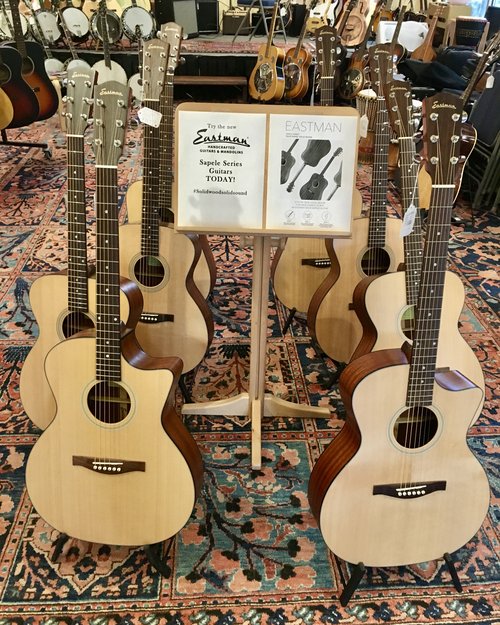 In an unprecedented move, the Eastman Company has allowed us to sell their new instruments at less than the MAP (minimum advertised price) BUT this deal ends at midnight tonight. If you have considering and "Eastman" instrument, shop the website or give us a call TODAY for an incredible price.
WELCOME TO THE HOLIDAYS AND A PITCH FOR BERNUNZIO UPTOWN MUSIC
November 27th, 2023
Hello Folks,
I trust that everyone had a fine Thanksgiving, and are well fed, well rested and ready to begin the holiday season. For the first time ever, we celebrated the holiday with my brothers and sisters at our home in Penn Yan. The only one who is not able to attend was my youngest brother Sam who had to work. He is a nurse. Also, in attendance were my daughters, Rose and Grace and several friends rounding out a party of about 25 people. Everyone brought something to pass and Julie had the entire celebration down like clockwork! It was a great feast, and we look forward to having family down again…perhaps at Christmas. The best compliment paid to me was from my brother-in-law, Mike. As he was leaving, he turned around and looked at me and said, "John, this was just like Thanksgiving at your mother and father's house".
Today begins the biggest and most important sale we have ever had. Sam Snyder, our manager, and his merry pranksters have lowered the prices of over 250 instruments that we would rather sell than have to count inventory this January. Additionally, Julie and I have been mulling over what to do with our business, the store and the building that we own. We have been commuting back-and-forth from Penn Yan for a couple of years. Although it is a beautiful drive, it takes an hour each way and it's getting a little bit tiring. We treasure our time at the store, seeing friends and spending time around the instruments, but we are always challenging ourselves to reinvent who we are. This is a key year coming up for us and we will make a decision whether we will keep the store on East Avenue open or we will make other arrangements. Much depends on how many instruments we are able to sell this month. Please visit our website to view everything that is on sale. That said, we still have been acquiring great vintage instruments at an amazing rate. In addition to trying to put all of the things on sale, Sam is also been working on cataloging things like an original 1939 Gibson Recording King Ray Whitley, a Weisenborn prototype thin square neck Hawaiian guitar, a Bonefaas banjo, a few older Martin guitars and Gibson mandolins….yes, and of course a plethora of vintage banjos. So, share this with folks you know, and help us out.
Best Regards,
John Bernunzio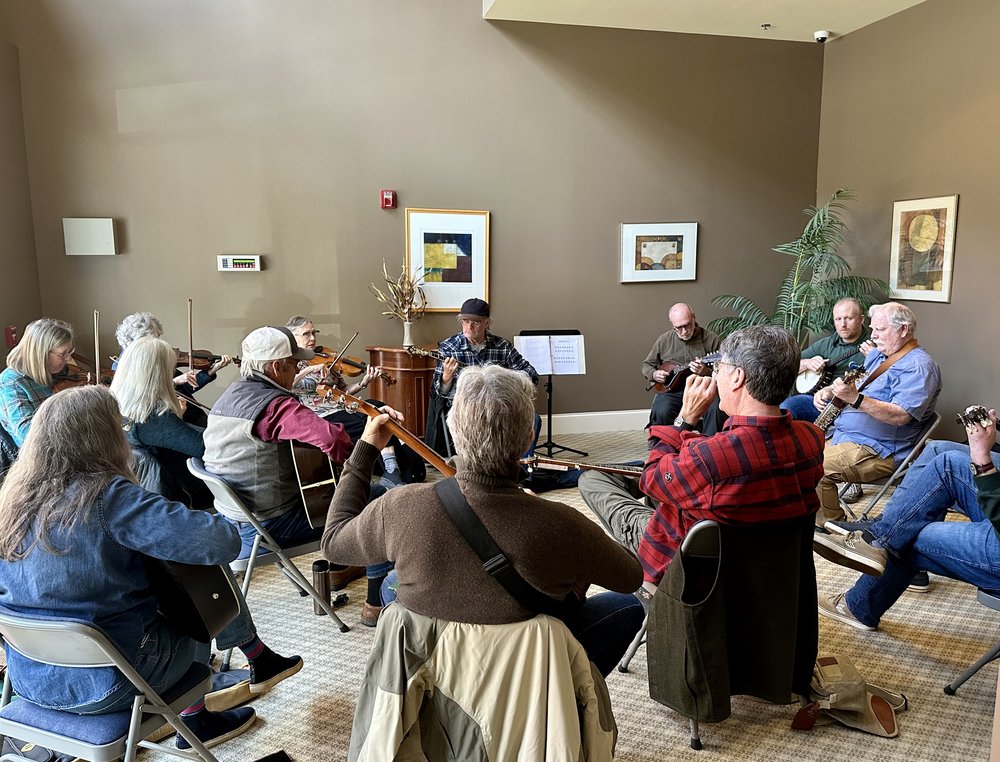 Our Saturday "Old Time" jam under the gentle direction of Dan Palmer has become quite a popular event with over 20 people in attendance this past Saturday.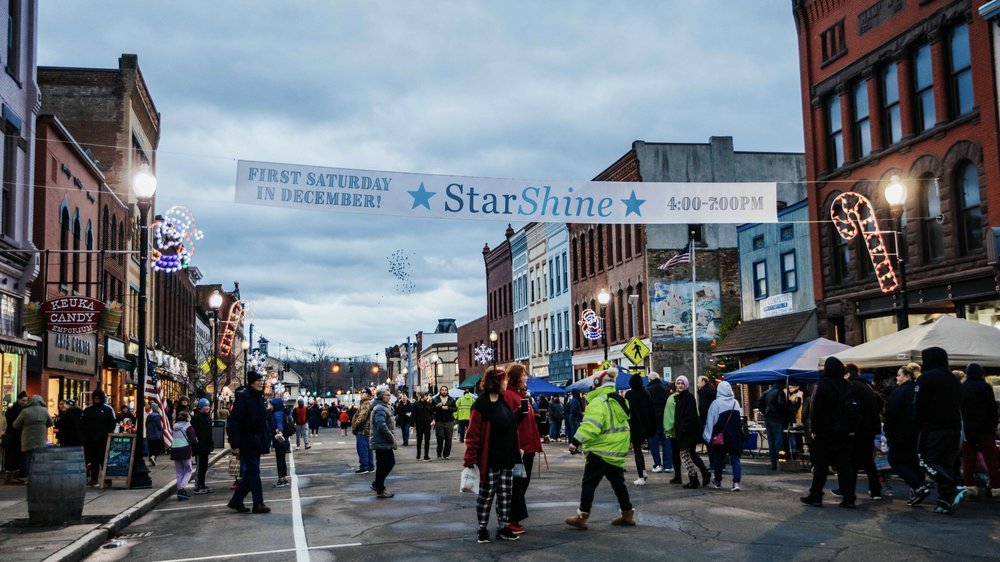 This coming Saturday is StarShine.
"The Village of Penn Yan comes to life each winter where local and visitors gather and celebrate "StarShine, Christmas in the Village". This popular event started over three decades ago and has grown to become one of the most popular community Christmas celebrations in the Finger Lakes.
The evening hosts a variety of music, entertainment, colorful lights, treats, historic displays, an elf school, special sales, the arrival of Santa, and the crowning of Miss Penn Yan. The Chamber works with the Village of Penn Yan, Keuka College, multiple organizations, and gracious volunteers around the County to bring a memorable Christmas event great for all ages. "
Julie and I are having an open house. If you'd like to stop by and say hello our address is 331 Main St. We will have refreshments and libations …we would love to see you.