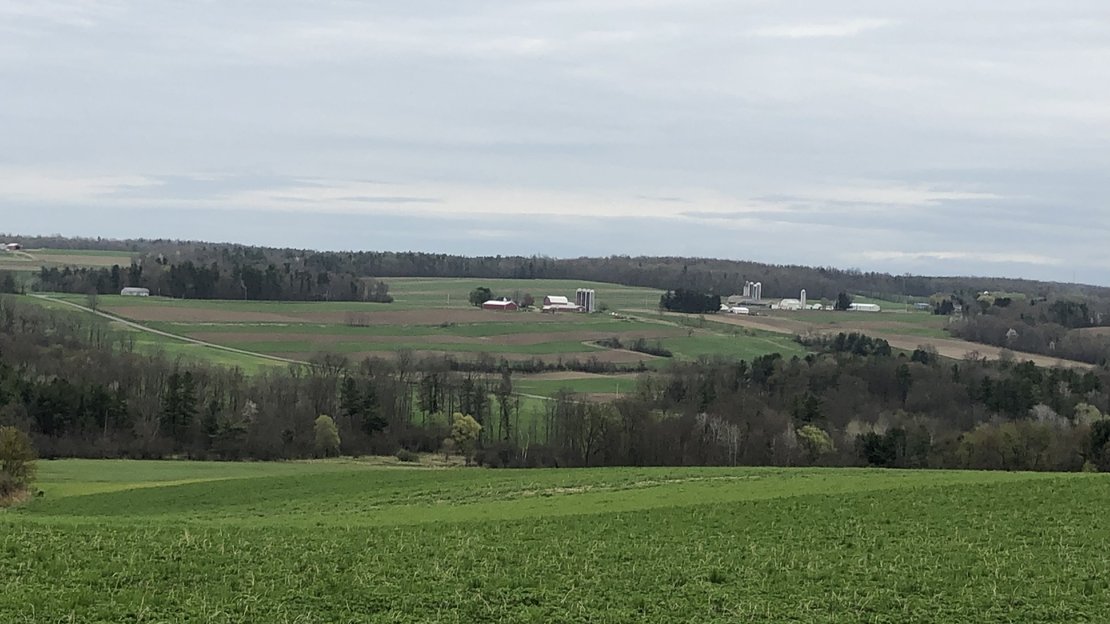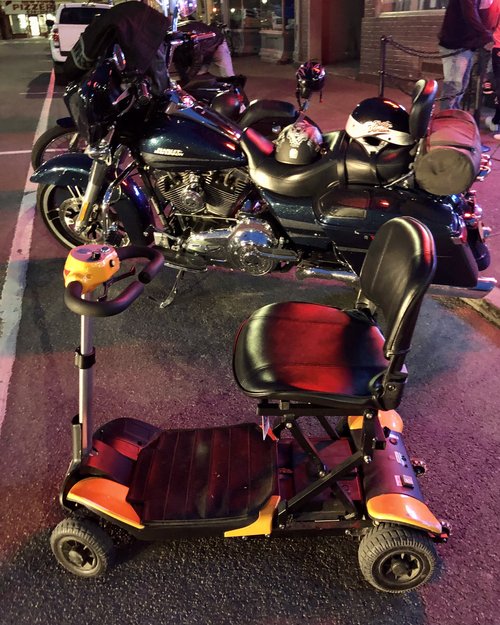 So on Wednesday night Grace and Julie and I went out on the town in Penn Yan. We had a cocktail at the Burnt Rose wine bar and then decided to go around the corner to see what the "other side of town" had to offer. We had passed "The Tavern" many times over the years, but we had never stopped. It's on the main drag going into Penn Yan, and there's always a crew of big motorcycles parked outside. I figured that was the best spot for me to park my mobility scooter!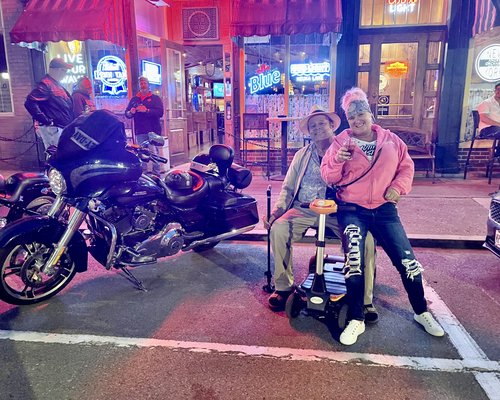 To the surprise of all the "Harley' guys standing outside in leather jackets, smoking cigarettes, this lovely young lady in pink popped out of the group asked if she could ride on my bike. I told her there wasn't much room for the two of us but she settled on sitting on my lap and having her picture taken. I'm a hero again!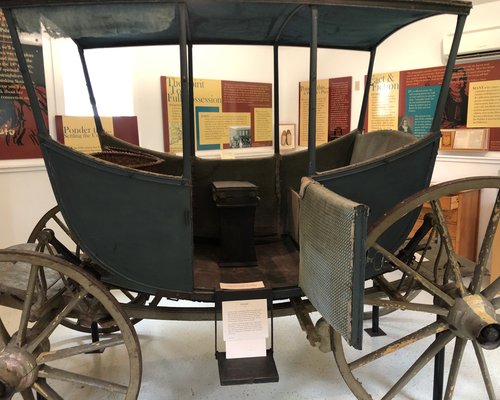 I finally made a visit to the Yates County Museum to see the special exhibit on Jemima Wilkinson, the Universal Friend. This was the carriage that "The Friend" would ride in to Philadelphia.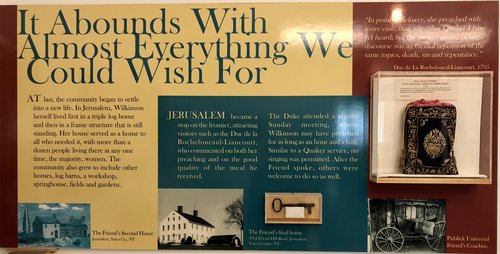 With many artifacts telling about "the Universal Friend" and their settlement in Jerusalem Yates County, this small exhibit is definitely worth the stop.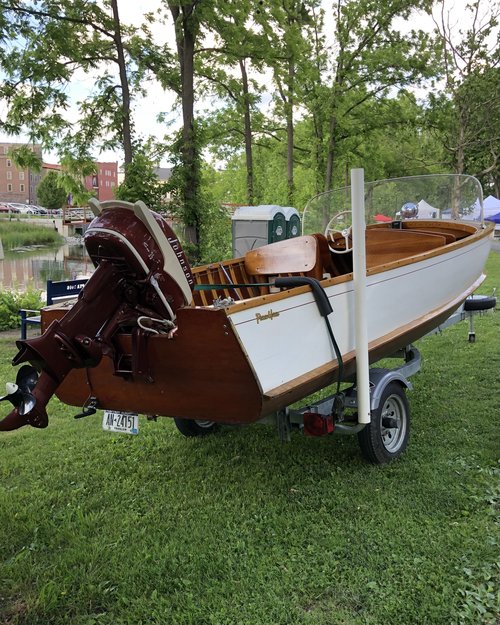 The Keuka Lake Arts Festival was setting up this weekend on the Outlet Trail. Julie and I did not have the opportunity to attend as we were in Rochester for birthday celebrations all weekend. I got a chance to roll around and see the set up on Friday night. There was this beautiful old, wooden Penn Yan boat parked in the beginning of the exhibit. Penn Yan boats were manufactured from 1921-2001.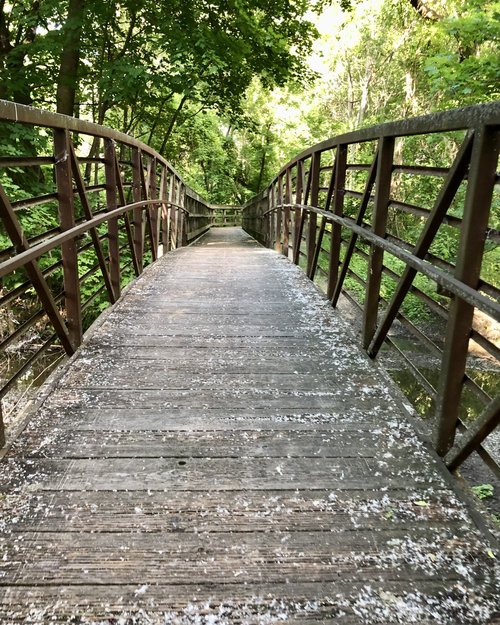 Zooming along the Outlet Trail across this wooden bridge to the baseball fields for Penn Yan Little League…just in time for…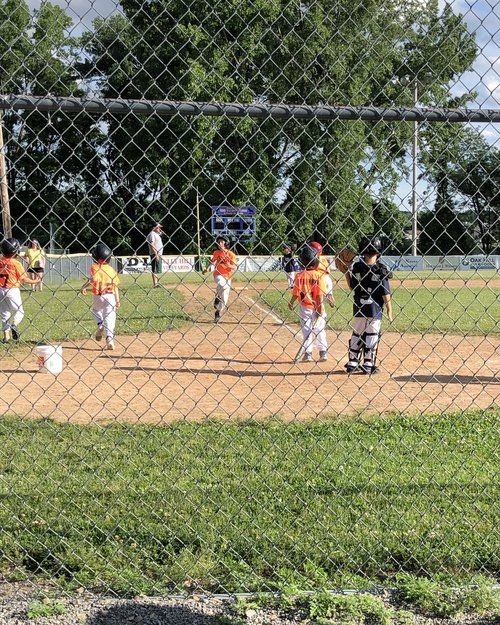 ….this kid's GRAND SLAM!!! Oh, the joy! Oh baseball, oh little league…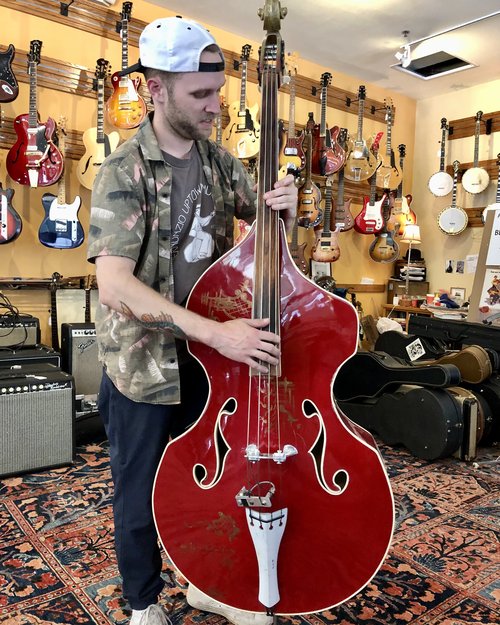 On Saturday I faced one of the more difficult parts of my job. I had to appraise, for sale, the collection of a close friend who passed away two years ago. His wife entrusted us with his most precious instruments to find homes with new players. The cycle continues.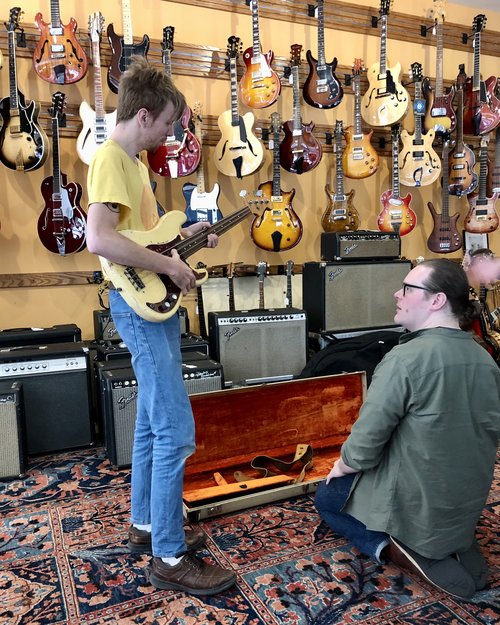 Sam Hirsh can't get his hands off a '63 Fender bass in rare Olympic White finish….Sen Neitz looks on with wonder.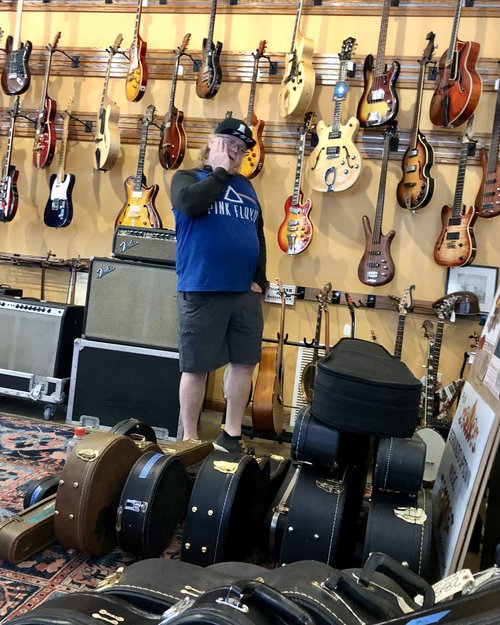 The look on the face of a customer when he sees the pile of stuff that just came in.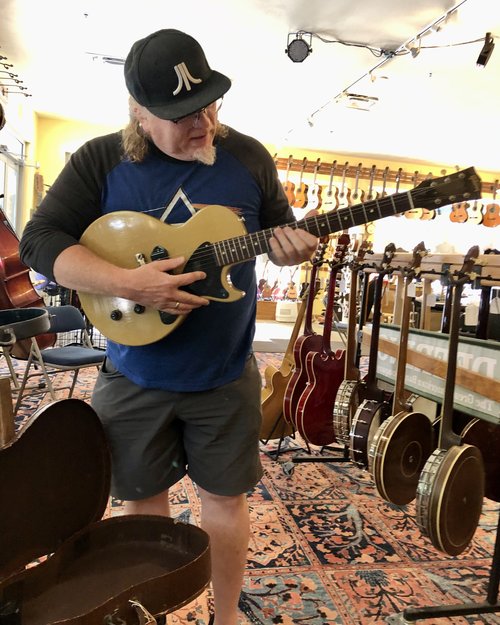 The feeling of happiness that only comes from a 1950s Les Paul in "TV" finish.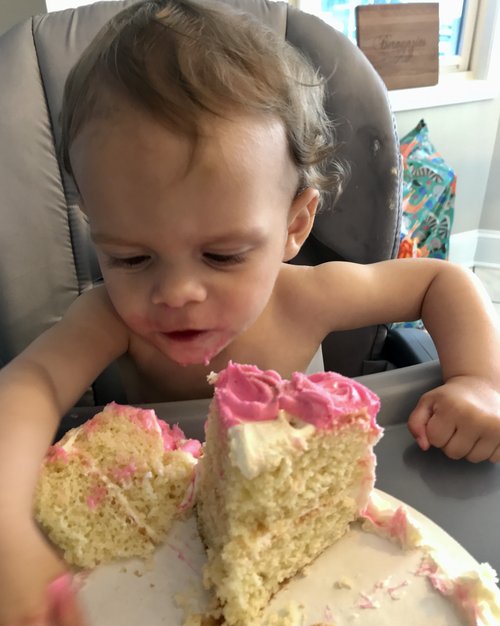 And Saturday night it was the first birthday of the twin daughters of my son Jay and his wife Taylor. This is granddaughter, Scarlet she was so dainty with her cake.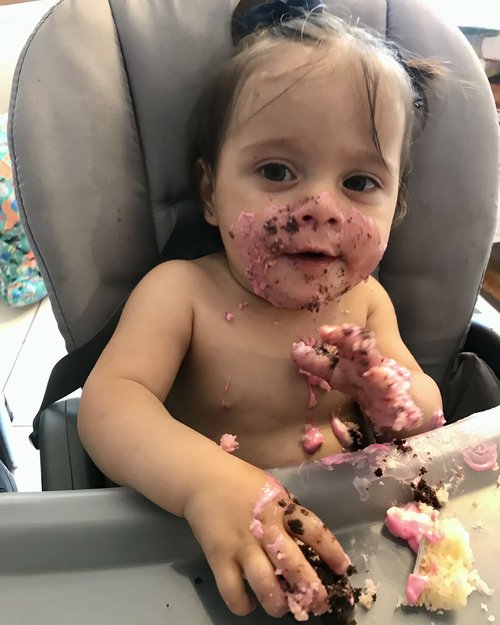 And this is Olive….she approaches life like a Bernunzio…fists first!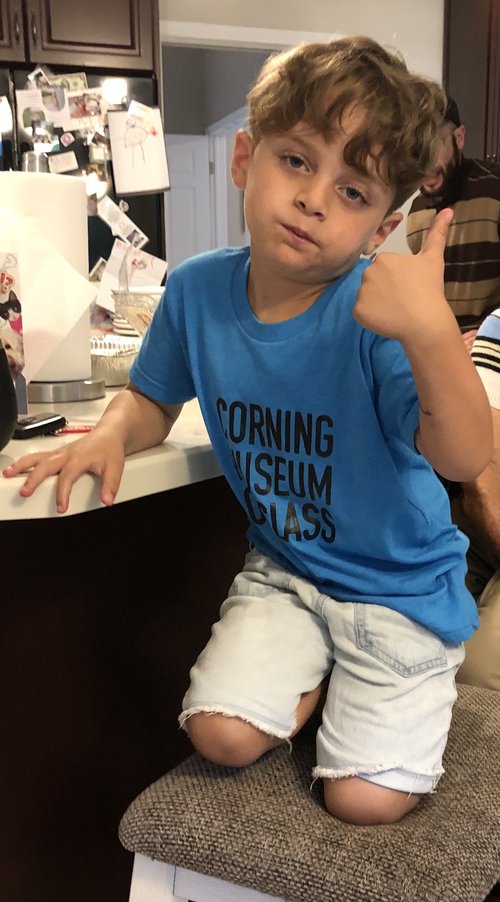 Their big brother, Rocco John Bernunzio gives a thumb up
June Sale Continues and a Photo Essay
June 13, 2022
Good Morning Folks,
There is no doubt that inflation has once again raised its ugly head in America. It is the talk of all the media is making the circuits of the political and economic pundits. It takes a bite of the spending power out of the common person's pocket every month with skyrocketing gas prices, supply chain issues and material cost on the rise…everything seems to be spiraling out of control. During these most uncertain times when you buy good quality, used guitars you buy something that is not affected by supply chain, by material costs, or by skyrocketing labor costs, or for that matter depreciation! That all came out of someone else's pocket! it is a safe bet when you're trying to protect your pocketbook to buy a used guitar especially while we're having our yearly June sale. There's stuff coming in every single day so check our website often. We have been closed to the public except for Saturdays and by appointment for the past two years because of Covid. With the return of the CGI Jazz Festival to the East End we have decided to be open during the festival from the hours of 3 until 7PM. Julie and I look forward to seeing old faces and meeting new folks who stop in from around the country.
Sincerely,

John Bernunzio
The rest of John's Corner is in the accompanying "Picture Essay" of the week that was.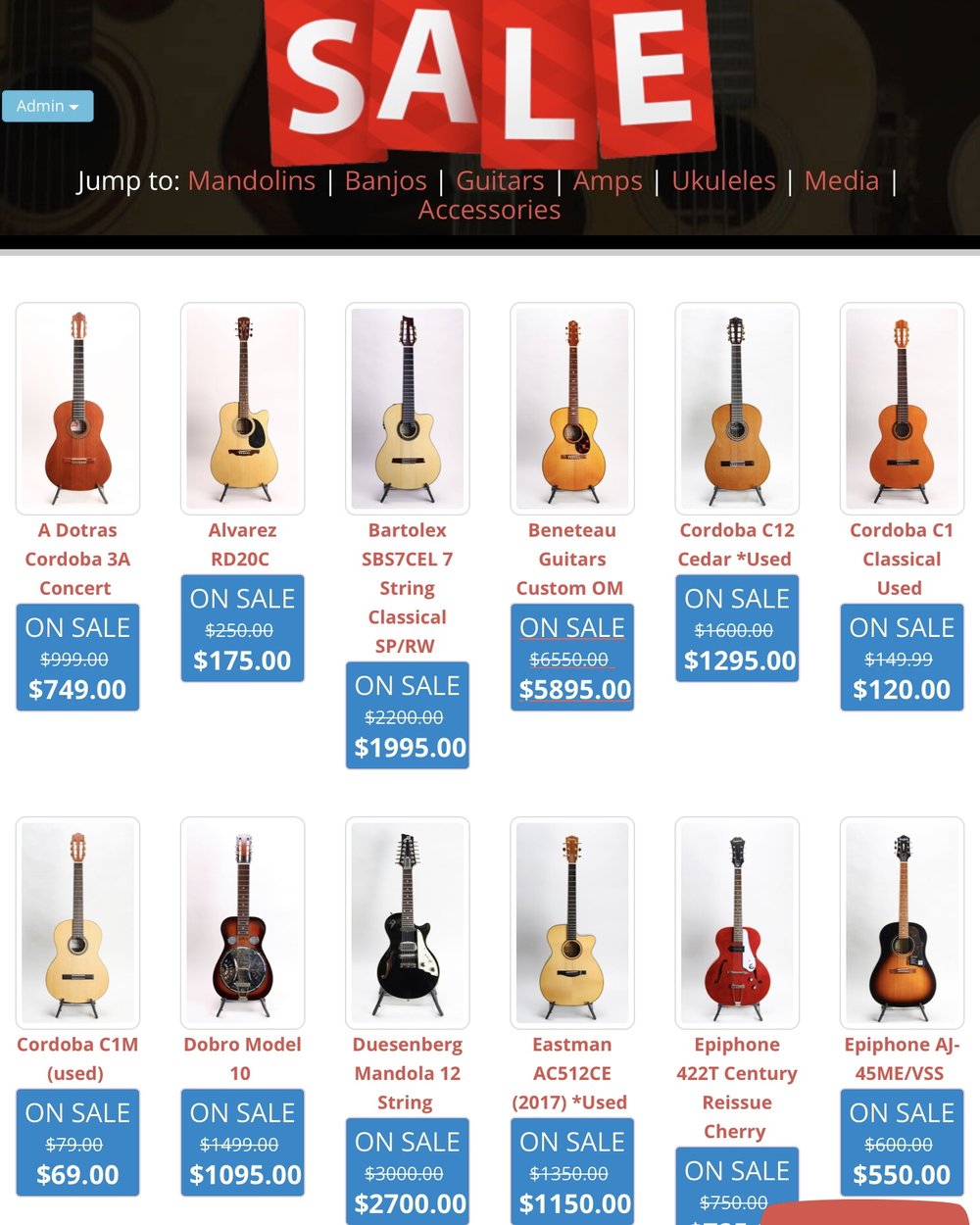 June Sale Continues….with 200 used instruments on sale and more coming in every day!