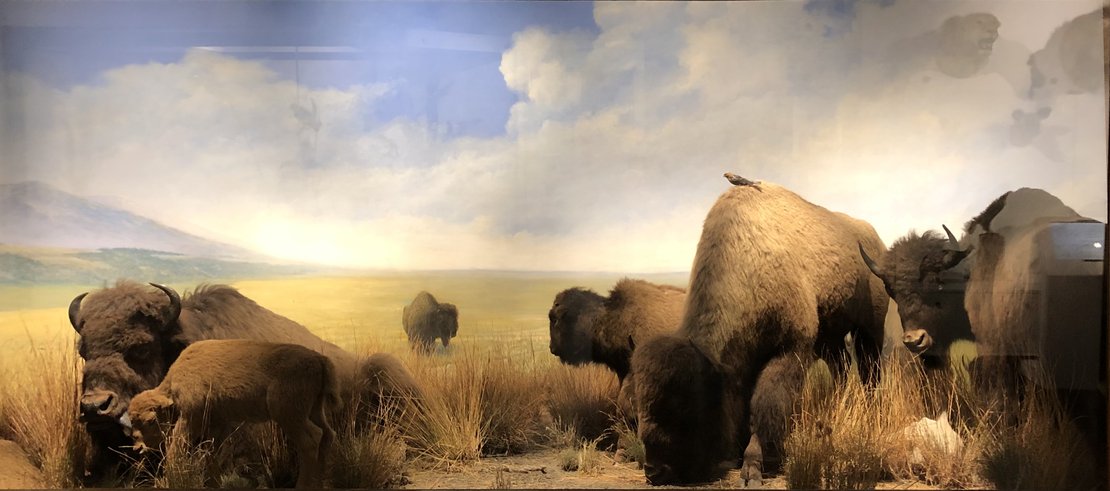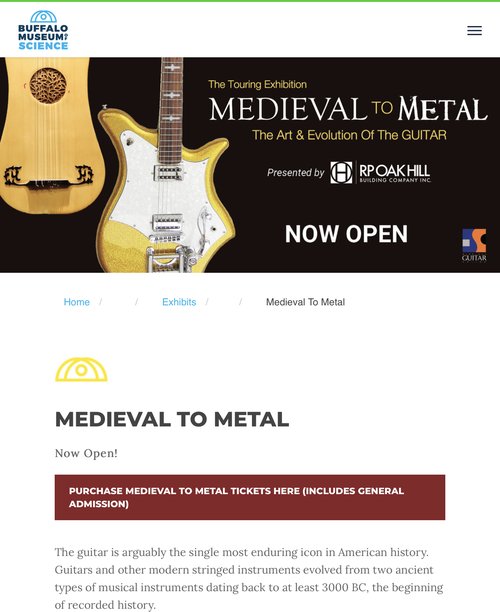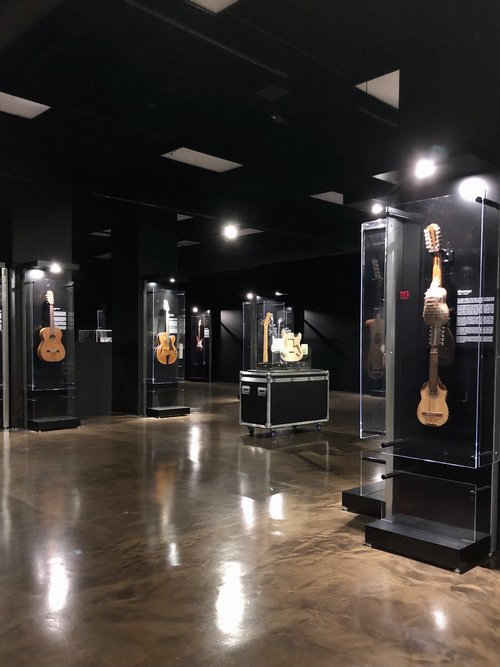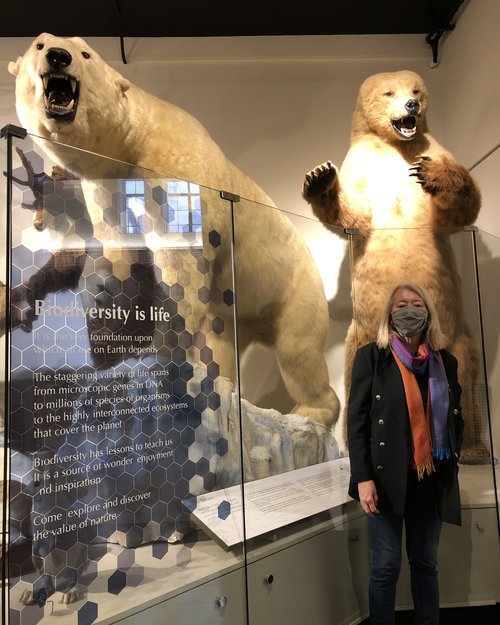 Julie masks up for the BIG bears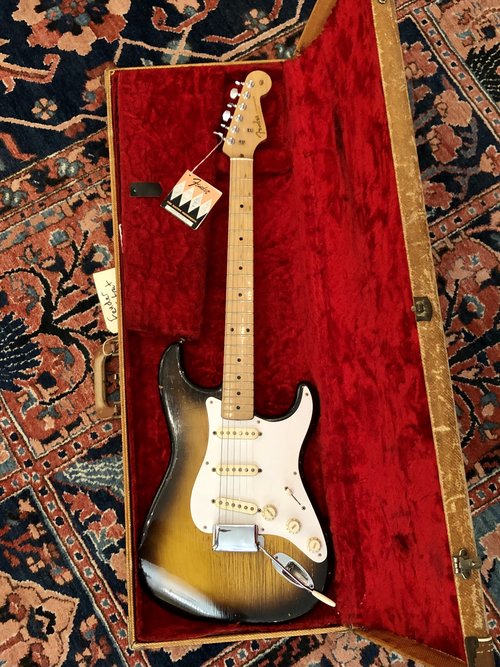 How about a 1957 Stratocaster? Now that something for a museum! From the family of the original owner with hangtags and only the tuners changed to prevent it from being perfect.
NEWSLETTER Buffalo guitar exhibit
May 17th, 2021
Good Morning Folks,
This past week Julie and I trecked across western New York to view the current guitar exhibition at the Buffalo Science Museum. It was a beautiful drive but unfortunately a rather lame exhibit. I have actually had better guitar exhibits at my store on a Monday morning after the UPS delivery. Next to pterodactyls, Kodiak bears and stuffed buffaloes, there was a small exhibit of the history of guitars with rock n' roll emanating from the speakers above. The text was all copied from the existing body of knowledge and there was nothing particularly revealing in any of the information about any of the companies. The exhibition featured iconic classics like a 1970 Martin D-28 and a Gibson Les Paul Recording (two of the most boring models ever). Proudly displayed were nicely autographed and neatly framed 8 x 10 photographs of all the famous rock 'n' roll stars with their guitars. I just have a feeling it was somebody's collection and they had a way of getting a tax deduction for it, but that's just my humble opinion. Times like this I wish my old friend Scott Freilich, a long time Buffalonian, was still around. I certainly would like to know what his take would be, since he probably sold all these guitars!
All my best,
John Bernunzio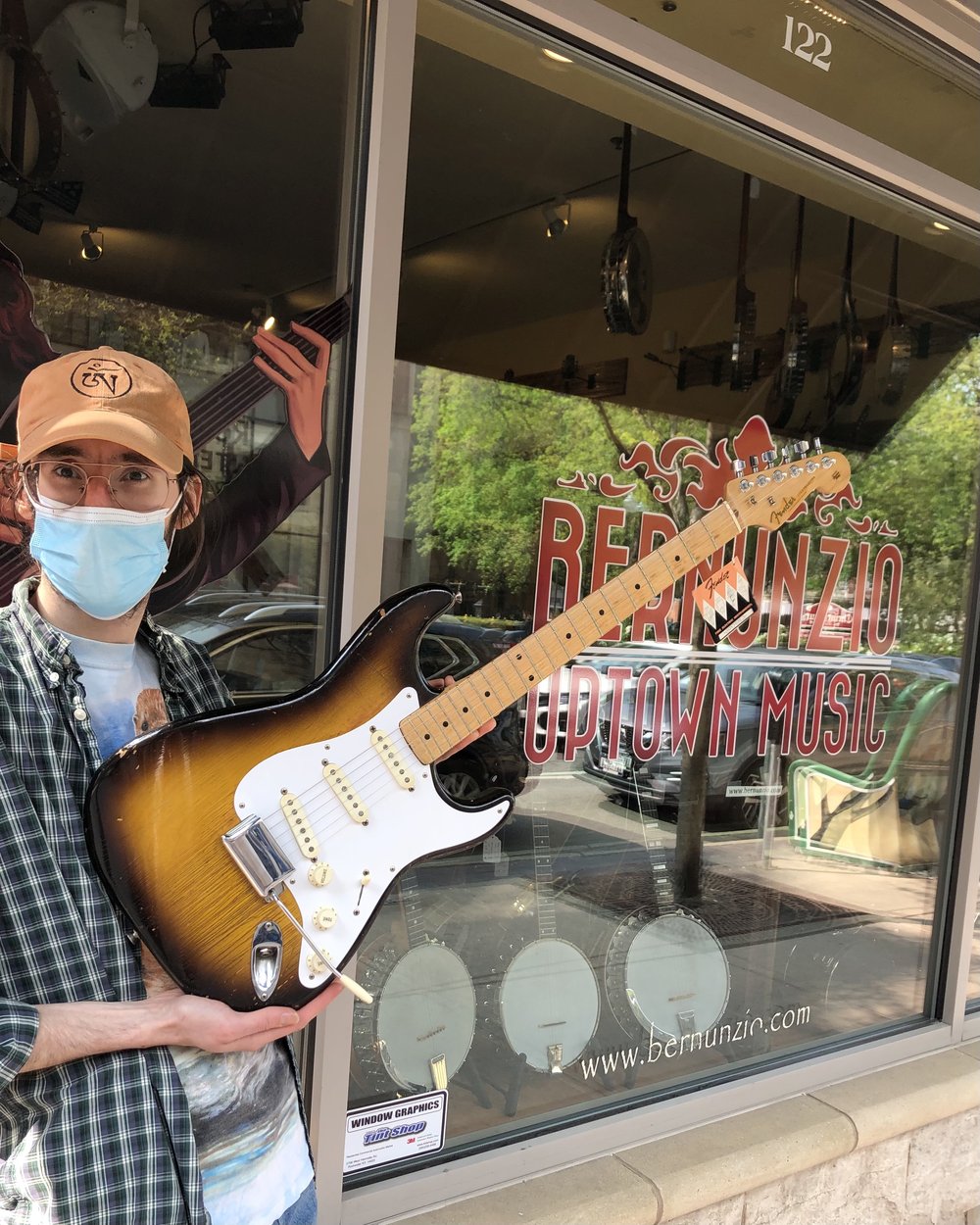 ....For sale at Bernunzio Uptown Music 122 East Ave., Rochester New York.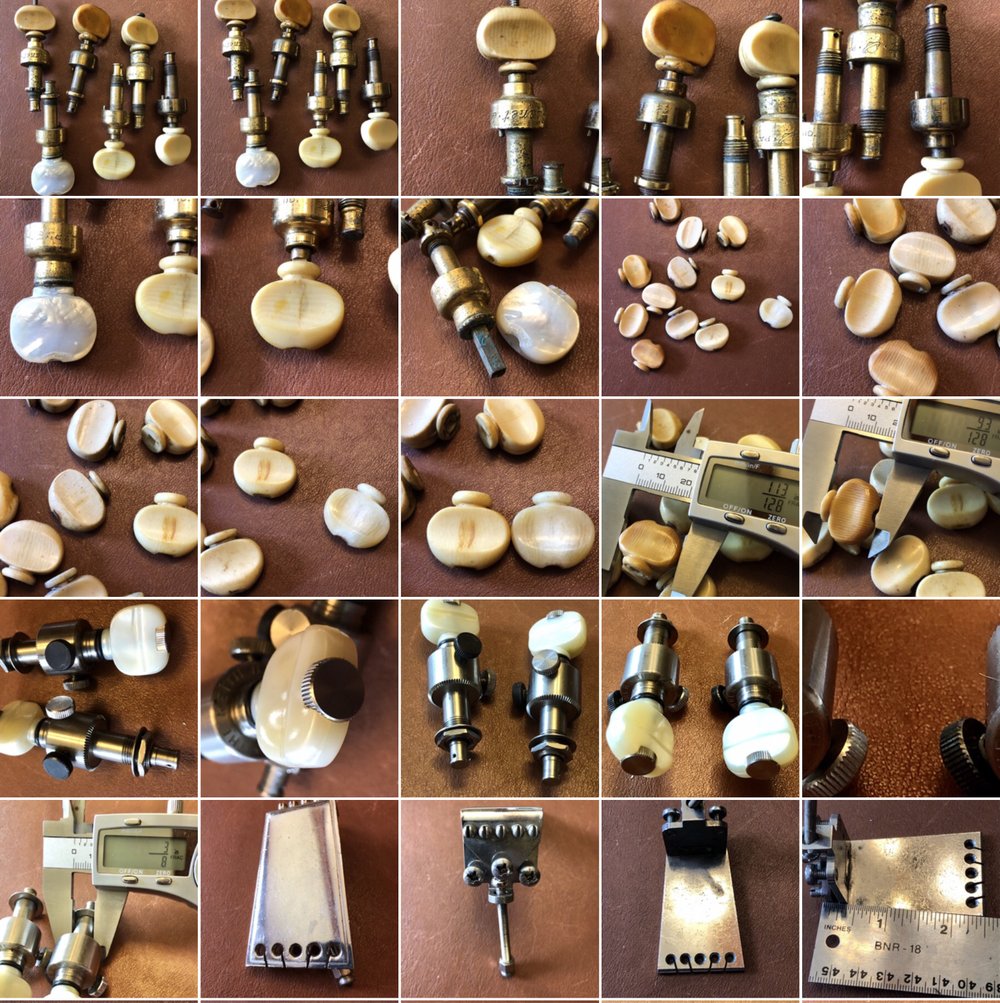 This week Julie is mounting a big eBay campaign with lots of new parts uncovered. This is a sampling.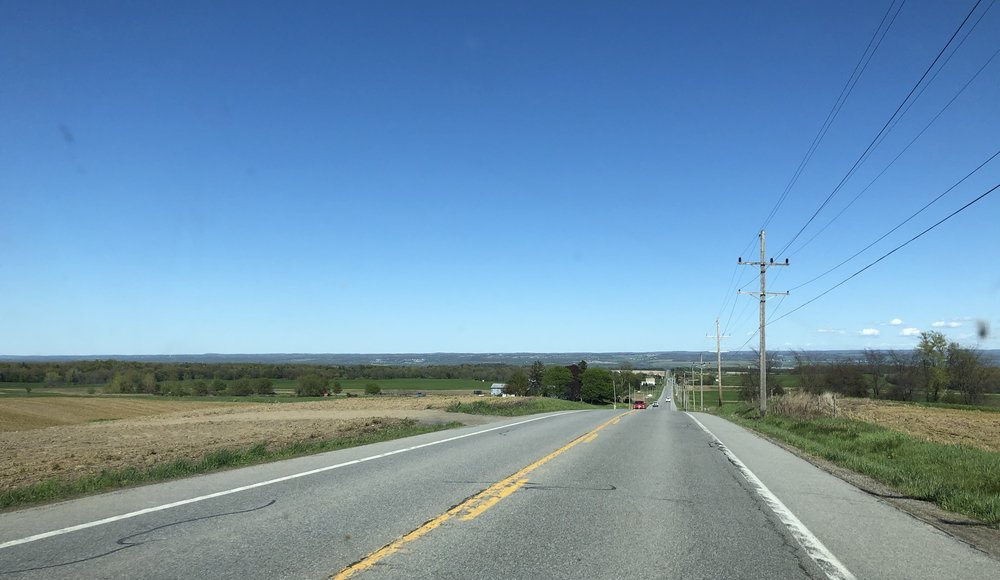 The panoramic beauty of Western New York.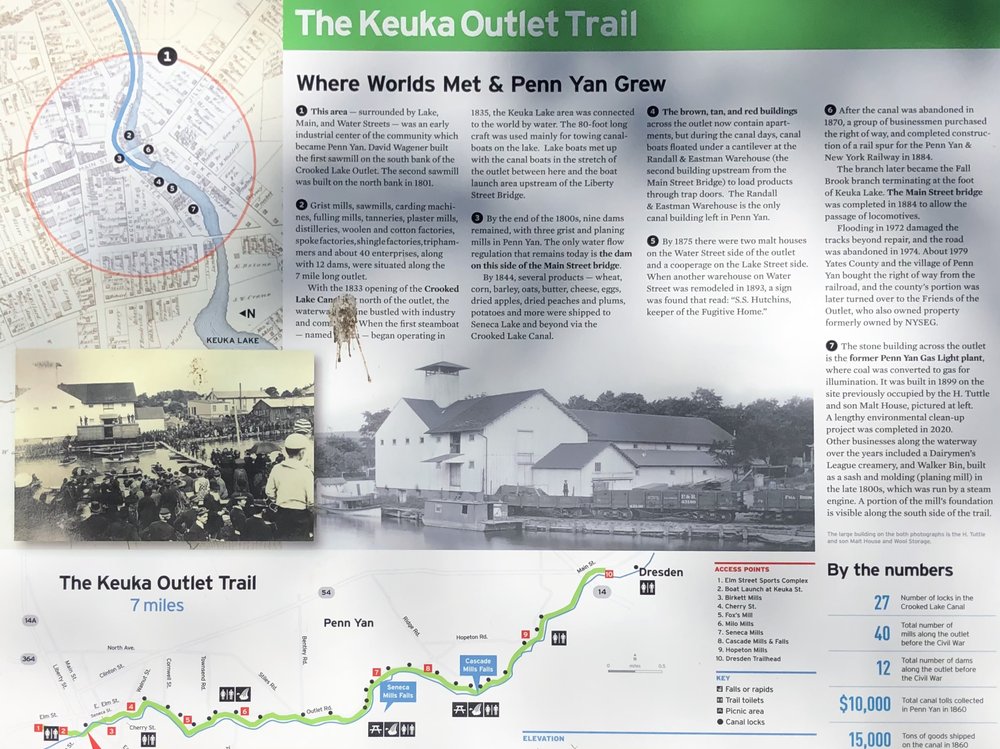 Keuka Outlet Trail....Where worlds meet and birds poop!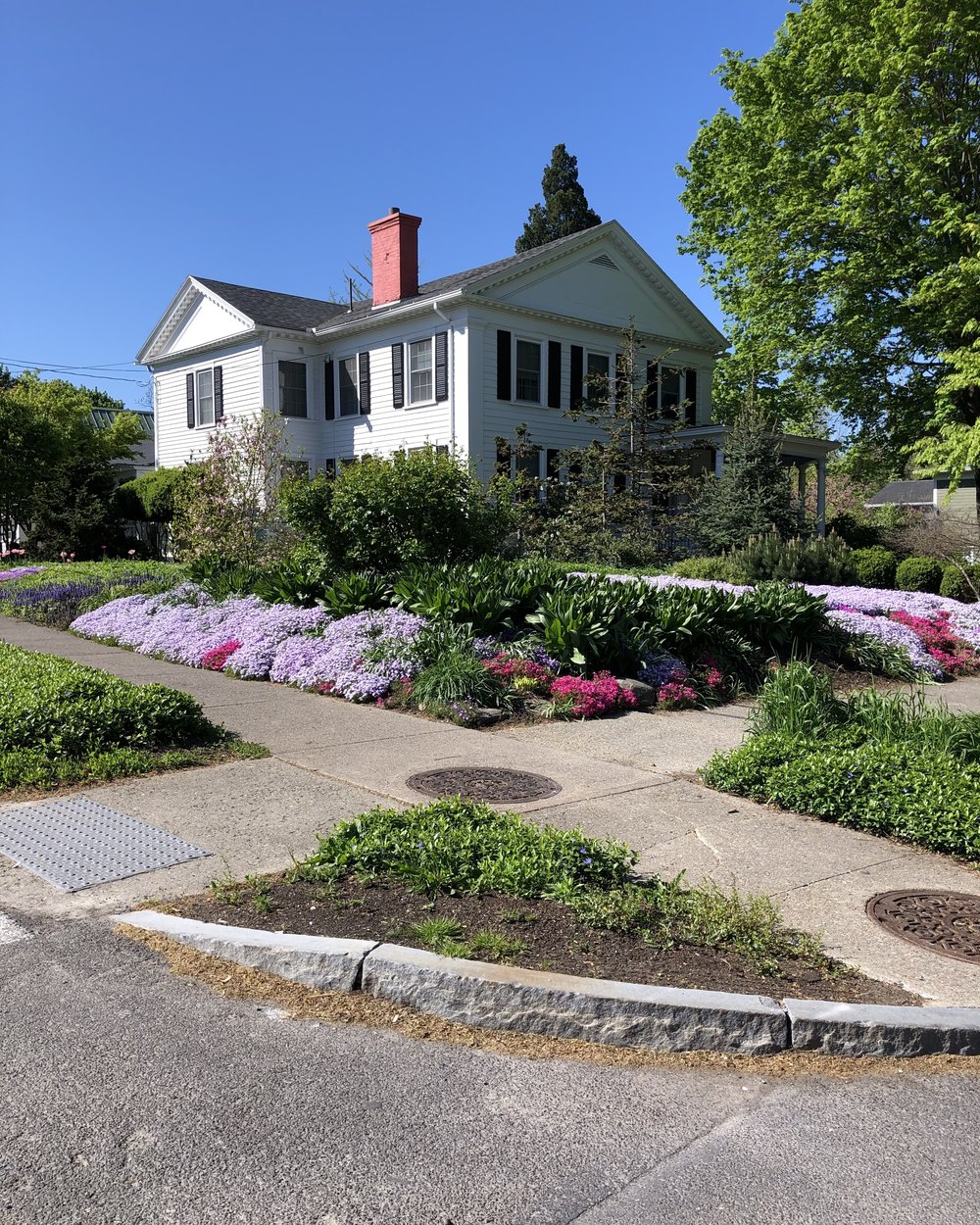 The yard and this corner lot is my favorite in Penn Yan. There's an old couple that really has taken time over the years to develop a very beautiful garden and every time I go by it makes me smile.