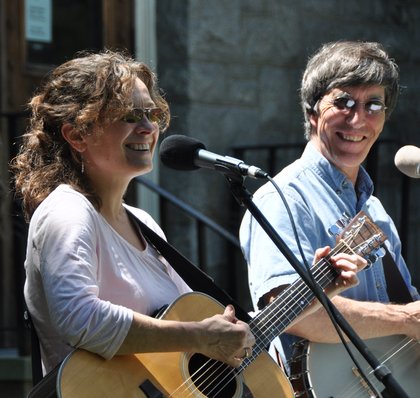 April 24, 2019
7 p.m. - 9 p.m.
Rochester's premier folk, blues, and bluegrass listening venue, will present its next concert of the 2019 season with a performance by Shady Rill (Patty Casey and Tom Mackenzie) on Wednesday, April 24, 2019. The concert will be held at the Downstairs Cabaret Theatre, 20 Windsor Street, Rochester, NY. All concerts begin at 7 pm and occur on the 2nd and 4th Wednesdays of every month (with occasional exceptions). Reservations are accepted (but not required) and can be made by calling 585-325-4370. For more information go to https://www.facebook.com/RochesterFolkus orwww.DownstairsCabaret.com. Admission is $10.
Shady Rill hale from Vermont, and this will be their first performance in Rochester. Patti is an award winning songwriter and her voice will melt your heart. Tom's Banjo and voice are a perfect complement, as the two of them weave their way through the many styles of traditional based songs and tunes. You will leave one of their performances with toes tapping and a smile on your face. Over their professional careers, both Patti and Tom have presented many school shows, adorned many a private party, packed many a hall, while traveling all lower 48 states bringing great tunes and polished harmonies to appreciative audiences. They will happily make any event shine or charm any audience with the banjo, guitar, hammered dulcimer, flute, keyboard, ukulele, seated clogging, and fine humor.
Share this Event on Facebook.