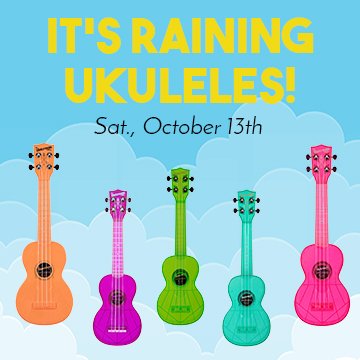 Oct. 13, 2018
11:30 a.m. - 5 p.m.
Join us for the first annual It's Raining* Ukuleles event on Saturday, October 13 from 11:30a – 5:00p at the First Unitarian Church (220 S. Winton Rd)! This ukulele enthusiasts event will provide an opportunity for all level of players to connect with the ukulele community, attend a variety of classes, browse the vendor display room, and of course, jam with fellow participants.
Classes include:
- Intro to UBass (Justin Rister)
- Hawaiian Songs (Deb Guarneiri)
- Classical (Baroque) Ukulele (Norman Tibbils)
- Pentatonic Pointers (Randy Pollok)
- Ukulele 101 (Norman Tibbils)
- Tin Pan Alley Ukulele (Ron Gordon)
- Chord Melody (Ron Gordon)
Event proceeds will benefit RAIHN (Rochester Area Interfaith Hospitality Network) whose mission is to provide shelter and services to homeless families and assist them in attaining sustainable housing. RAIHN is an affiliate of the national organization Family Promise.
Please plan on bringing:
- Your ukulele(s)
- Music stand
- Printouts of your ensemble music (provided ahead of time via email)
Adult tickets are $65. Youth (17 and under) tickets are $15.
Additional questions, interested in sponsoring, or making a donation to RAIHN contact Carole at ccteegard@gmail.com.
Share this Event on Facebook.