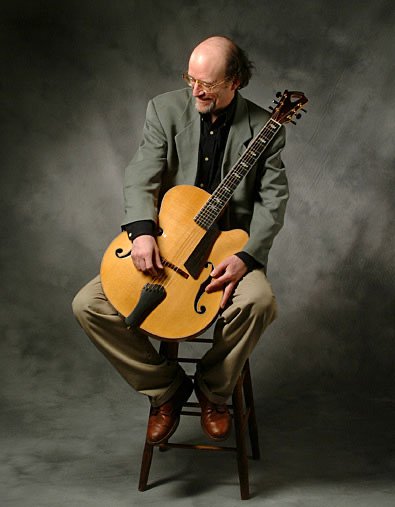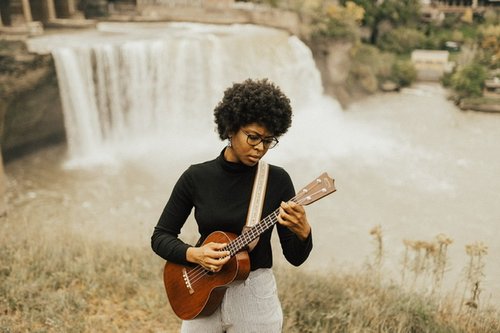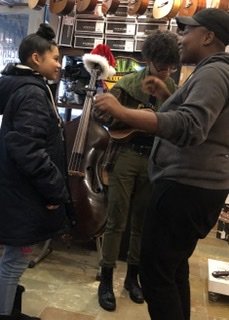 Future music stars stopping by on Saturday and getting in the groove during the ukulele sale.
NEWSLETTER Steve Greene
December 16th, 2019
Good morning folks,
Things of been busy here at Uptown Music and we are all getting ready for the holidays. Rochester has had well over 2 feet of snow so far this season and it looks like it's going to be a white Christmas. There are still many great deals left in the sale. At last count they have sold over 150 instruments so far. There are still some exceptionally good deals on Gibson A style mandolins at prices I find astonishingly reasonable. Mandolins bring such fondness to me at this time of the year, I always have to have one at home to play a few tunes. Take a look at our selection here.
I spent the day at the store on Saturday. I'm only there a few hours a week usually but Saturday was busy with a big ukulele sale, a ukulele gathering and our friend Steve Greene doing a workshop in the back. I must say that I still enjoy being there, seeing people and telling stories about vintage instruments we have owned over the past 45 years. More important than the instruments however is the music. Rochester, New York has a fantastic music scene. The talent abounds and there is never a night that there isn't some interesting event on the calendar. However I've noticed one drawback. Julie and I attended a couple of concert venues this past week. They demonstrated to us that a "generation gap" exists in the music scene. We have a plethora of performers who are of the "retirement" generation and have been playing music for 45 years. They are serious writers and accomplished musicians. Then we have the "millennial" set of musicians who are fiercely independent and deeply involved in their music in a highly personal way. Some of the best of these are working at our store today. So after my old friend Steve Greene had finished his workshop we sat down to chat for a little bit. Steve play old style, smooth Jazz in a group called the White Hots. He also teaches out of a studio here in town. Steve remarked to me how he really liked the music that he heard on YouTube from Cammy Enaharo. She is a singer/songwriter and has worked for us for the past year, though we have known her since high school. Now, in a moment of clarity which I occasionally stumble upon, I made the suggestion to Steve and Cammy that they work a little combo together. I'm going to make sure it happens and will keep you posted. That's the fun about being the old retired advisor at Bernunzio's.
On the homefront we've been kept very busy making some interesting Italian holiday desserts from the recipes of my parents and under the guidance of my brother Tom. It is been an interesting experiment and we will share the results next week. Additionally, we have a new member of the family. We have a "grand dog". Her name is Penny but I call her Phyllis. She belongs to our daughter Grace and she is an absolute love bug. I am babysitting a few hours a day. The other pups, Ike and Tina are not very happy with the new addition but we're working things out. Julie is a master dog owner.
All our best,
John and Julie Bernunzio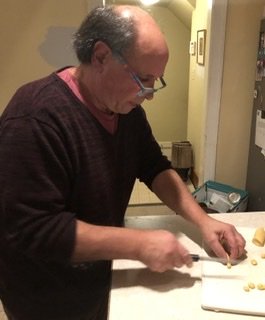 Brother Tom the keeper of the recipes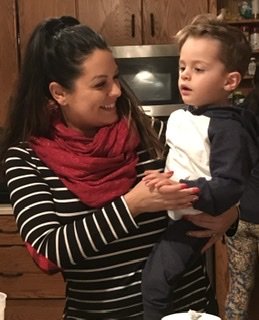 Taylor and Rocco John joined in the fun.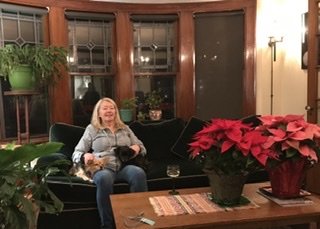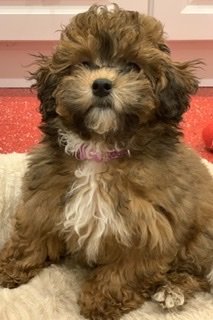 Introducing Phyllis Bernunzio