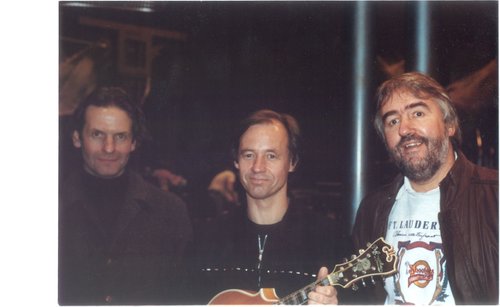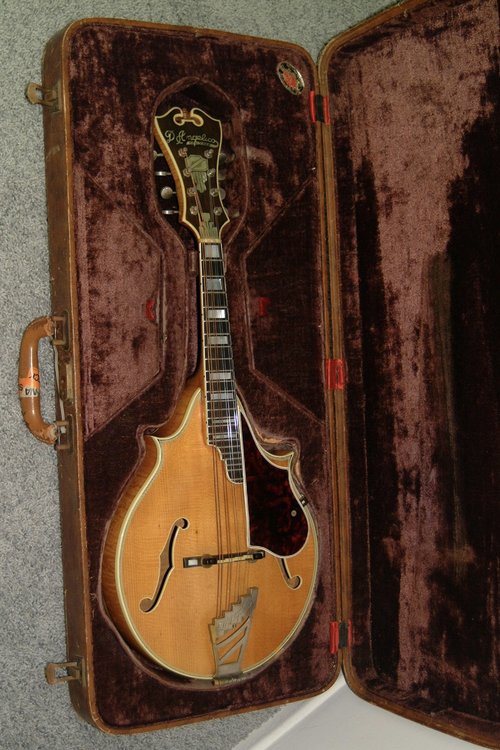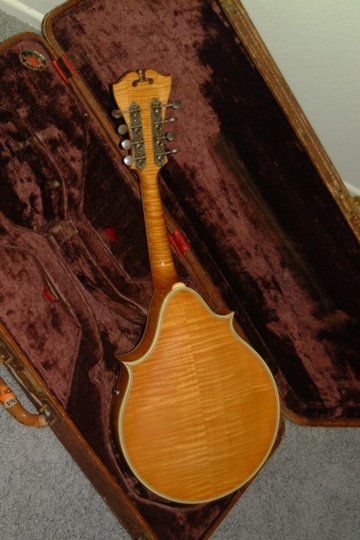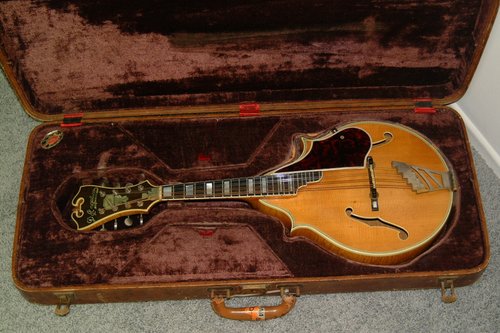 Newsletter ​D'Angelico mandolin/ John Armstrong
November 2nd, 2020
Good Morning Folks,
The local news interviewed me the other day because they wanted feedback on a story that they had read. Apparently the sales of guitars have been increasing during the pandemic. More and more people are buying their first guitar or upgrading and they wanted my take on it. Of course sales have been pretty steady on the mail order side and I think there are more people playing guitar or wanting to learn because they have time on their hands. With all that extra time, I think people are spending a lot of time looking at old photographs cherishing their memories because they are not spending time with each other. I've been going through a lot of boxes of old pictures myself and turned up these that are displayed.


Back in the late 1980s when I was really gearing up as a vintage instrument dealer I took the big trip to Arlington, Texas. That was where the Four Amigos would have the annual Texas Guitar Show which was second to none. Dealers from around the world were there to compete and buy and sell the finest vintage instruments you could imagine. Now I was just getting my game going and I had a pile of money in my pocket and I was ready to buy for my customers. I spent the weekend noodling around, schmoozing with friends and buying a few minor things. There was a guy there from England who was shopping around a mandolin. It was a D'Angelico mandolin just like the one used in the movie "The Godfather", but the provenance of this instrument was perhaps even greater. It was used on Eric Clapton's "Unplugged" video and he had all the documentation to go along with it. He had been shopping it around to a few dealers but there was some question about whether the finish was completely original and he was stuck on getting $6000, which was a handsome sum in the 80s. I had this money burning a hole in my pocket and I decided I was going to take the plunge. I brought him over to a corner and I paid him $6000 cash with the thought in my back of my mind that I would put this away and save it for my daughter, Rose, when she was ready to go to college. She was just a baby at the time and I thought maybe it would be worthwhile putting a special instrument away like this. Of course, I've never really been a collector of musical instruments because I always felt it was a conflict of interest but this was such a special instrument made by the grandmaster himself. I paid the money and left the convention center with the mandolin tucked under my arm. I headed to the hotel and rode the elevator up to the 20th floor. While riding up the elevator a well-known Japanese collector got on and asked me what I had in the case. I opened it up and showed him and told him the story. He looked at me without blinking and said I'll give you $9000 for it right now! Of course I caved. I have been thinking about that mandolin and what would've happened had a kept it! As luck would have it many years later the same collector asked me if I would sell it for him and I did...a second time!
Unrelated to the instrument world, there is another another story that I'd like to share with you. I had a incredibly emotional experience on Saturday at the store. I've been committed to working there every Saturday as this is the only day the store is open for walk-in business and frankly, I just miss seeing the people who are likely to stop by. A gentleman came in the store and asked if there was a "John Bernunzio" here. The sales guys pointed to the corner where I always sit in my big leather armchair. He strolled over to me. He appeared to be in his mid 60s, nicely dressed and a little bit nervous. He looked directly at me and said, "Are you John Bernunzio?" I replied of course that's me and then he said, "what were you doing in 1969?"
Now I was doing a lot of things in 1969....some that I could tell about and some that I would rather keep quiet but I assumed he was referring to college as I had graduated that year and was working part time in the Psychology Department at St. John Fisher College. He said no I am referring to RPC. Frankly, I couldn't remember what RPC stood for and he refreshed my mind. It was the Rochester Psychiatric Center where I was also working as an attendant on an intensive therapy ward. He looked me in the eye and said Mr. Bernunzio, my name is John A... and I was one of the patients on Unit 54. In a flash I remembered him as a disturbed, young 14-year-old trying to work through the maze of mental illness. He continued to tell me that he finally got out of the institution and made something of himself. He had worked at a job for 15 years, met the woman of his dreams, got married and worked another job for 20 years. He said, "I'm not without battles every day but I wanted to let you know that what you talked to me about 51 years ago had a big affect on me and I wanted to thank you". My eyes welled up with tears and I thanked him for taking the time to remember me. It was the most beautiful encounter and I just felt I should share with my readers. There is ALWAYS HOPE.
Sincerely,
John Bernunzio