From the great American Banjo Museum in Oklahoma City is this fine example of an original NPU No. 9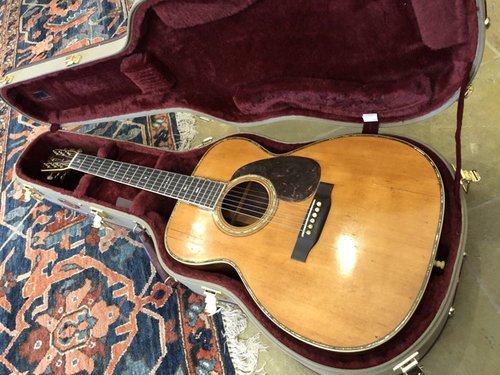 Here was a nice walk in for a Saturday afternoon! A Martin 000-45 from 1942. I felt privileged to hold it.
Newsletter Lee Keener banjo
October 19th, 2020
Good Morning Friends,
It has been a very busy week at Bernunzio Uptown Music. We received a call the week before from a fellow who had some guitars that he wanted us to sell. He had checked out our reputation and he wanted to meet us. Now I've been in this town for my whole life and you would think I would know anyone who had any stash of guitars put away but this was a completely new customer. I asked him how many guitars he was talking about and he said probably 75! Ryan and I paid a visit 5 miles from the store and loaded up 45 great guitars to take on consignment. Our Saturday newsletter of "New this Week" was astonishing. The staff did a great job at cataloging and photographing all the guitars within a week. Consigning guitars is a safe way to sell them. We charge 20% of the selling price to list your guitar on our website and advertise it, house it, insured it and guarantee it to the final buyer. Consignment wasn't always the case. Back in "the day" you had to just buy things outright and that was always taking a chance especially when your pocketbook was very small...but chances are what made our business. Chances and always moving was the name of our game. Change was our only constant! Change always creates anxiety but it can be the impetus for action, and change always speak to some kind of "gamble". So here's a story about a gambler, a risk and a young banjo dealer..
In the early 1980s when I was occupying space in a warehouse with Luthier Bernie Lehmann, I was contacted by a woman who had a very fancy banjo for sale. Her husband was Lee Keener and she lived in Las Vegas. She sent me some polaroids and documentation. It was a Bacon and Day Silverbell Ne Plus Ultra Number 9. This is one of the rarest and most expensive instruments ever produced. From the catalog description it had an Gabon ebony neck with a figural heel carving of a elephants's head with genuine ivory tusks and 24 karat gold rings. At the time of its manufacture in the 1930s the price was $900...the cost of a modest house or an expensive automobile. A veritable fortune! Consequently, these were extremely hard to come by. Now I had been buying banjos for the great Japanese collector Akira Tsumura. He was always willing to pay the top price for something that was special. Now the price of this Banjo was $3000. That equaled about 1/3 of my yearly salary as a teacher. I had a bit of money coming in from my tax return and some things that I had sold but I wasn't able to get that for a month or so. I turned my brother and borrowed the $3000 for a month, paid him some interest and was able to secure the purchase of this revered banjo.
Now mind you I had never seen one of these instruments in the flesh. It arrived and there were quite a few anomalies. It said number nine on the plate on the back of the resonator BUT the armrest said No. 7 and the dowel stick was stamped No. 6. It had the ebony neck but it did not have the ivory fingerboard. Instead the fingerboard was "mother of toilet seat" as was the resonator back. The gold and engraving were all as catalog description but the tone ring, the revered soul of the banjo, was the later archtop not the Silver Bell type but the "Symphonic" archtop. This was back in the days of our mailing list (pre-internet). I used the original Bacon advertisement as seen below in part of my catalog announcing the arrival of this great banjo. However, because of the anomalies Mr. Tsumura was not interested in the banjo at any price. Needless to say, I was devastated. My investment of $3300 didn't look like a very good buy. Still, I did not lose hope but sent out my mailing list to my customers and waited for the phone to ring.
I received a phone call from a gentleman by the name of John Flanagan who lived in the city of Binghamton, New York. We had done a bit of business in the past and he called and asked if I was willing to take some instruments in trade for the "Lee Keener" Silverbell No. 9. My good friend Dan Duehren always told me that "cash is king but trades are money in the bank" and since I didn't have a cash offer for the banjo I told him I was amenable to a trade. Now at the time I was driving a broken down old Volvo station wagon. My sister Liz accompanied me on the trek down to Binghamton. John lived in an old Victorian house that his father, a doctor, had used as his office and residence. I brought the Silverbell into the front little parlor and put it on a stand. He said I'm going to go in the other room and get some things that might interest you. Now he brought out an absolutely brand new condition Bacon and Day Silver Bell Sultana No.1 and a silver plated No 2 that was equally mint. He said these are two fine banjos and I've had them in my collection for years. I said, "Well, that's nice but one and two don't equal nine!". He went back in the room again this time reappearing with a particularly fine Stewart Thoroughbred open back five string with a pearl vine of life in the fingerboard and marquetry in the rim, in one hand and a Cole Eclipse with a man in the moon in the other. Two fine classical banjos from the 1890s. I said these are fine but I'm asking quite a bit of money for this banjo. He left the room again this time returning with two Gibson mandolins, a Washburn guitar, a violin, and two Martin ukuleles and a Martin Style 17 guitar....All very clean. But that's not all he said I've got more and he brought out an assortment of clunkers and junkers and things that all needed a bit of work....the pile was growing. He said he knew about this banjo and knew who Lee Keener was and he wanted it because of the anomalies and he was willing to trade well but it just didn't have any cash. The more I hesitated the more he brought out. The final touch was when he brought out a full-size size all aluminum Merrill string bass. He said, "That is it...you've cleaned out my closet...do we have a deal"? I said, "Of course we do"!
My sister and I filled up the Volvo wagon to the top and strapped the aluminum bass onto the roof rack and carefully drove back to Rochester, New York. Needless to say with patience and not panic my investment of $3300 paid off very well and jettisoned me into the next level of becoming a musical instrument dealer.
On a final note, 25 years later I sold the banjo for Mr. Flanagan on consignment!
Sincerely
John Bernunzio
PS This week I am headed to the doctor to discuss knee replacement. The all parts are just wearing out one after another!
JB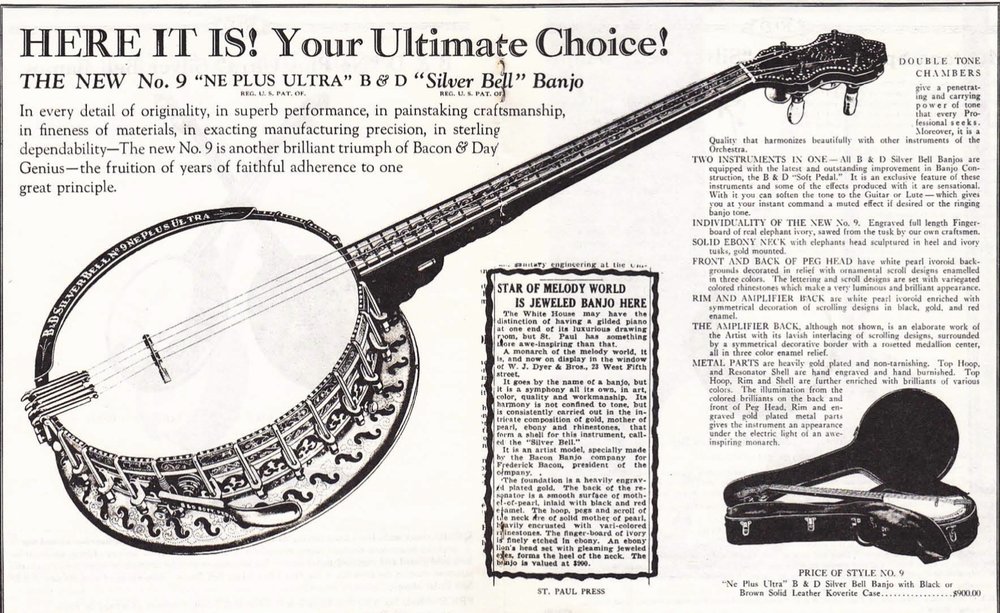 Original ad from the Bacon catalog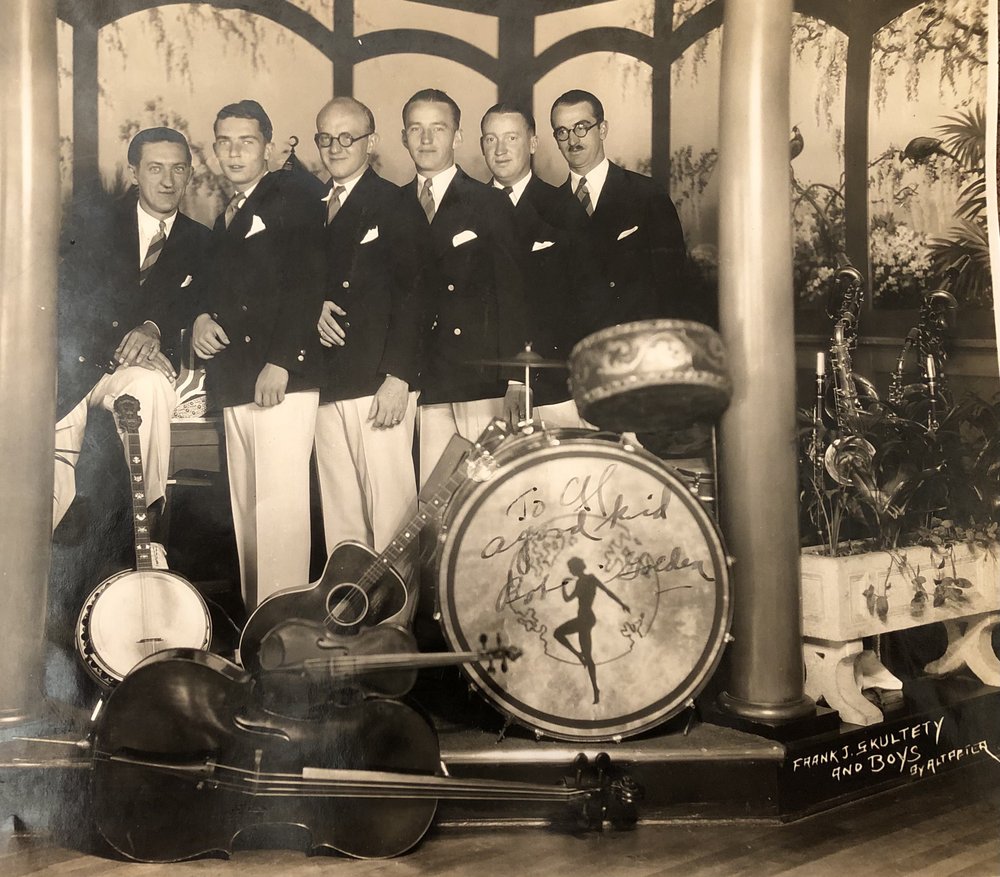 A photo from the bygone days