Oct. 8, 2018 - ALL ABOUT UKULELES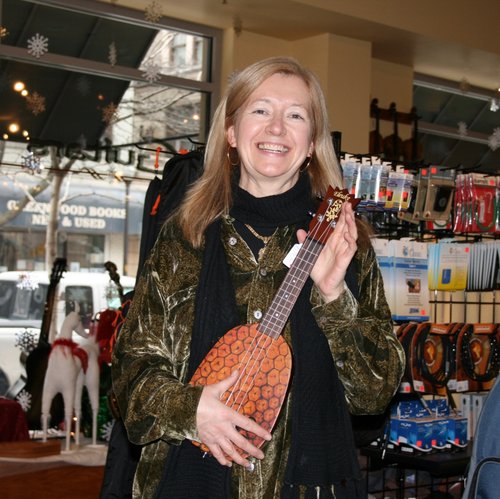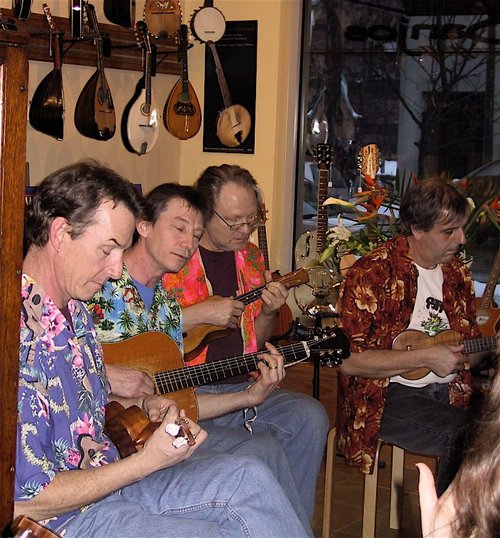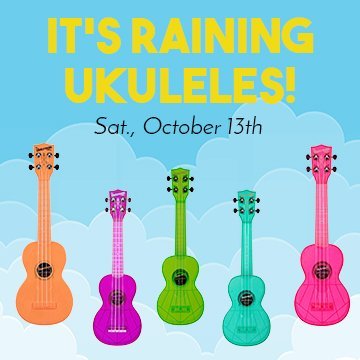 Join us for the first annual It's Raining* Ukuleles event on Saturday, October 13 from 11:30a – 5:00p at the First Unitarian Church (220 S. Winton Rd)! This ukulele enthusiasts event will provide an opportunity for all level of players to connect with the ukulele community, attend a variety of classes, browse the vendor display room, and of course, jam with fellow participants.
Classes include:
- Intro to UBass (Justin Rister)
- Hawaiian Songs (Deb Guarneiri)
- Classical (Baroque) Ukulele (Norman Tibbils)
- Pentatonic Pointers (Randy Pollok)
- Ukulele 101 (Norman Tibbils)
- Tin Pan Alley Ukulele (Ron Gordon)
- Chord Melody (Ron Gordon)
Event proceeds will benefit RAIHN (Rochester Area Interfaith Hospitality Network) whose mission is to provide shelter and services to homeless families and assist them in attaining sustainable housing. RAIHN is an affiliate of the national organization Family Promise.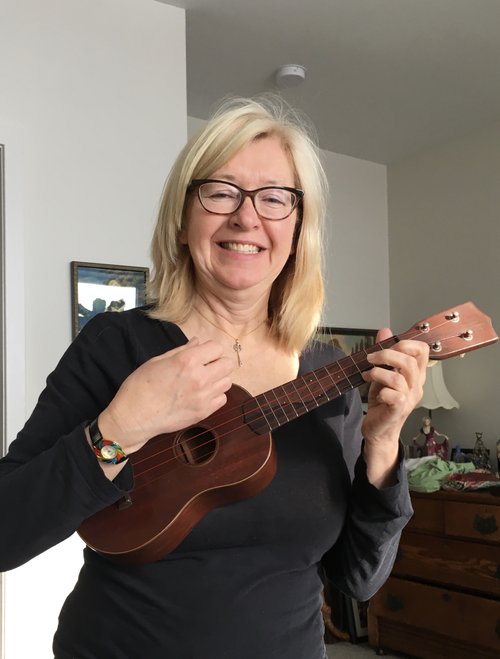 Julie with her Ditson Style 1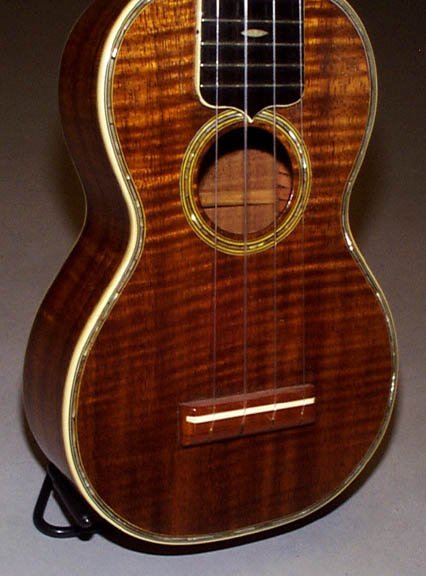 Martin Style 5K....the Holy Grail
ALL ABOUT UKULELES
Good Morning,
Let's talk about ukuleles. The popularity of the "bouncing flea" is a phenomenon that has spread worldwide. The instrument, in all its various forms, appears regularly in popular music today. Over the course of its history there have been three major waves of ukulele enthusiasm. The very first started in the early part of the last century up through the 1920s. With the annexation of the Hawaiian Islands, the culture and music spread across to mainland America getting folks involved in the Hawaiian sound both from the ukulele and the slide guitar. The ukulele waned for a few decades until the 1950s with Arthur Godfrey and his baritone uke appearing on television. A tiny bump in popularity came in late '60s from tiny himself, that was Tiny Tim. However, it wasn't until Jake Shimabukuro's stunning YouTube video playing "While My Guitar Gently Weeps" on the ukulele in Central Park that the immense possibilities of this tiny instrument came to the forefront of American culture.
Historically, the ukulele came to Hawaii via the Portuguese immigrants who had settled there. It is said that the king of Hawaii asked local Portuguese luthiers to come up with a stringed instrument that would be suitable for Hawaiian music. The two earliest pioneers were Augustus Diaz and Jose Espiritu Santo as well as the Kamaka's who are still in business. Their instruments were modeled after the Portuguese braguinha, a small guitar type instrument made of the native Koa wood. The instrument became extremely popular and soon there were manufacturers popping up all over Hawaii. Of course on the mainland companies such as C. F. Martin and Lyon and Healy joined in the craze. Today the ukulele can be found in many different forms. There are soprano, concert, tenor, baritone, bass and many other sizes. We have always been involved in the ukulele here at Bernunzio's. We have had the best of the best and built and purchased large collections over the years. Today great ukuleles are being made by many modern builders as well as offshore instruments that are extremely fine quality. We have always felt that the great success of the ukulele is it's portability, it's accessibility, it is uncanny ability to make people join together in song.
The ukulele has played in important role in creating community in our store. We started the Rochester Ukulele Support Group (RUSG) in 2007. With up to 40 players attending each month, many friendships and music collaborations have formed including the Rochester Ukulele Orchestra (RUO). We also host a monthly "Ukulele Hour" geared to beginners and an ever-popular "Ukulele Cruise" on the Erie Canal. Ukuleles are now being used in classrooms by music teachers who feel the era of the recorder is gone. One teacher remarked that you just can't sing with the recorder in your mouth but the ukulele gets student very engaged in singing together. It is this sense of camaraderie that I think makes the ukulele a great asset to the musical communities around the world.
On Saturday, Oct. 13, we are helping sponsor Rochester's first ukulele festival, "It's Raining Ukuleles" at the First Unitarian Church, offering workshops, a vendor and display room and a group ensemble. The proceeds from this event will benefit RAIHN, an interfaith organization that houses homeless families and assists them in the transition to sustainable housing. There are already 50 attendees signed up and plenty of space is still available. See details below.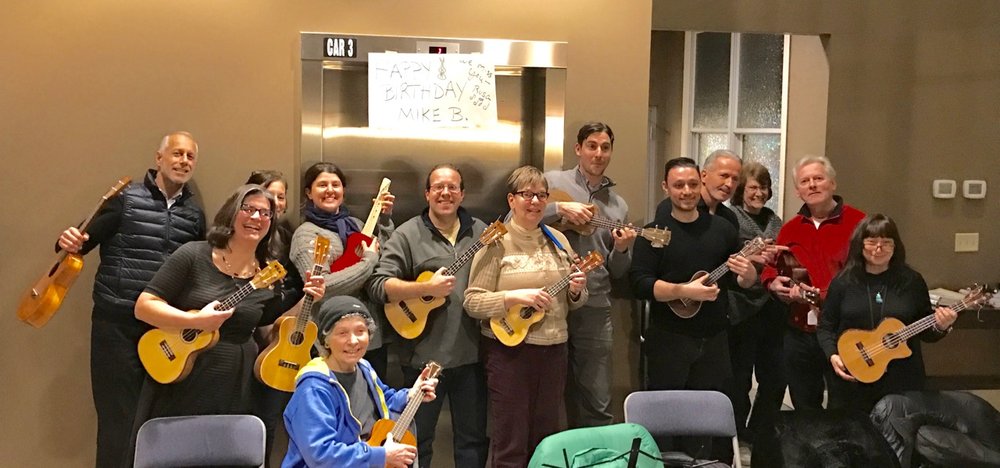 Rochester Ukulele Support Group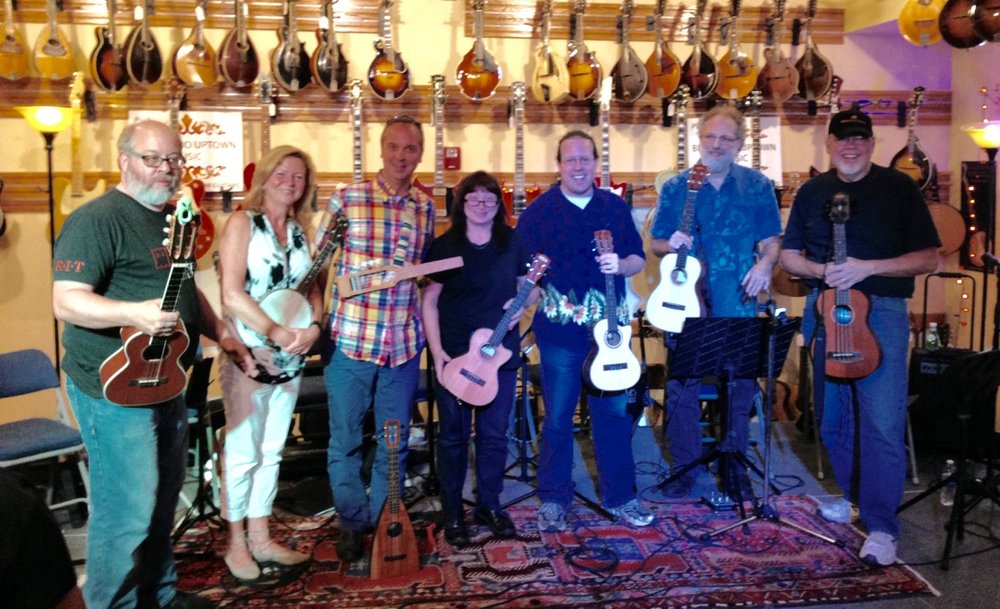 Rochester Ukulele Orchestra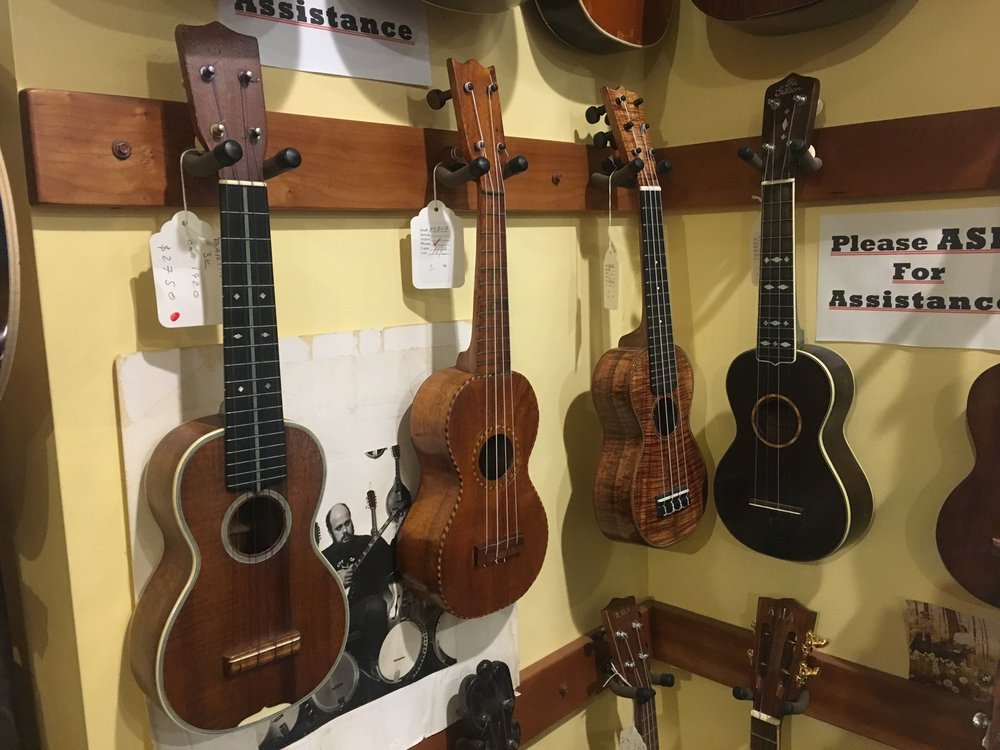 Some vintage sopranos on the Uptown showroom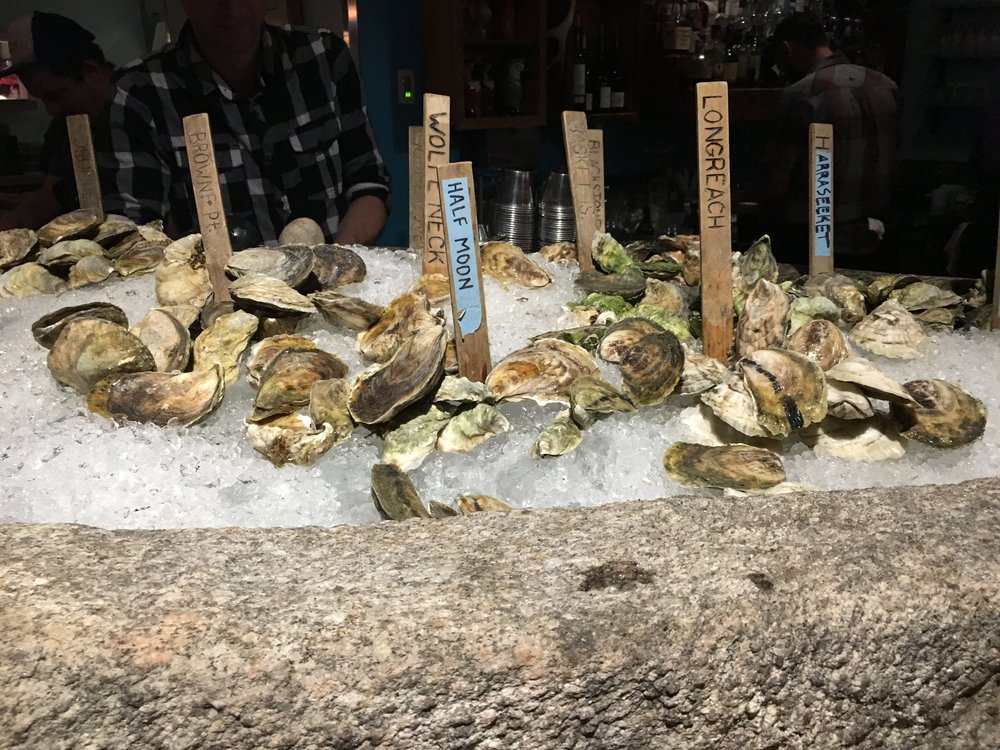 And I threw this photo in just to make sure that you were looking.