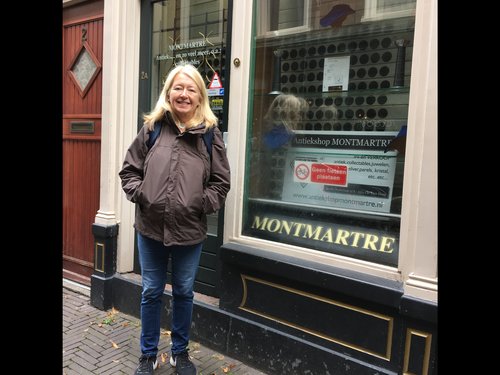 The only antique shop we found was locked up tight.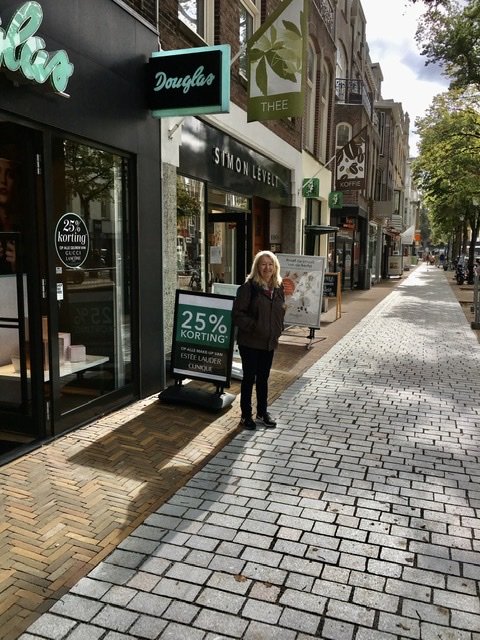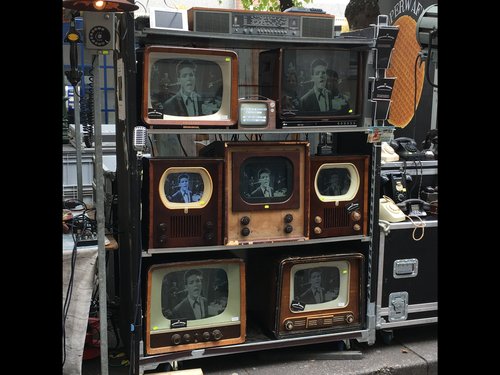 We did find some interesting antique markets but selling something completely different than they were 35 years ago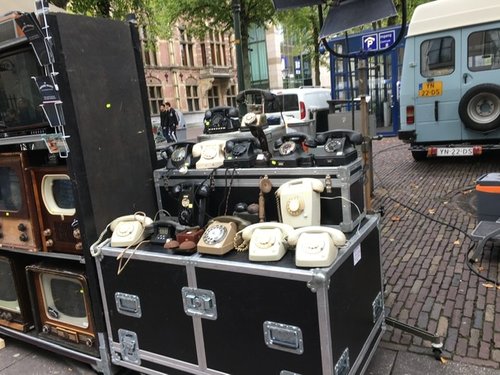 The art of the modern appliance!
NEWSLETTER. Memories of The Hague/ collecting instruments and antiques
October 7, 2019
Good morning friends,
When Julie and I first came to The Hague 35 years ago we spent a lot of time in the little shopping neighborhoods especially one called the Denneweg. It was a small cobblestoned street with antique shops everywhere. At that time the Netherlands was using the Guilder as currency and the exchange rate was four guilders to one dollar. We filled our apartment with all sorts of oddities like 25 antique clocks and ornately carved cabinets and furniture and ceramics that we would buy at the various antique shops. The prices seemed incredibly low perhaps because of the exchange rate. We bought enough antiques while we were there to fill up a 20 foot container that we brought back to Rochester, New York. Julie and I were going to supplement our little instrument business with importing fine antiques from Holland. Well, buying high-end antiques in an international city like The Hague and trying to sell them in a modest size American city like Rochester, New York was probably not the best of business plans. Still, it afforded us the opportunity to come back and forth on little trips. It's been nearly 25 years since Julie's been here with the exception of our brief visit last spring. Oh, things have changed...they do everywhere. The Denneweg is still there with its coffee shops and quaint store fronts. However, those buildings now house high end apparel stores....boutique clothing, shoes, running gear and modern decorative items for the home....with all of the prestigious names associated with wealth.

This all got me to thinking about the musical instrument business. While collectors and players are still buying finer vintage and new American-made instruments, there is a trend toward more affordable gear. The vintage market has definitely had some corrections and now many desirable guitars, banjos and mandolins are priced within reach of both players and collectors. Many of our customers prefer newer instruments, many of which are high quality and at a lower cost. The purchase of a quality musical instrument still retains value in that it is not a disposable commodity. It is a way to create music and art, build community and memories and can become a priceless heirloom in a way that an expensive sweater, pair of shoes or high-end refridgerator never will. Fine instruments of the past are still in the public eye is they were 35 years ago. People's tastes have changed as much as the architectural landscape. They still have the same disposable income to spend on things. Some choose to spend it on finely-made artifacts of the past while others are spending that same money on something to put on their feet or their backs or on their kitchen cabinets. With the spending of good of money there comes a certain amount of vanity and pride of ownership. However, the items that are being purchased at these high-end stores today are not something folks are going to pass down to the next generation but rather to wear and use now in the present. Julie and I have always had a strong admiration for the past but we have also kept an eye on the future. That is why we continue to buy quality items made in the past that we can pass on to future generations.
Sincerely,
John Bernunzio