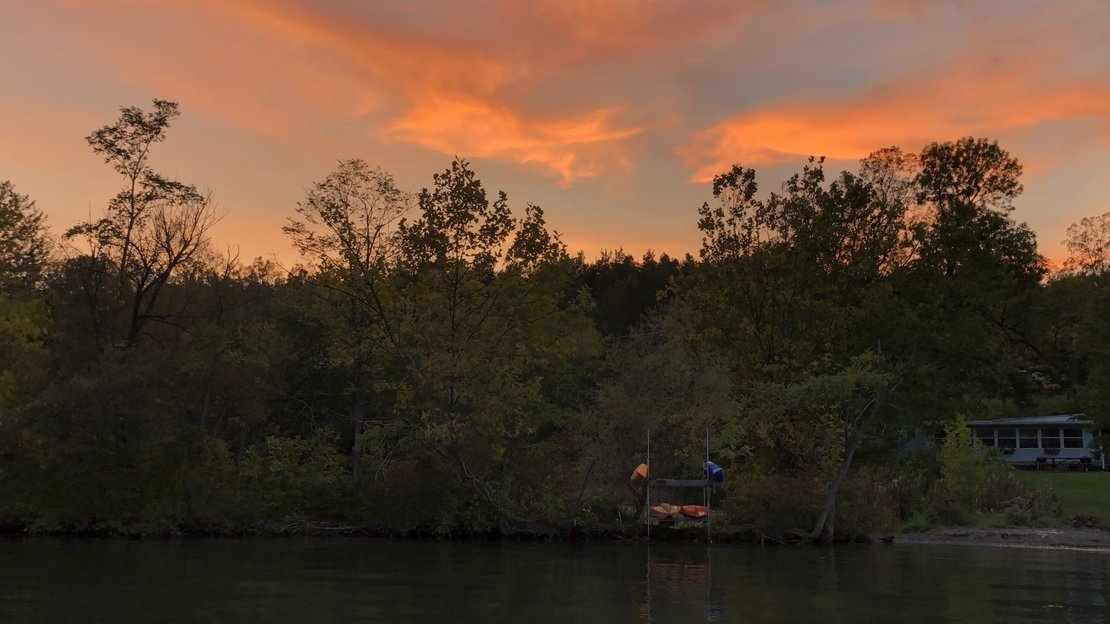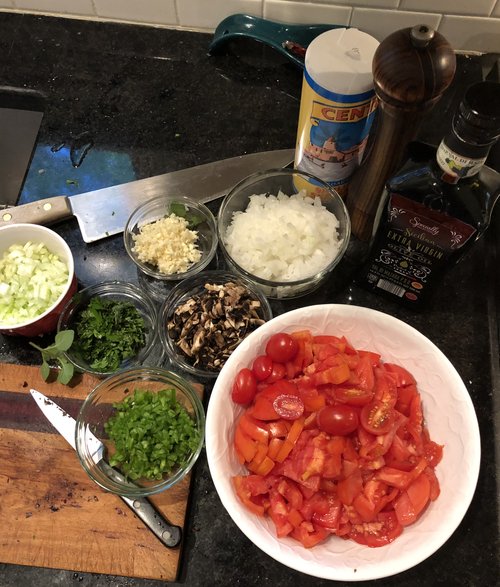 This was the makings of an incredible sauce with all the ingredients coming within a few miles of our house. Sometime this month I'm getting together with Ryan Yarmel and I'm going to pass the sauce recipe down to the next generation.… there is more to life than just guitars, banjos and mandolins!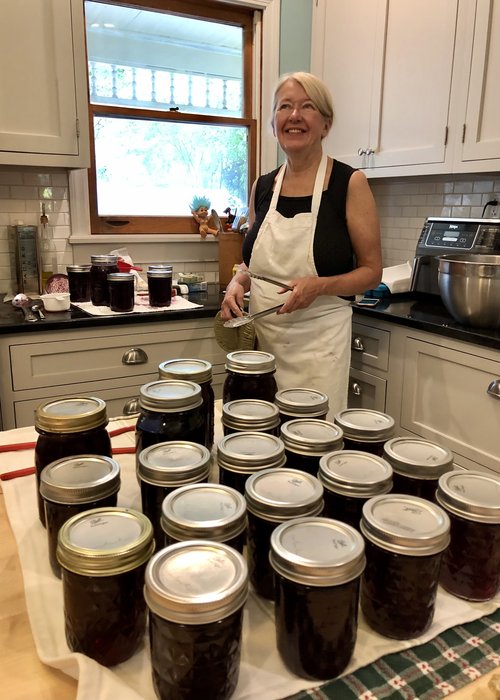 Julie in jelly Heaven. She spent a day picking grapes at her brothers had grown in Branchport and converting them into jars of grape jelly. It is fantastic. It is the smell and the taste of the hills around Keuka Lake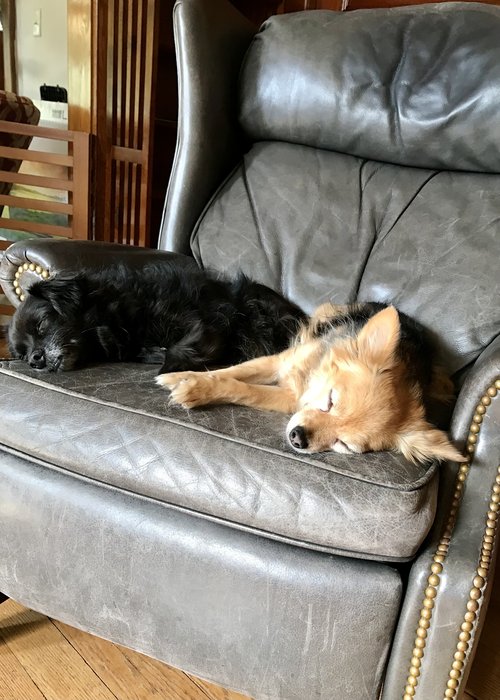 We left our fur babies in the capable hands of our dear daughter Rose and her patient husband Jose. "Ike and Tina… we will be back don't worry!"
NEWSLETTER Bernunzio's has become what the other stores used to be
October 4th, 2021
Good Morning Folks,
Julie and I headed out on Sunday morning early to visit friends in western Massachusetts and pick up a load of banjos. Today we are resting our heads in somewhere near Narragansett, Rhode Island to enjoy some tasty Point Judith calamari!! Later this week we will be retrieving a collection in Connecticut. We still might have room in the van, so if you have anything that would like us to take a look at, call the store and they will give you my cell phone number. Alternatively you could message me on Facebook. We are serious about bringing back great instruments to disperse around the world. Business has been brisk and there are buyers waiting for good stringed instruments.
I had an enjoyable Saturday at the store reuniting with friends who I hadn't seen since the pandemic began. There was a steady stream of new and old customers coming through the store buying things and trying instruments out. It was kind of like the old days in a way. We are reevaluating whether we will open another day during the week but for now we are happy with servicing you by appointments, through the mail and open doors on Saturday. I for one will be there on Saturdays through the rest of the year. I enjoy the work I enjoy seeing my friends and it's a lovely drive from Penn Yan to Rochester once a week. I will be there this Saturday as we will be bringing a load of new instruments in for the gang to catalog.
One visitor from a large East Coast city paid me an incredible compliment. The town where he resides has a great guitar store that initially specialized in vintage instruments in the 1960s and 70s. Now it has converted over to mostly new instruments. That store was my idol place where I would go and make a pilgrimage just to see the unusual instruments. This visitor told me that Bernunzio's has become what the other stores used to be. We're sticking with the old stuff that's where our love resides.
Sincerely,
John Bernunzio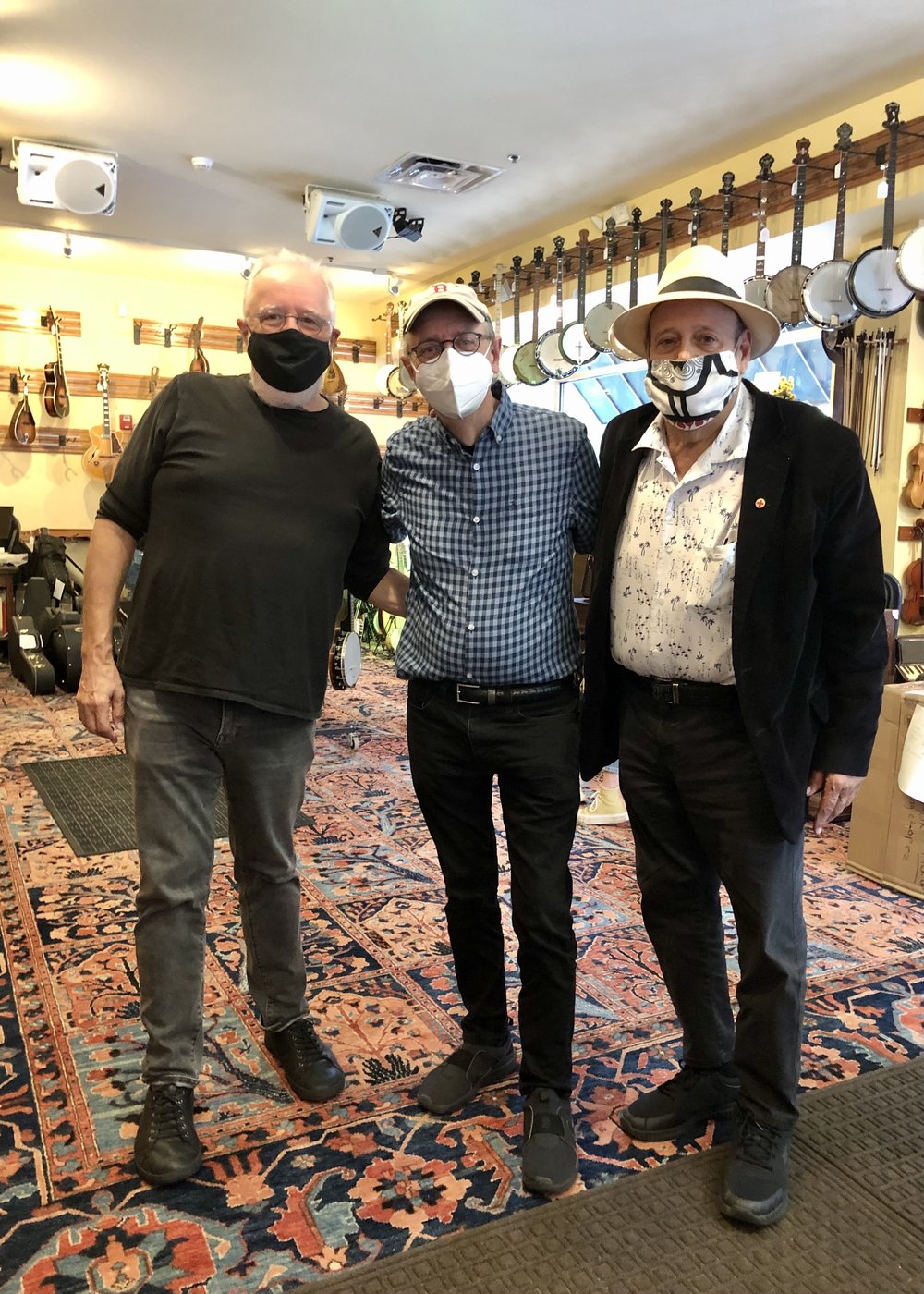 So happy to spend a little time with these two dudes. Especially the one on the left from Chicago!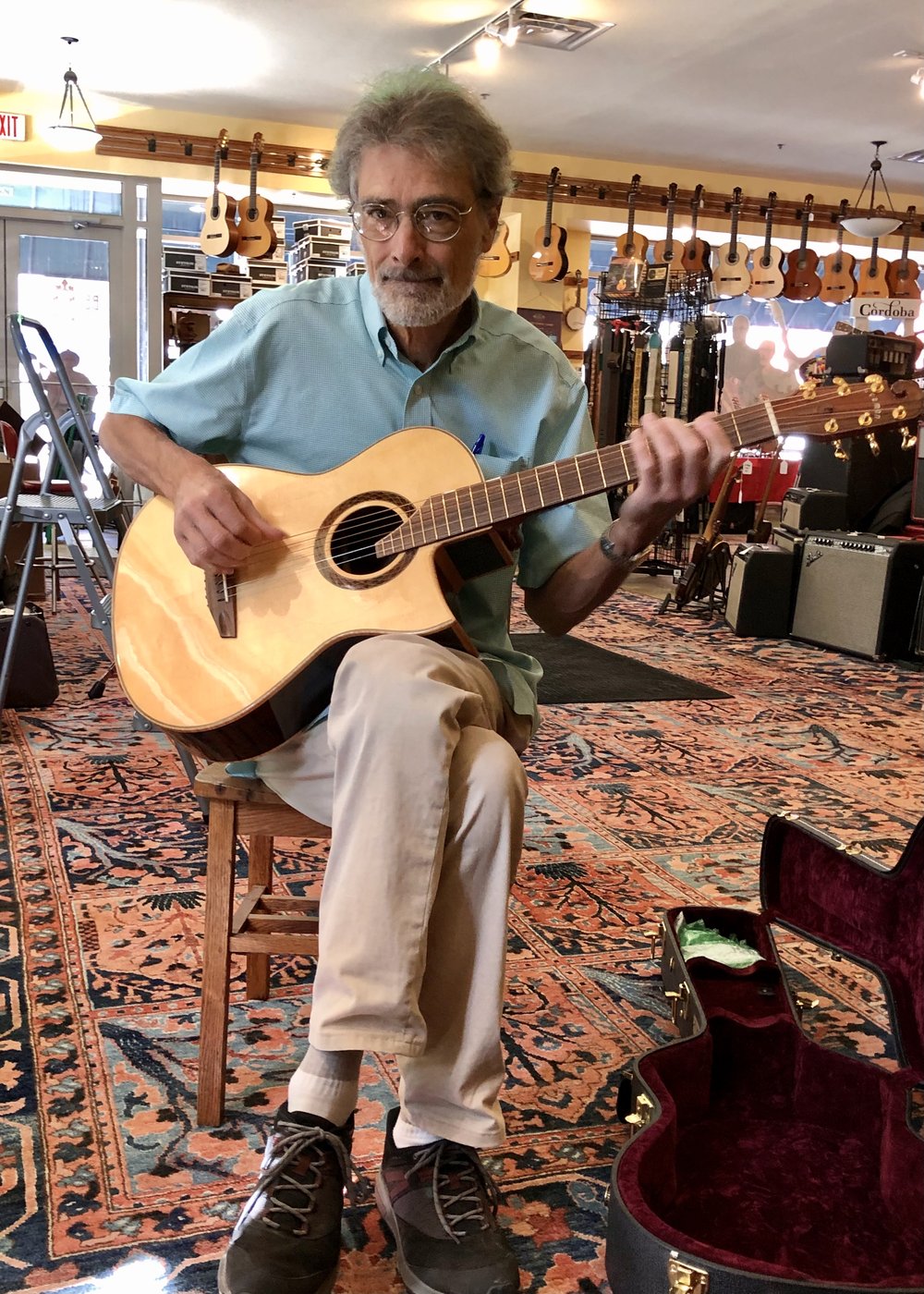 The great finger style guitarist Kinloch Nelson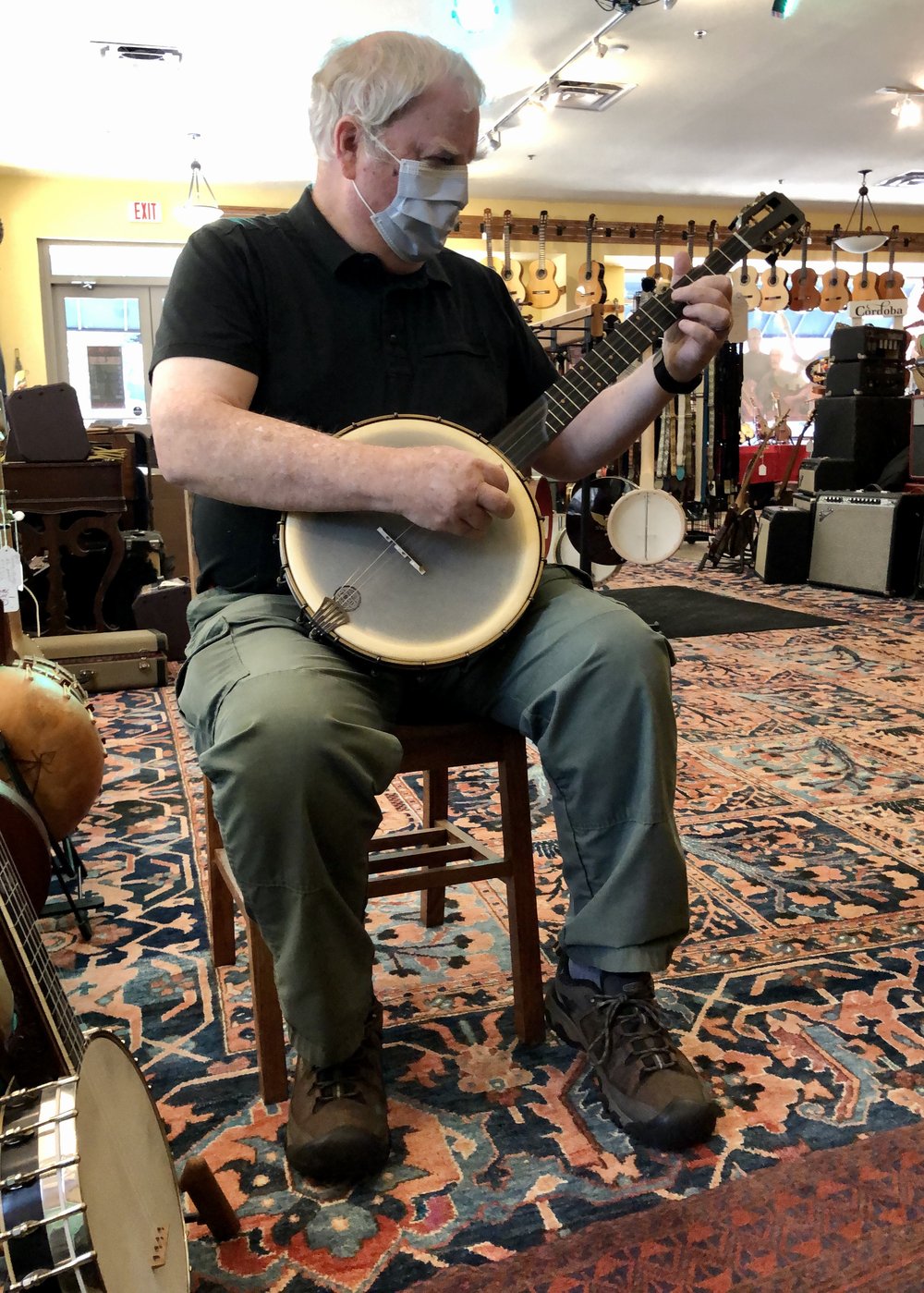 ….a happy customer left with my favorite banjo on Saturday….thanks Mike! I guess will have to order another one from Pisgah Banjos!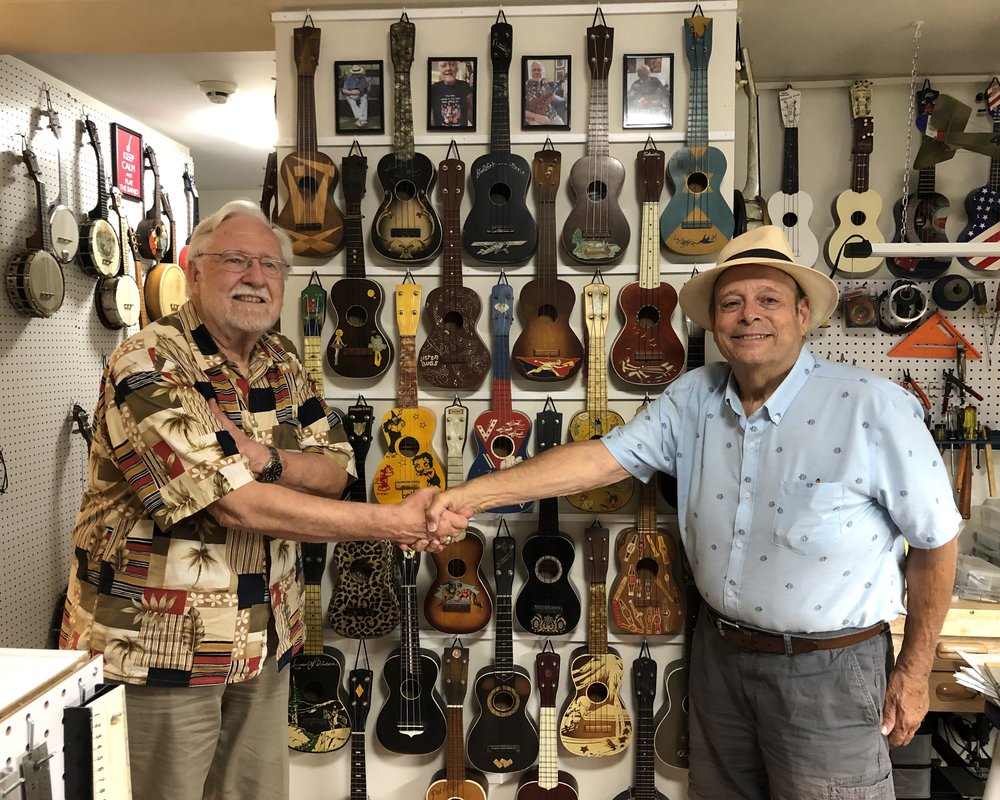 The first stop! Thanks Bruce and Allison for you kind hospitality. We will find good homes for your banjos.