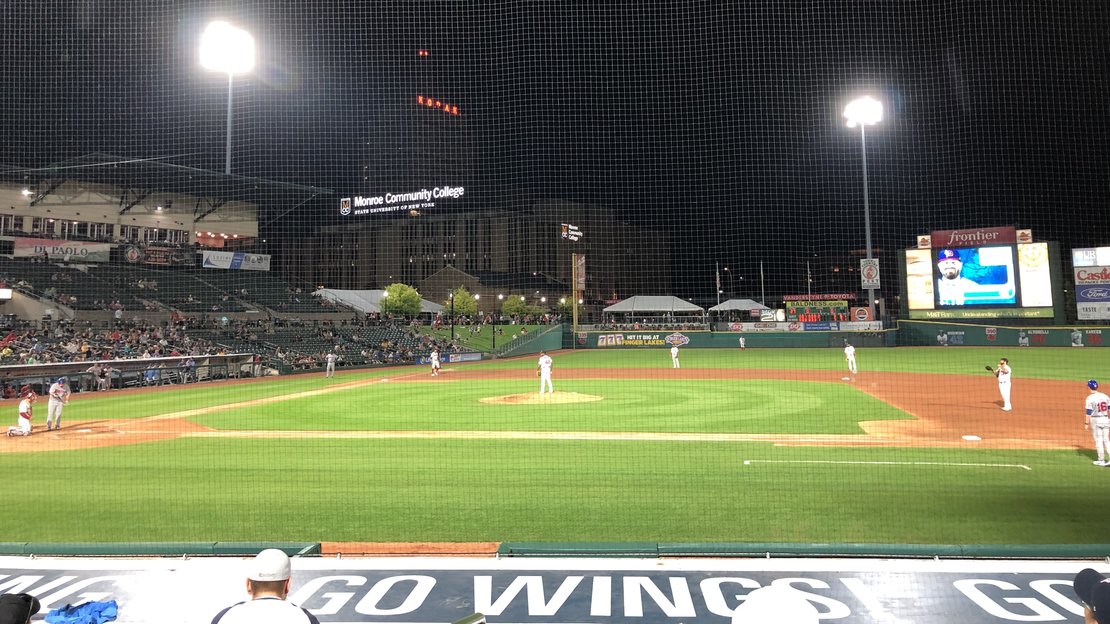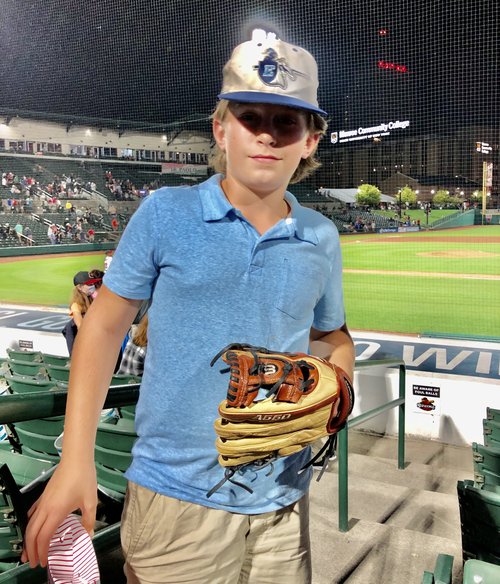 My grandson Henry Miller a young person who still has passion for the game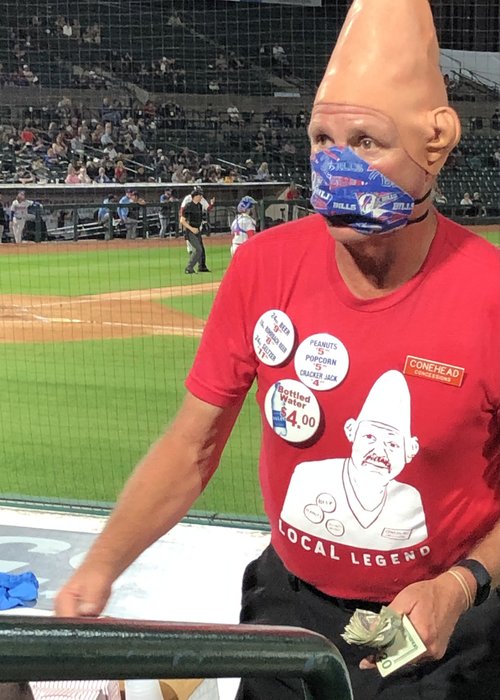 Some things remain the same… Conehead is still on duty after all these years selling beer, popcorn and cracker jacks and he told us a touching story about his twin grandchildren - something we can really relate to!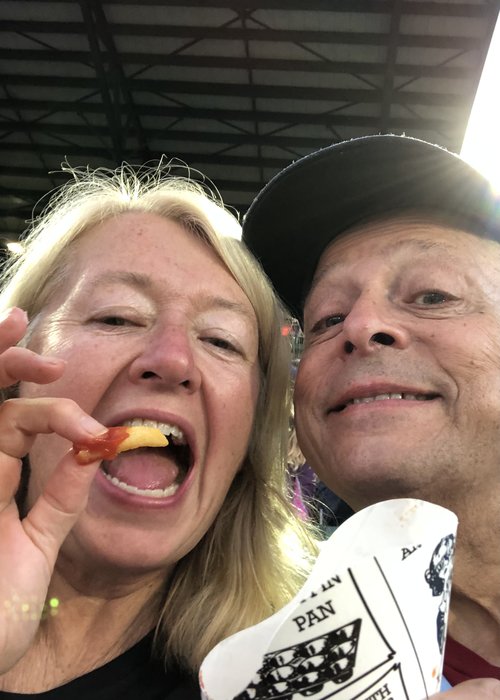 ….And it's an always an excuse to eat french fries and have a dog and a beer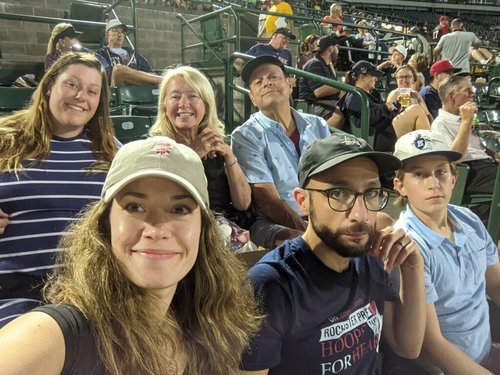 So happy that my daughter Rose and her husband Jose got us tickets to go to the game. It was a long ride back to Penn Yan but I savored the glory of a Red Wing's victory over the Buffalo Bisons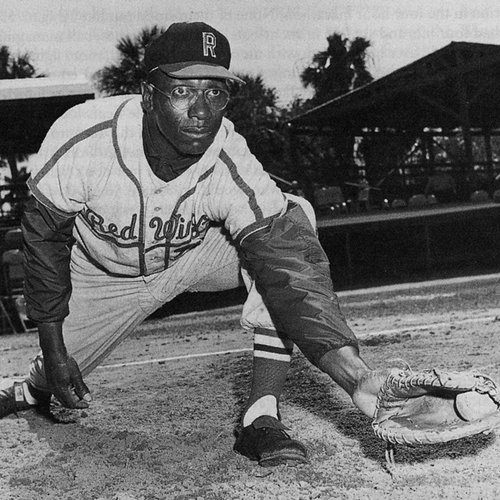 Luke Easter in his familiar pose….sadly he was robbed at gun point and murdered in 1979 at the age of 65.
This was a sad week for our family. My first cousin, and the very best baseball player in the family, passed away this week at age 70. I am so glad that I told him I loved him the last time I saw him. Growing up there were five inseparable cousins. Our parents told us we didn't need friends because we had cousins and we did everything together. My cousin Jerry was a kind person, a great baseball player, and had a great smile. His legacy is his loving family that he cared about so much. Riposare in pace.
NEWSLETTER banjos and baseball
September 20th, 2021
Good Morning Folks,
I will be 74 years old in a matter of a few weeks and I look back at my life and think of two things that were important, driving forces….banjos and baseball. I have a love had affair with both for most of my life. However, in recent years, baseball has drifted away from me. Before this past Friday, I had not attended a game in almost three years. This was partially due to the pandemic but also to a waning interest in the commercialization of the sport. As a young kid growing up in Rochester, my brother Pat and I were dedicated fans. We had our little transistor radios with single earphone plugged in to listen to the game every night. We clung to the morning paper to check the box scores to see how our favorite players had performed. We rode the ups and downs of the daily report of our beloved team whose long time parent club was the Baltimore Orioles. We saw many of the great players of that time including Boog Powell, Mike Mussina, Bobby Grich, Joe Altobelli and Frank Robinson who managed the team for a bit. But none was a greater hero than Luke Easter, the big first baseman who was a hometown favorite. In our minds Luke could hit the ball farther than anyone. He had a smile that was as wide as a baseball diamond. I'll never forget the day the team offered him a silver dollar for every year if he revealed his true age. The next day the sports section was plastered with a picture of the smiling Easter holding up 5 fingers on one hand and 2 on the other. The man was still playing first base for the Rochester Red Wings at 52 years old! Although he was a tremendously powerful hitter, Luke never put up the major league statistics to give him the credit he deserved. You see, because of the color barrier, Luke never was allowed in the major leagues until his mid 30s. It is said that no one hit the ball farther than Mr. Easter….he and Mickey Mantle are the only players ever to hit the ball out of Cleveland's Municipal Stadium. We witnessed many of his great "White Owl Wallops" at the old Silver Stadium. "White Owl Wallops" were named such because if a player hit a home run he was given a box of cigars! My, how the world has changed. And baseball has changed, sadly it is now just Moneyball. Maybe it always was but we didn't admit it. However, in an effort to keep up the fanbase which was being eroded by football, baseball changed its way of operating. It is big corporate business more than ever. When we were young, my brother and I rooted for players….young guys who would be with the team for the season. We shed tears when one of our heroes was called up to the majors…which didn't happen all that often as there were rules in place that protected minor league teams. Today there are no heroes, there is no team. There are property managers. Baseball players are looked at in terms of dollars and what they can mean at the box office or the resale market. The "team" seldom gets to play together because it is a revolving door for the major league operator to take a player and bring him up as soon as he does anything that resembles major league play. Sadly, I cannot name one player on the team. Their new major league affiliate is now the Washington Nationals. The box scores are no longer printed in the paper because the newspaper says people just go to the team's website, so why should they bother covering the team's news.

Banjos have changed also. In my lifetime I have seen banjos go from an inconsequential, comic relief instrument to an incredibly serious musical force being played by men and women across the continent and beyond. In the hands of players like Bela Fleck, Noam Pikelny, Claudio Parravicini, Tom Stuip, Johnny Baier, Adam Hurt or Richie Stearns, the instrument seems to have no limits. At the same time it brings musical entertainment, it brings happiness.
Said so well by Samuel Clemens many years ago:

"I like Gottschalk well enough. He probably gets as much out of the piano as there is in it. But the frozen fact is, that all that he does get out of it is "tum, tum." He gets "tum, tum," out of the instrument thicker and faster than my landlady's daughter, Mary Ann; but, after all, it simply amounts to "tum, tum." As between Gottschalk and Mary Ann, it is only a question of quantity; and so far as quantity is concerned, he beats her three to one. The piano may do for love-sick girls who lace themsleves to skeletons, and lunch on chalk, pickles and slate pencils. But give me the banjo. Gottschalk compared to Sam Pride or Charley Rhoades, is as a Dashaway cocktail to a hot whisky punch. When you want genuine music -- music that will come right home to you like a bad quarter, suffuse your system like strychnine whisky, go right through you like Brandreth's pills, ramify your whole constitution like the measles, and break out on your hide like the pin-feather pimples on a picked goose, -- when you want all this, just smash your piano, and invoke the glory-beaming banjo!"
- "Enthusiastic Eloquence," San Francisco Dramatic Chronicle, 23 June 1865

Sincerely,
John Bernunzio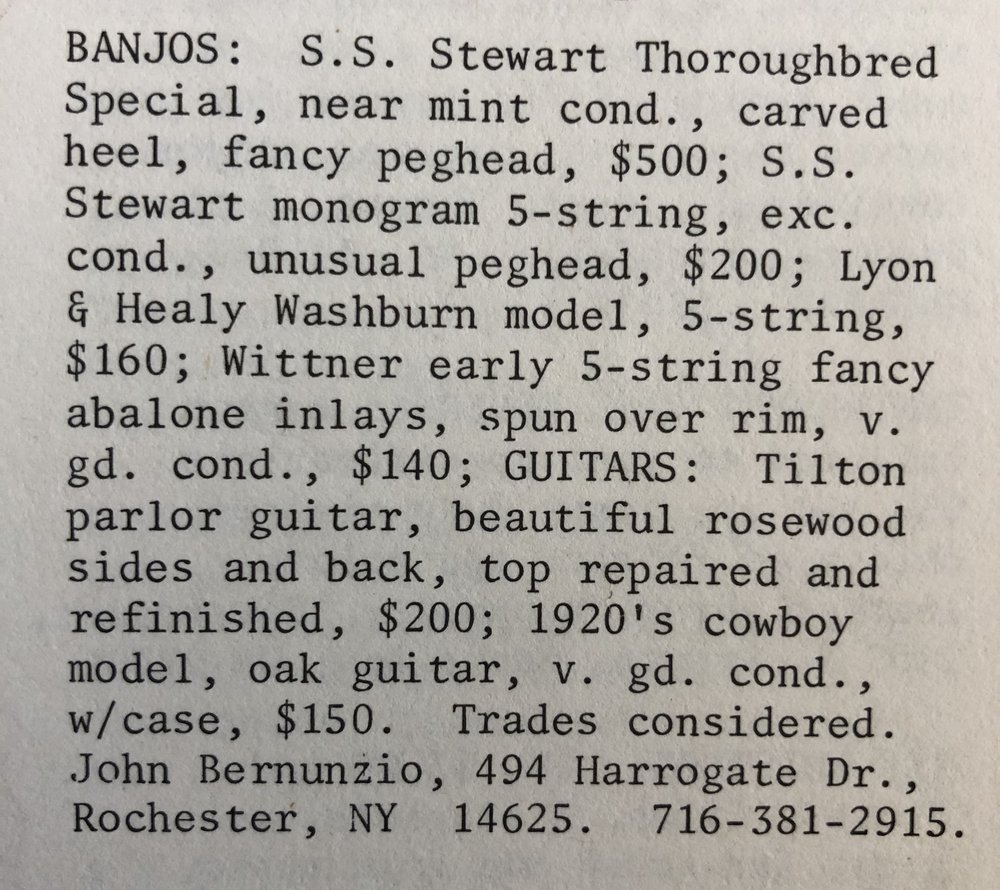 One of my early ads in "Mugwumps" magazine around 1977.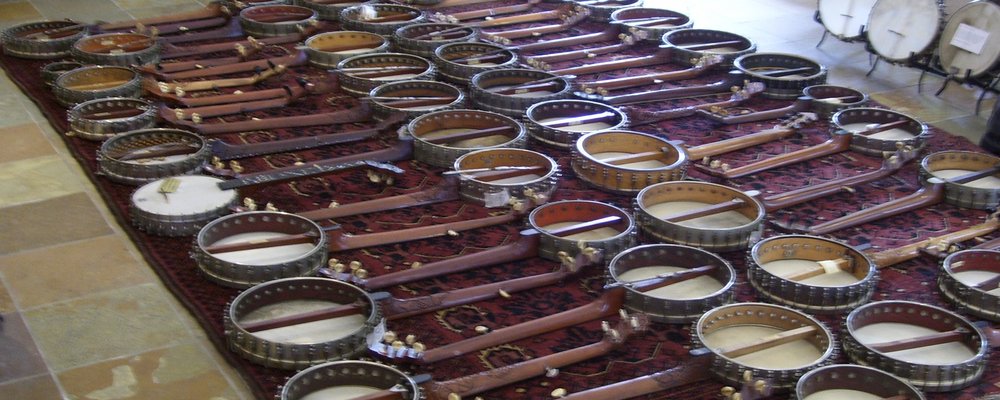 ….oh a day I bought some banjos about 10 years ago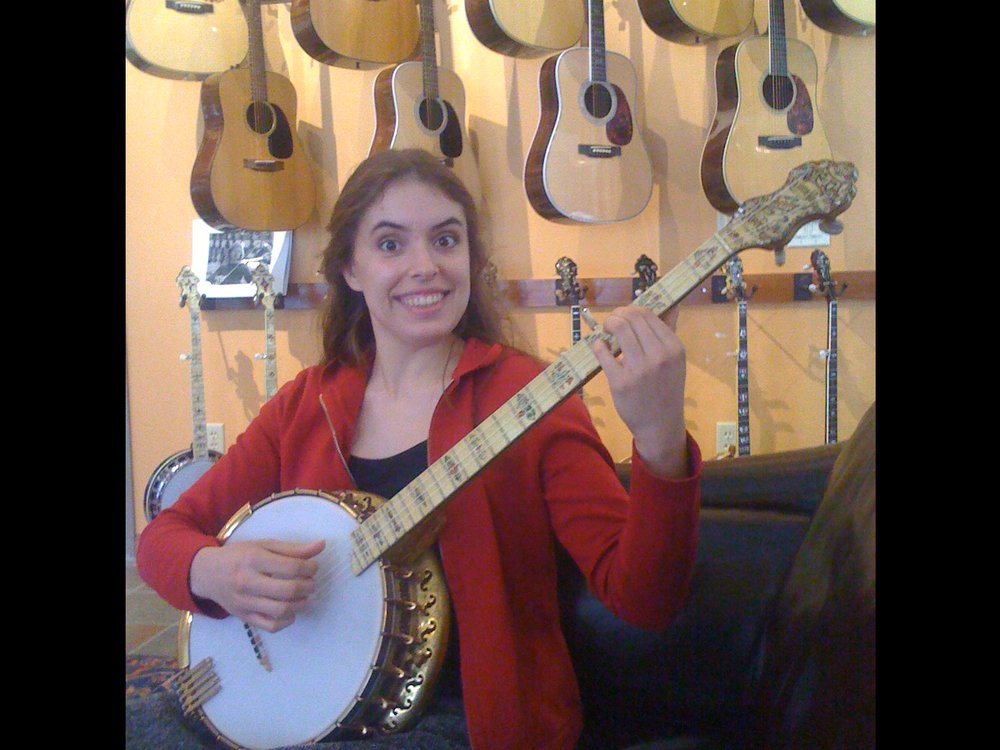 One of the great women banjo players Michelle Younger with Princess Starlight's original 1930s Bacon and Day Silverbell 5 String. One of my dreams was always to have a woman's banjo festival/conference. Someday, maybe in Penn Yan?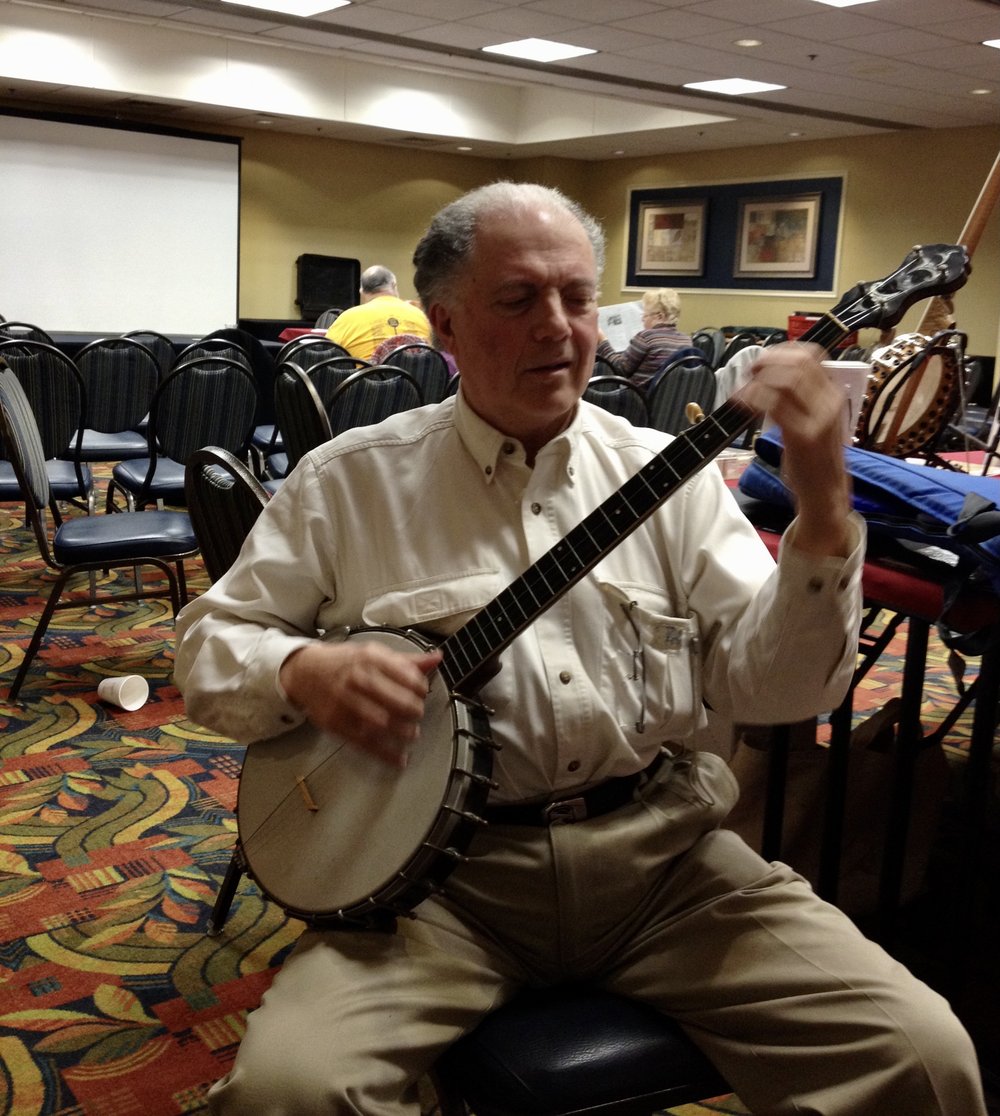 This is my friend Elias Kaufman from the Banjo Gathering around 10 years ago showing off a Farland flush fret banjo. When he received my very first mailing list that was put out sometime in the mid 70s he gave me a call. I had gotten his name out of the back of a magazine so I figured I should send him one of my lists of instruments for sale. He said to me, "I got this piece of paper in the mail. If you're going to sell banjos you better know who I am. I'm Elias Kaufman." He was absolutely right. He is the grandfather of banjo scholarship.
*******NB…I stand corrected by the great Dr. Kaufman. Farland did NOT make flush fret banjos, Van Eps did. Furthermore, this banjo is a Cole Eclipse Professional.