We attended a few concerts in the neighborhood of our store this past week. On Wednesday night we were entertained by the Cadley's, a group out of Syracuse, New York. They were brought here by Bill Destler and his wife Rebecca Johnson who organize the Rochester Folkus concert series. This was the first concert of the season and was a very successful event. They hold concerts every other Wednesday at the Downstairs Cabaret Theater. Check it out if you are in town. All events are acoustic with only a small mic for vocals.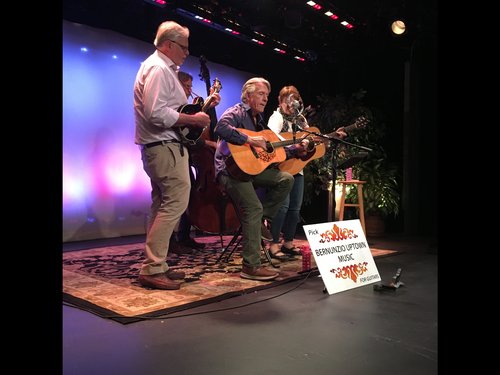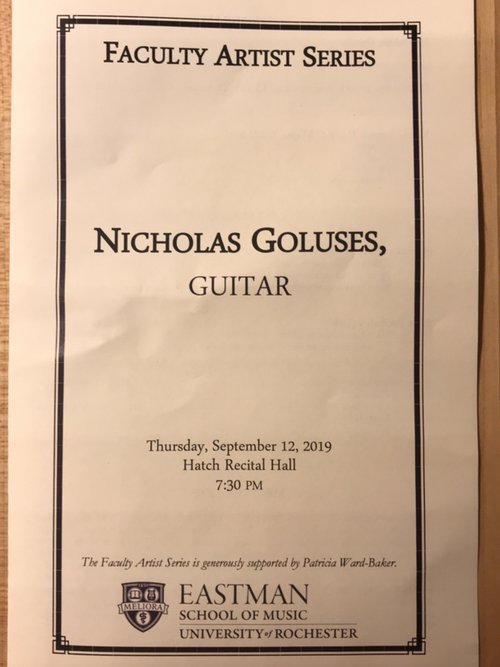 On Thursday night we were able to attend the faculty concert at Hatch Hall given by Eastman School of Music Professor Nicholas Goluses, an absolute monster on the classical guitar. Nicholas is known worldwide and this performance was outstanding example of what is available musically in this community.
September 16, 2019. Becoming a music instrument dealer
Good Morning.
This past week I got to thinking about some of the things that brought me to the point of being a musical instrument dealer. Sometime around 1978 I happened on an advertisement in the old Music Instrument Classified. A fellow from Philadelphia had two S. S. Stewart banjos for sale. They were a piccolo and a pony concert. These two instruments would complete my set of Stewart banjos. I had already found an American Princess with a 10 inch head, a Lady Stewart with a 9 inch head and a Universal Favorite with 11 inch head. The Piccolo with a 7 inch head and Pony Concert with 8 inch would complete the set. The five banjos were proudly displayed in the back room of the tiny ranch house on Harrogate Drive in Penfield, New York. I have been selling old instruments from a printed mailing list for a couple of years mainly to support my habit of collecting banjos. Each instrument that came in was meticulously disassembled, all parts cleaned and metal threads oiled, new head and then set up ready to play. I remember the anticipation of putting strings on an instrument that had not been played for 100 years. Would the neck be straight? Would it have any sound?
Of course I was still teaching school then and a father of two young children. There were lots of responsibilities and bills to pay and banjo collecting was not a priority. I would sell a few instruments from my mailing list and then buy a few others. It was a nice little cycle of things. And then in walked my friend Jay Scott. Jay and I had gone to high school together and he was very "instrumental" in getting me involved in the vintage market. He looked at the wall and said I have a customer in Germany would be interested in those Stewart banjos. and he will pay good money for them. With bills to pay I was faced with a dilemma. If I sold those banjos I would never ever be able to find a set again but I had to take care of my family. I agreed to pack and ship the five banjos to the German dealer Gunter Amendt. I would get $1000 for the deal which was enough to pay three months of my mortgage! It was something I just had to do but it brought a lot of sadness to me. I never thought I would come across another set like this. Jay said something very important to me at that time. He said you have to make up your mind whether you're a dealer or a collector. You cannot be both because you will only be selling the leftovers to your customers if you attempt to keep the best things for yourself. It was at that moment that I made the decision that I would be a dealer of musical instruments and not a collector. Of course Mr. Amendt was buying banjo for the great collector Akira Tsumura. When Mr. Tsumura responded to an ad that I had put in a magazine he realized he could buy the banjos directly from me a relationship was formed that changed my life forever.
Today at Bernunzio's we have the greatest collection of banjos for sale anywhere in the world. Over the years with have helped to build collections and we have dispersed them when they returned to the market place. With the help of the young staff here we intend to keep this going.
Sincerely,
John Bernunzio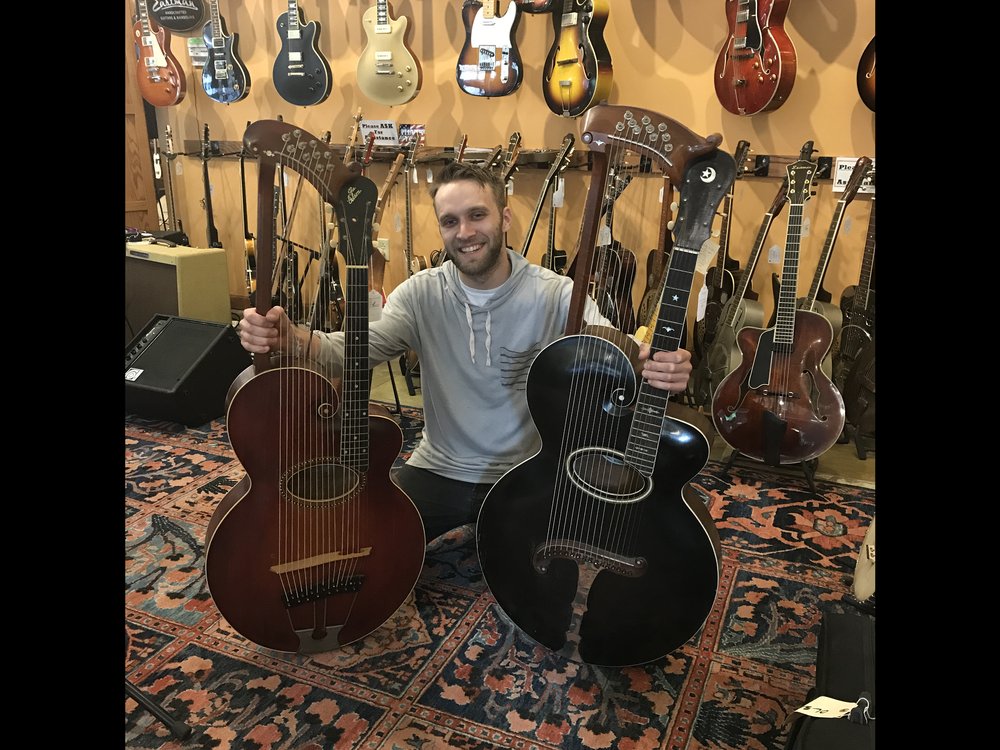 Ryan Yarmel proudly displays TWO Gibson Harp-guitars.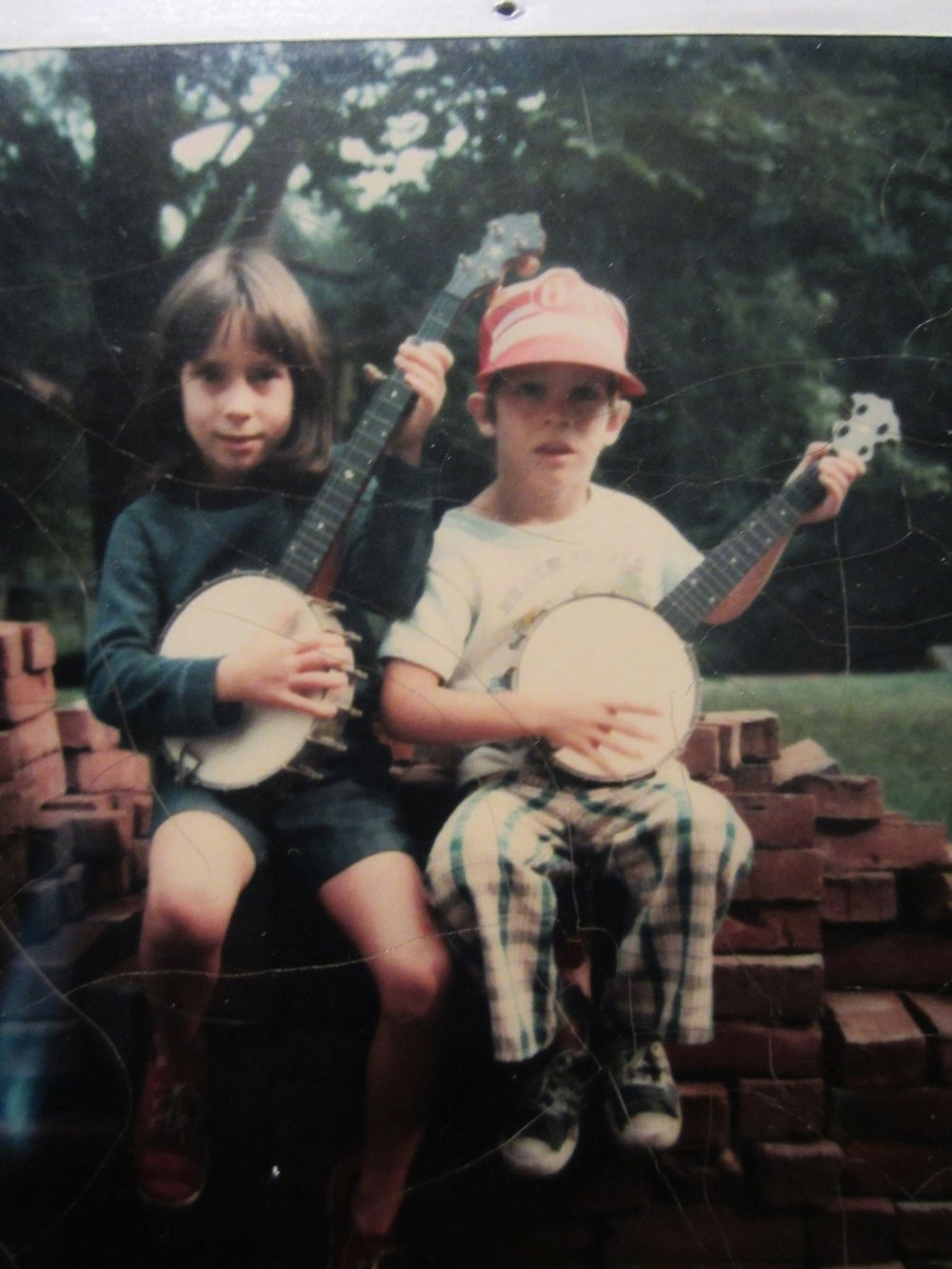 My two oldest kids Kara and Jay showing off those early Stewarts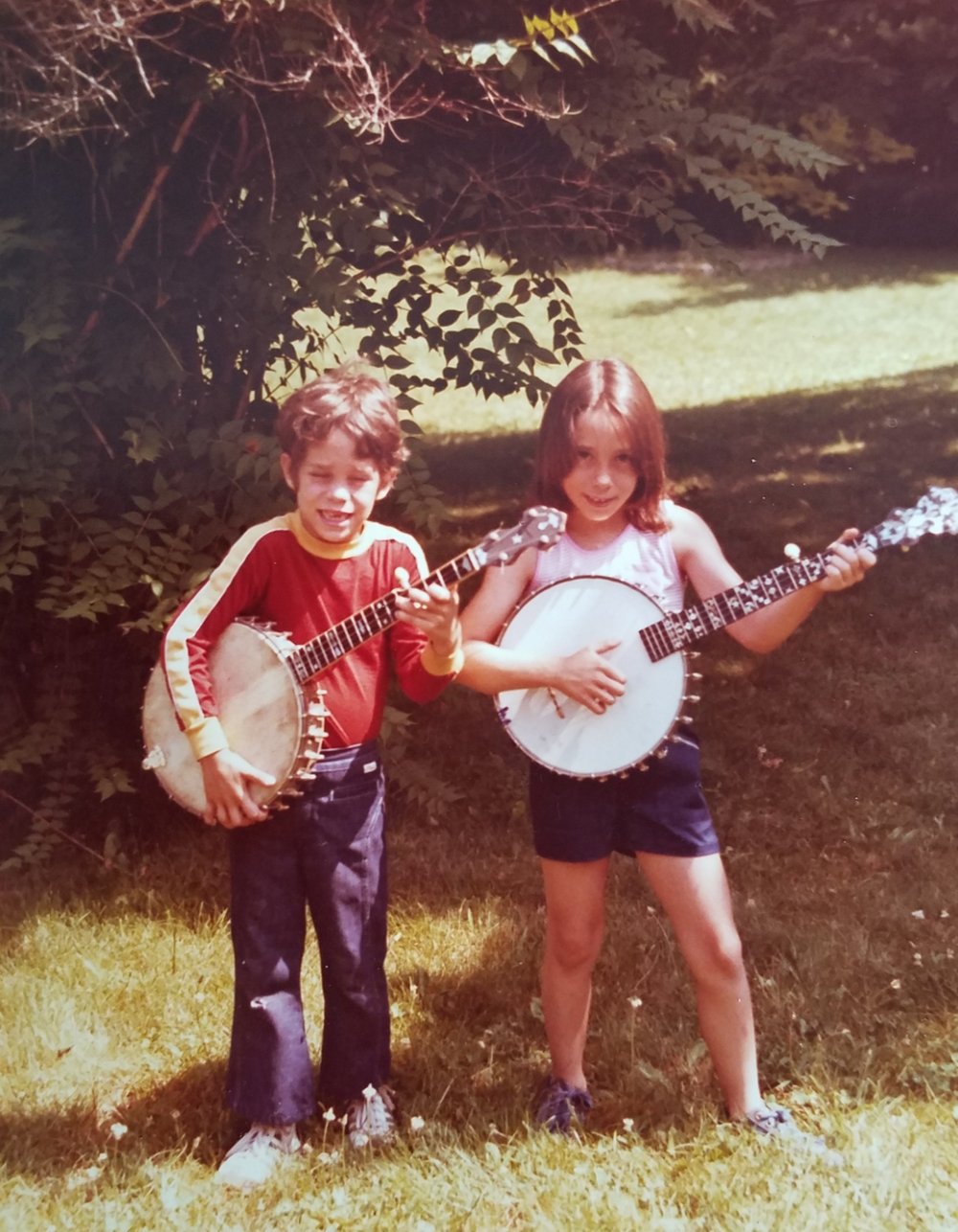 They were also models for other fancy banjos that I was selling.