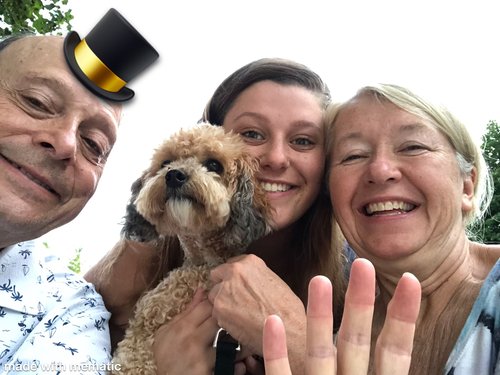 And off we go…I got a new hat for the trip!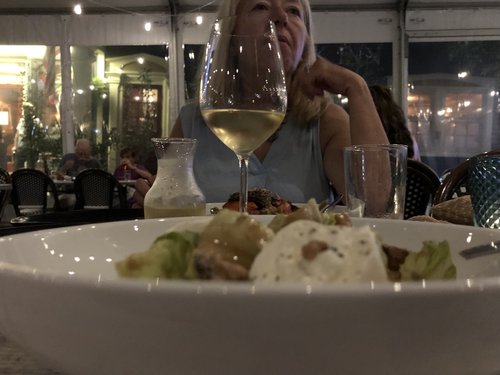 On Saturday night, complements of my son Jay's Christmas gift to Julie, we had dinner at the Park Inn in Hammondsport, NY. It is on the southern tip of Keuka Lake. The chef is Dan Eaton, long time Rochester food expert and talented musical band leader. The meal was outstanding to say the least. He blessed us with one of his signature stuffed squash blossoms to start!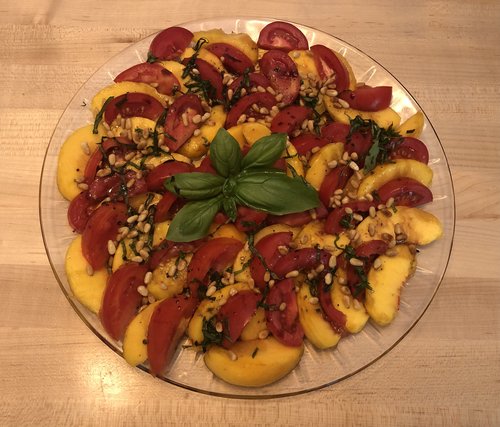 I have to say that Dan Eaton's TV show was been my inspiration for a very special dish that I always make this time of year. The combination of peaches and tomatoes and basil has been my summer favorite.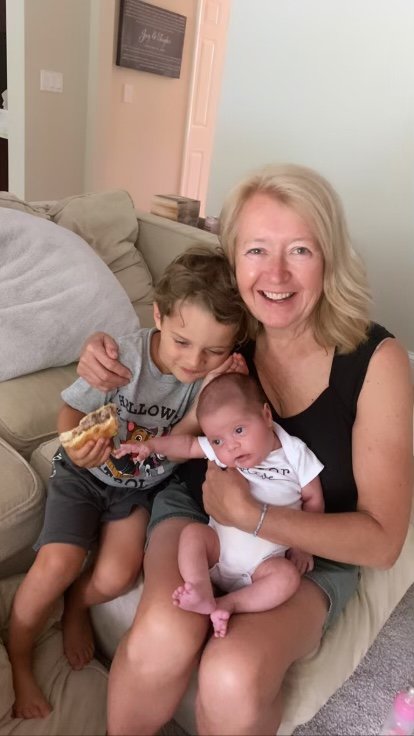 Julie made her weekly delivery of food for Jay and Taylor. She's been doing this since the babies arrived. She got to play with the twins this week. This is her with Olive. Rocco is teaching her how to babysit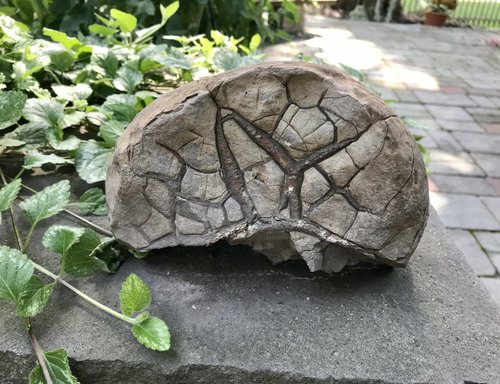 Julie has a new pet….a turtle rock
NEWSLETTER beginning of the trip with Grace
August 30th, 2021
Good Morning Folks,
As we move out of summer and into the fall season Julie and I will begin little voyage with our daughter Grace and her faithful companion Penny. This coming Saturday, we will attend the wedding of my niece "Beth" Whitmore in Cooperstown, New York. The next day we will proceed onto Western Massachusetts. There we will visit our granddaughter Skyler. From then we go to the coast because we have a thirst to see the ocean again and savor some of its delicacies. We will be in the area of Portland, Maine for a couple of days and then cutting across New Hampshire and Vermont back into New York. Along the way, we plan on picking up as many instruments as the old van will hold. We are actively seeking to buy or consign any quality made banjos, guitars, mandolins and ukuleles. If you have something you think we are interested in give me a call on my cell phone or message me. If you follow us on Facebook we will be posting pictures along the way.

Sincerely,
John Bernunzio

In the meantime, Ryan Yarmel keeps rounding them up at the store. Instruments are pouring in every day. Check our store inventory…. is it is a revolving door of vintage gear.
I've really never been that much of a "player". I studied mandolin, I "flail" the banjo and I can barely play anything on the guitar. Long ago I took mandolin and classic banjo lessons from Veda Santos. Mandolin has always been dear to my heart and occasionally when one comes into the store that is so lovely, I take it home….for a while. I'm still true to the promise I made 50 years ago. I do not keep any instruments for my private collection and away from my customers. Invariably when I bring something home it's sells in a short time and I'll bring it back; but at least I get to play it for a while. Such is the case with this beautiful "pumpkin top" Gibson mandolin that is now 110 years old! Still tinkling around with the old Santos methods.