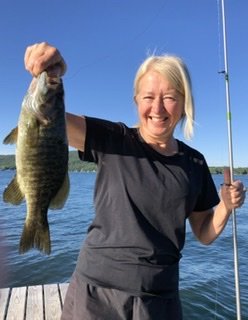 Julie is a woman of so many talents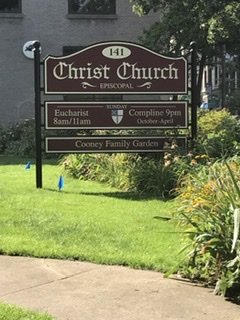 The Christ Church flowers got some company on Saturday.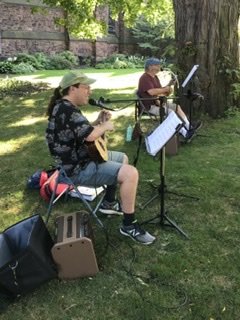 The always present, fearless leader Randy Pollok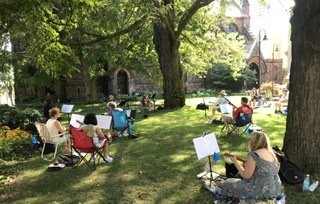 Ukulele social pandemic style!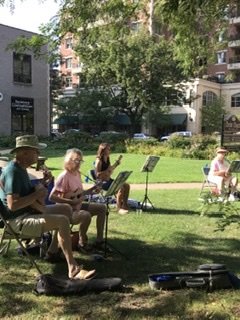 Socially distant and ready to "uke" it up.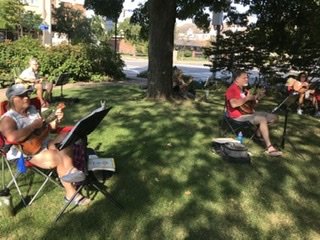 A great time was had by all. You can only get so much through Zoom and people really longed to spend time with old friends.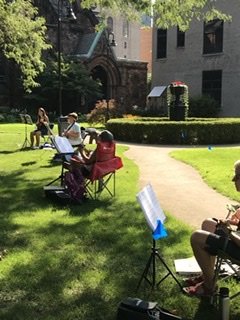 Ukulele social another successful event by Julie Schnepf.
Newsletter Julie/Ukulele social
August 24, 2020
Good morning friends,

This week's newsletter is dedicated to my wonderful wife Julie Schnepf who has made my recuperation from back surgery down at Keuka Lake a possibility. She's an amazing woman and the moment I met her I become luckiest man in town. This past weekend Julie came down to spend some time with me at the lake. Of course she brought work with her and we catalogued a pile of newly found parts which we will put on eBay. There are necks and cases and rims and tonerings, hooks and nuts and pickups and ephemera. All this came from the storage area in boxes that we had forgotten about many years ago. There should be some great stuff coming up for sale soon. If there is something specific you are looking for in terms of a vintage banjo part just send me an email and I'll see if I can come up with it. I know a few people have asked for specific sizes or shapes of nuts. I try to keep them in a file so if I come across them I can set them aside. Let me know what you need.
But enough of work, mostly though, Julie spent time cooking, which is her true love. Now Julie approaches cooking like a jazz musician. A recipe is simple melody that she will take and embellish and improvise and make it become her own. She spun up some dainty dishes, some cooked with my fresh fishes! The tiny little kitchen in the trailer put out some amazingly healthy food.

She did take a little time off to catch a really nice bass of her own right off the dock before heading back to Rochester to work on Saturday. It the first day that we have been open to the public since the pandemic started and it was very busy! She also hosted an in person, masked, socially distant ukulele "social" in the park at Christ Church across the street from the store. People were so anxious to have a little bit of social contact so it was a successful event and they are clamoring for more. Julie started our whole ukulele scene shortly after we open the store. It's always been her baby, her event and it is her instrument. She has one of the finest three sounding Martin 3K ukes that I've ever heard. It goes by the name of Winnie ask her about it!

Sincerely,
John Bernunzio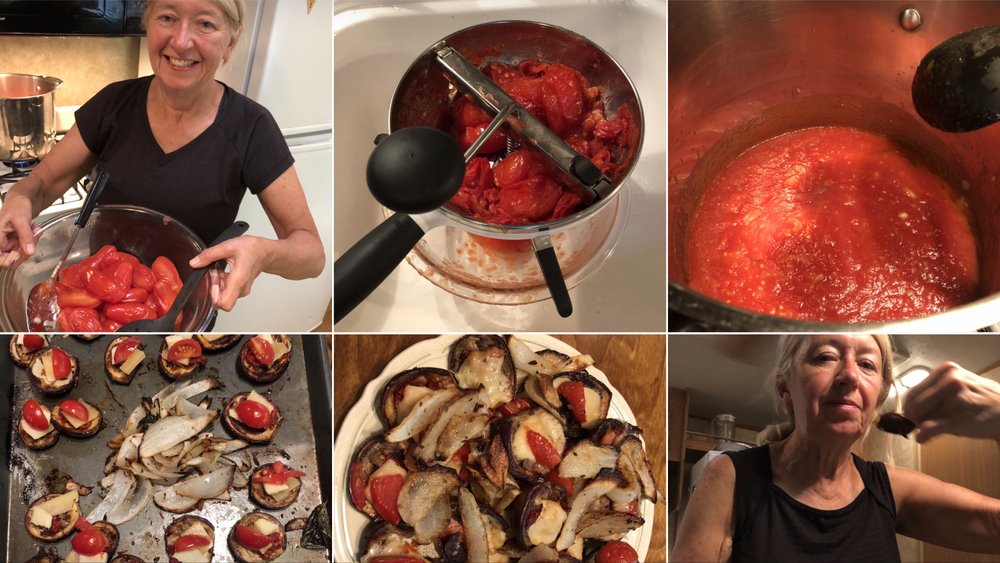 This weekend she realized the fruits of her labor harvesting San Marzano tomatoes from her garden and making a batch of old school tomato/basil sauce.
Miniature eggplant Parmesan made from tiny, locally grown eggplants....everyday something exciting, local and nutritious.

Lake trout stuffed with crab and shrimp! This was the recipe that was given to me when I lived on Canandaigua Lake around 45 years ago. I don't think I had caught a lake trout in 25 years.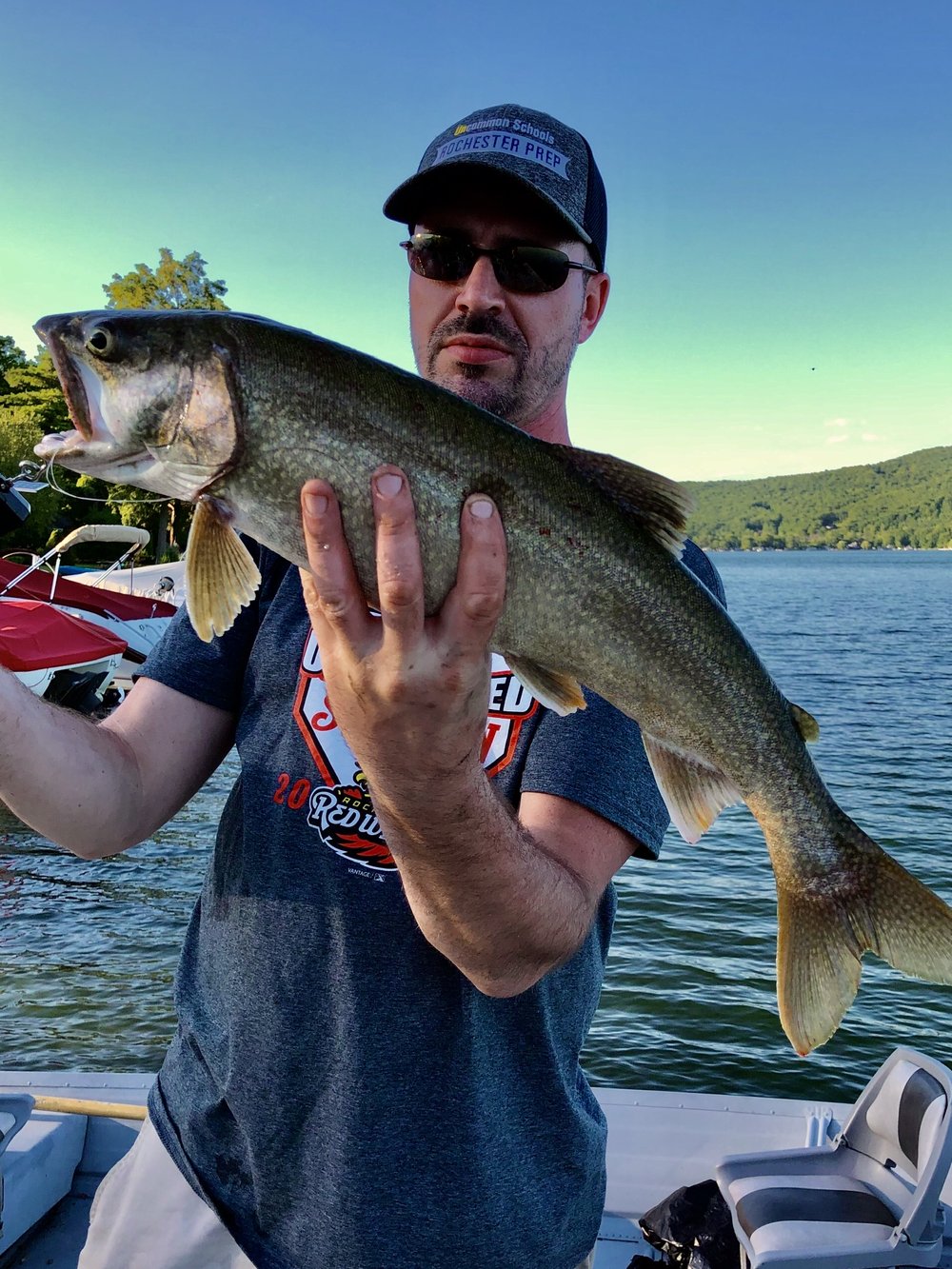 The sequel to last week's newsletter, my son Benjamin decided to spend a few days with us at Keuka Lake. Something that we haven't done in about 25 years was to fish for lake trout. It is a complicated rig and not always very successful. It involves taking the boat out and getting a particular type of bait and using special poles that I've had put away for many years. He said, "Dad, we can do this!" As a result we caught two amazing lake trout, one of which ended up on the dinner plate!