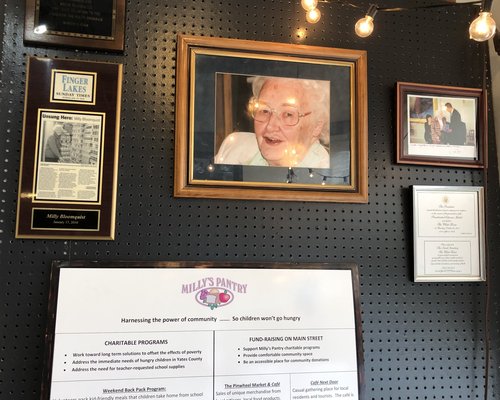 Milly Bloomquist was the school nurse in Penn Yan school system for many years. There is a very good YouTube video about the organization here.
The local newspaper, in her obituary said the following…..She received numerous community service honors and, in 2011, was awarded the Presidential Citizens Medal by President Obama. At that time, the President leaned down to where Milly was sitting and said, "You did wonderful work in your life." Milly looked up at the President with just a sparkle of defiance and responded, "I'm not done yet!"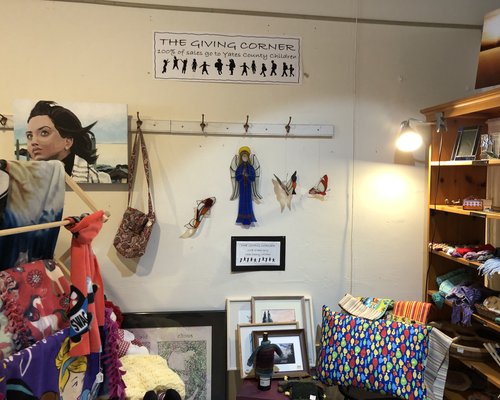 Everything in this section of the store is donated by locals and 100% of the sales go to Milly's Pantry.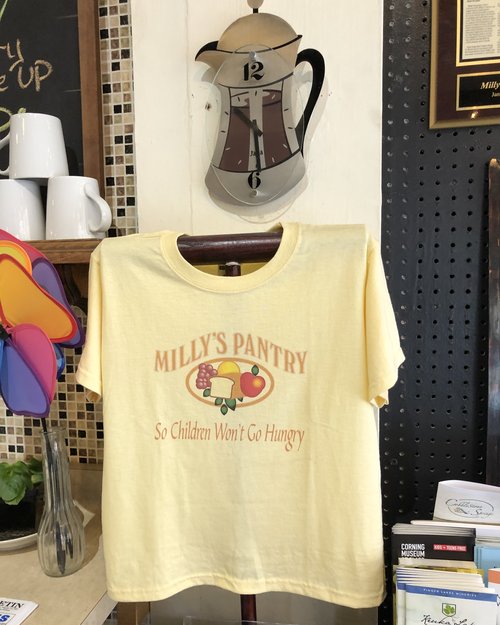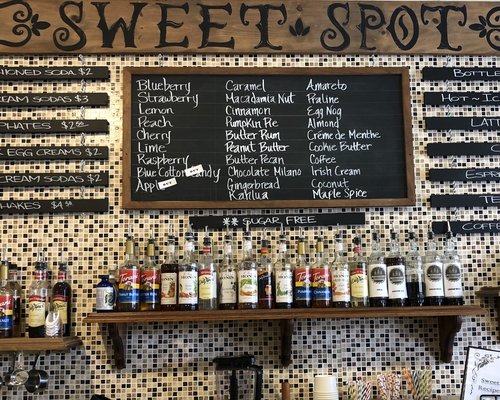 My favorite cocktail at Milly's is the "Blueberry Wake Me Up". It's a fruity shake with a shot of espresso!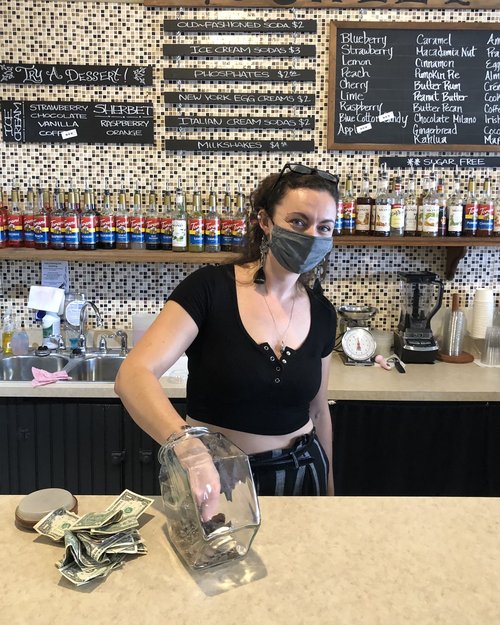 Denise, the manager with her hand in the cookie jar! At least she is wearing a mask. The organization is mainly made up of volunteers.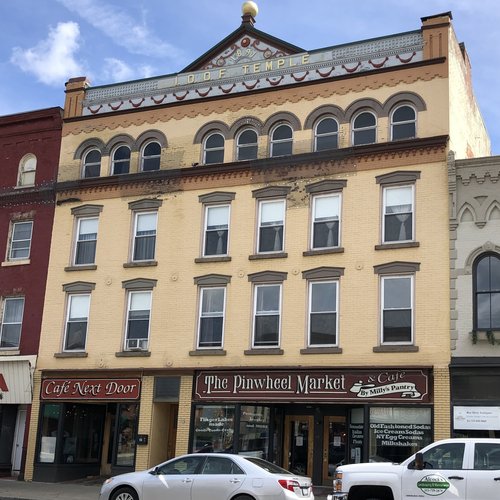 The old Oddfellows building and home The Pinwheel Market
NEWSLETTER pinwheel market outlet Trail
August 16th, 2021
Good Morning Folks,
It is been nine months since Julie and I have moved to the town of Penn Yan and this has given birth to many new ideas and experiences. Over the past few months you may have heard me mention a few of the things that have influenced us here in Penn Yan. In particular, you may have heard speak of The Pinwheel Market and the Keuka Outlet Trail. I'd like to spend a little more time talking about these two non-profit organizations as I believe both are successful models that could be replicated anywhere. I spent time at both places this weekend cruising around the town on my bike. It's kind of like a miracle to be back on my bike after knee surgery and back surgery but it's the best thing that I can be doing. And it gives me an opportunity to visit these very special places. Everything in Penn Yan is about a half a mile away from our house.
Milly's Pantry at the Pinwheel Market was an outgrowth of a movement started by long-time school nurse and prominent Penn Yan figure, Milly Bloomquist. She saw the link between poverty and lack of opportunity that was prevalent in Yates County, the poorest in NYS. She dedicated years of service to making sure that each child had food to take home for the weekend and had school supplies to start the school year regardless of need. The organization grew and through a grant they were able to purchase the Odd-Fellow's building on Main Street in Penn Yan. There's an in-house Café and "retail" store on the first floor along with a meeting place. Here they sell products whose vendors have dedicated a portion of the profit to Millie's Pantry. There are also donations from local craftsmen and folks just moving things on. It is very eclectic and staffed by volunteers. The money spent here definitely goes back into the community. The second floor is remodeled as a kitchen and is open to people who would like to explore the opportunities of a cooking project…it is thought of as an incubator for local products and people with ideas. The third floor, which was the ballroom, remains as it was 100 years ago with 15 foot ceilings and beautiful view. It has been used to rent out for larger occasions. Of course Covid hit volunteer organizations the hardest. They have a new board and today they are working to restructure to keep this important grassroots organization alive. I frequent it often, sometimes just to say hello.
The Keuka Outlet Trail is it incredible example of grassroots efforts to take back what once belonged to the people. It is recreation where there was once was industrialization. It reminds me of the old Marshall McLuhan adage, "the technology of the past is the art form of the future". The trail follows the outlet stream that meanders from the tip of Keuka Lake descending about 300 feet over the course of 7 miles and emptying into Seneca Lake. Two hundred years ago it was a perfect place for people like the followers of Jemima Wilkinson, The Universal Friend, to settle and make a new life. The several rapids and waterfalls also gave an opportunity for entrepreneurs to reshape the land and use it for building mills and move goods to market. A canal was built along the waterway and later on, a Railway. In 1972 a devastating flood ruined most of the track and the railway kindly donated the land to the local municipality, I believe it had been out of use for quite some time. In turn, the nonprofit organization, Friends of the Outlet Trail took the land and made it back into a recreational spot for people in the Finger Lakes. The 6 1/2 mile trail is roughly graded and maintained by volunteers. The portion that is within the village limits is also paved. This was done by volunteers and donations from local people and organizations. It was not done with government money and it is funded and operated by the local nonprofit. It is a gem and and it is example of how we can repurpose things that have scarred the earth and make them into something that can have a gentler purpose. We are proud to announce that Bernunzio Uptown Music is sponsoring an event at the end of September celebrating the trail. More about this later, but I will tell you it includes a chicken barbecue!
The models for these highly successful organizations could be replicated anywhere across America… in a center city or a rural setting. When citizens are willing to sit down together, plan and work with municipalities and small businesses for the betterment of their own community, it is a win for us all. I think that has something to do with our founding principles.
All my best,
John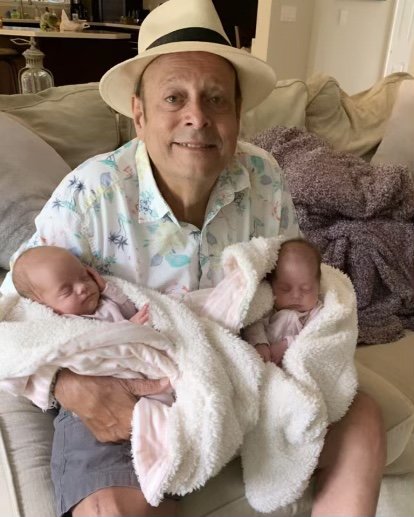 I would be remiss if I didn't give an update on the twins. Last Thursday I got to spend time with both of my new twin granddaughters Scarlet and Olive. They are both home together now and the family is reunited. They are beautiful and precious. They were born six weeks premature so now they are nearly as developed as a two month old baby but the size of a newborn…Such a miracle. And all our love to Jay and Taylor and Rocco…your family just increased by 40%!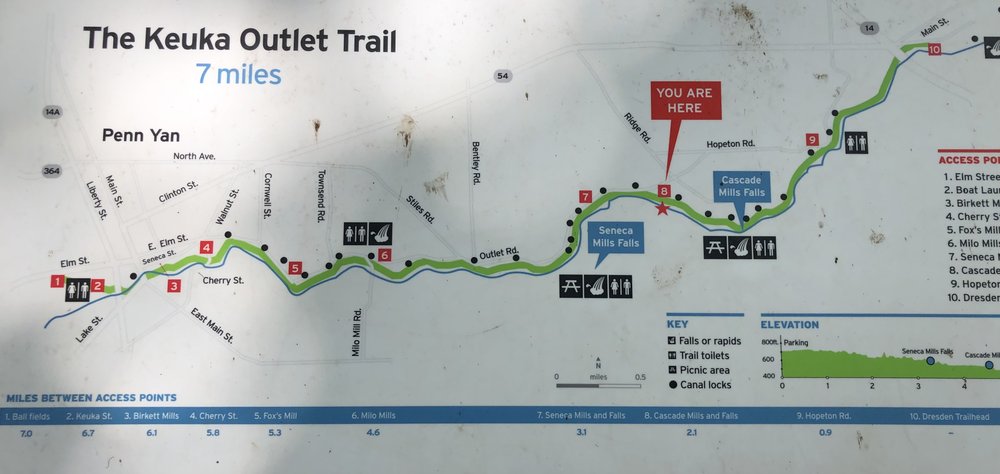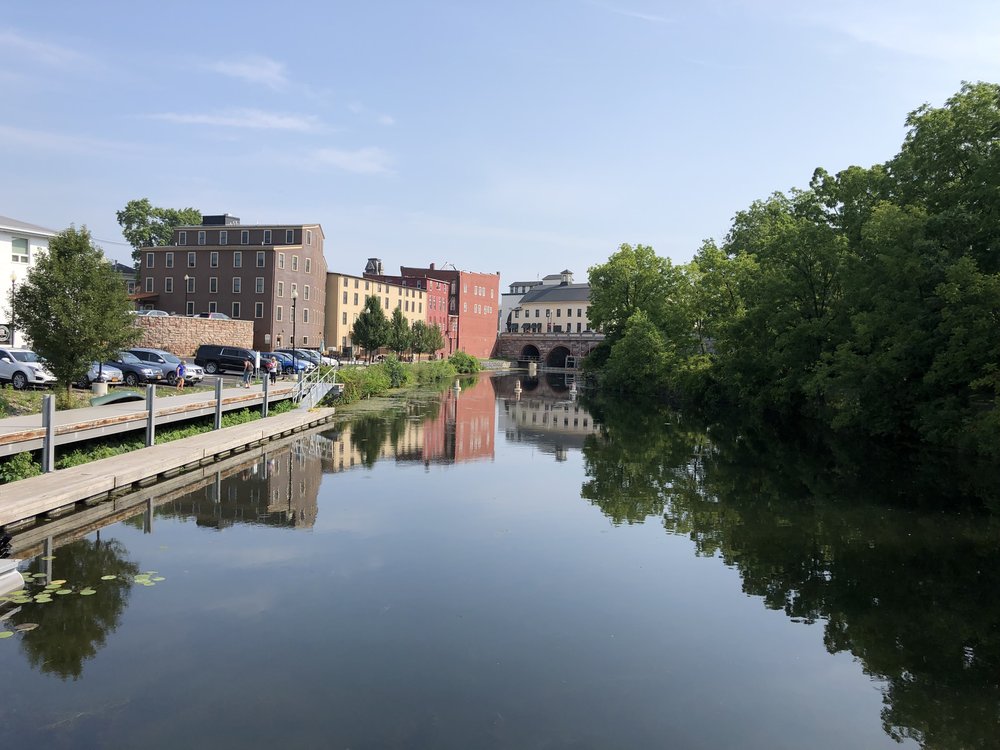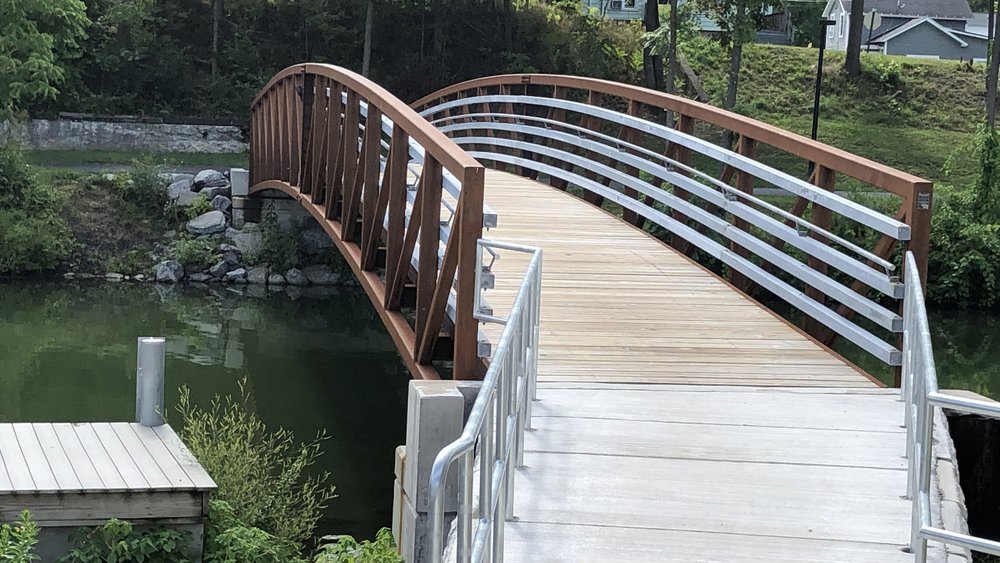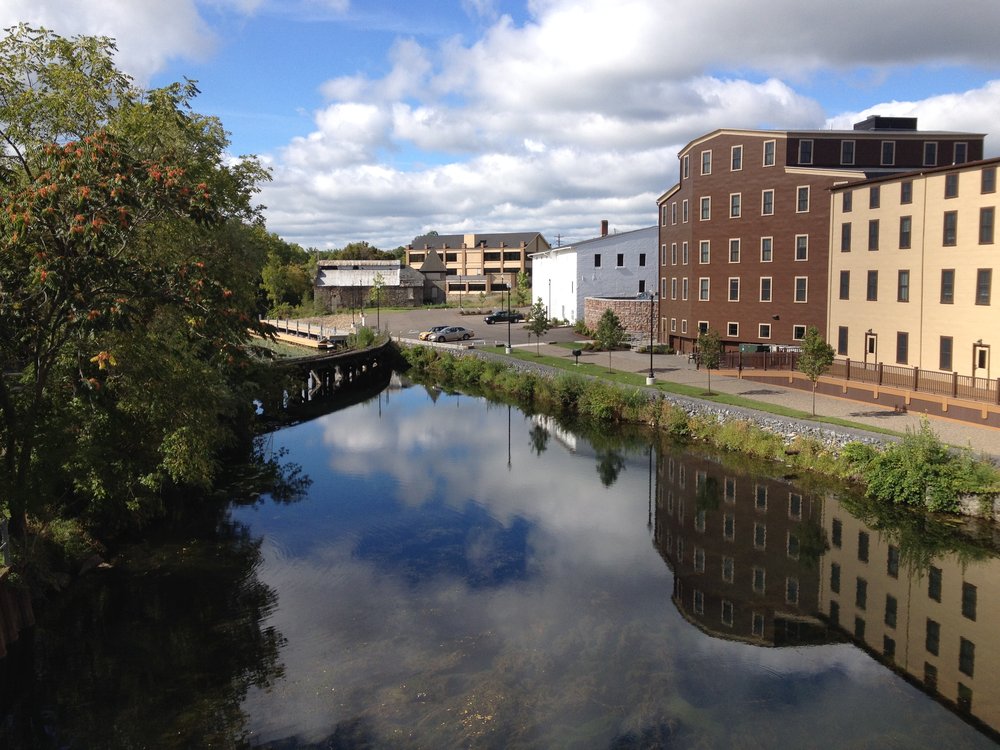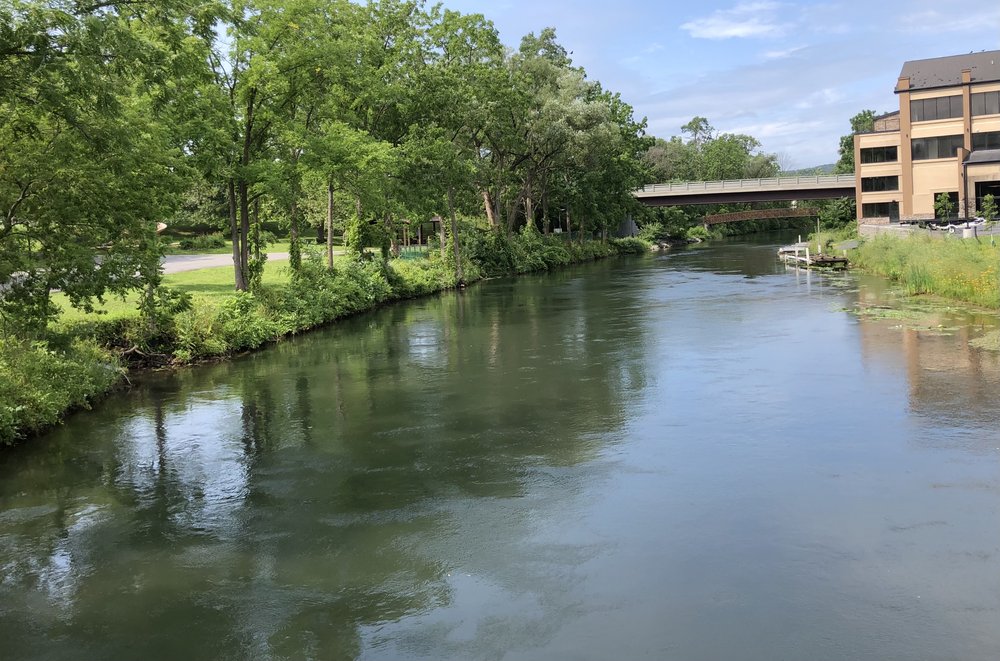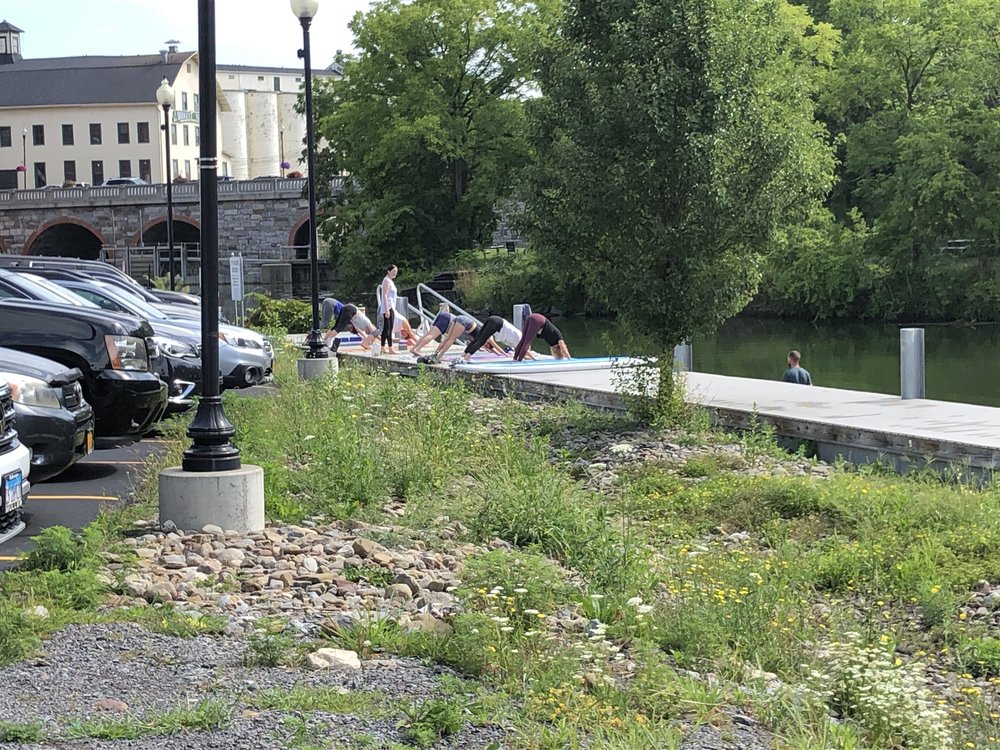 Every Saturday morning along the Outlet Trail there's a yoga class!