With Julie down at Keuka Lake this past week I was able to get out of the driver seat and get the view from the rear view mirror. Sometimes it's a better way to see things.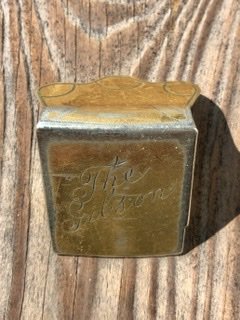 Somewhere out there is player who needs this beautiful, engraved gold tailpiece cover off of banjo from the early 20s.
To be exact, a Gibson style TB-5 tenor or mandolin banjo with "trapdoor" construction.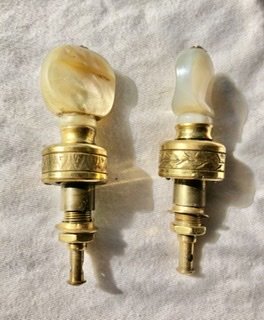 I was going to put these two tuners is up for auction but of course it was Julie's keen eye that saw they are completely different engraving patterns. She auctioned off the one on the left which was from Gibson Florentine. This week the tuner on the right which we believe is from an Epiphone Deluxe will go on the auction block.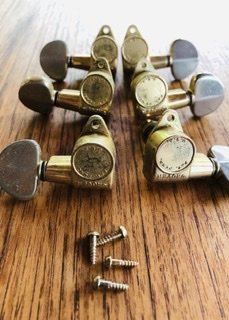 Anyone need an old set of early Grover "Rotomatics", the kind that would be found on Martin D 45 or D 41 from 1968? They'll be up soon for only one dollar!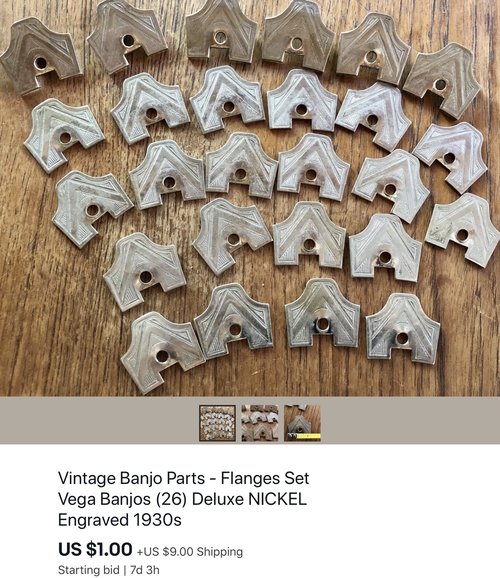 Here's a set of original engraved flanges for a higher and Vega banjo. They are original nickel plated.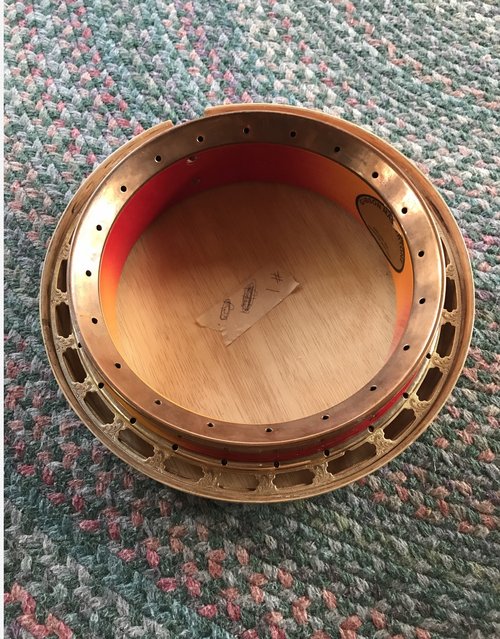 We recently uncovered a whole stash of Gibson project parts..... there are flanges, tension hoops, tonerings, rims, hooks, nuts, fakes and originals. They will be auctioned off in the coming weeks.
NEWSLETTER EBay and fishing
August 10th, 2020
Good Morning Folks,
This week I got to spend the entire time with my beautiful wife, Julie Schnepf. In addition to cooking up some fantastic meals and making the most amazingly wild blackberry jam, she joined me fishing and boating and enjoying the sunshine. Quarantine can be a beautiful thing.
Of course, there was work to be done. Julie has always been a task master. Germans and Italians makes strange bedfellows. I always want to play and she prefers working. We have learned to compromise and hopefully we get a good half day in. She planned on putting me to work so she could get her eBay auctions running again. This has become an important part of our business. We usually offer up about 20 things for sale every week with auctions ending Sunday or Monday. Everything has an auction price starting at only one dollar with no reserve and a modest fee for shipping. It is an interesting plan and has produced some incredible great buys and great sales. In other words, there are some people who got some amazing stuff for only one dollar and others were paid a real lot because they found the exact thing they had been seeking for many years. Overall, this has generated a supplemental income since we are still keeping limited hours by appointment only, at the store. Julie takes care of all the details involved in these auctions but I am the only one really knows what the things are. So we spent a few days pouring over bags and boxes of tuners and bits and parts. We've accumulated some fascinating stuff over the course of 40 years. In fact, it was about 30 years ago that we hired Julie's mother, Barb, to work for us. Julie decided we needed to clean out the basement of the old house in Penfield. They had put all kinds of things in boxes ready to haul it to the street and I put the hold on everything. I said this is all valuable stuff. Someone, somewhere needs these things. That's when we begin our BVI "parts" business. Julie's mom started putting things in small bags and we gave them numbers and she would catalog them into the computer. If you remember our old mailing list, it always had a parts section with lots of unusual things. Well folks, it's time to really open up the cavern. We are starting to find all sorts of parts and ephemera that we have been squirreling away for 40 years. It will all go on the auction block a few pieces at a time with every auction starting at a dollar so bookmark your browser to Julie's auctions. They are under the seller name elleneast. A link can be found here.
I will be in town on Tuesday this week. I have to come in for my annual physical and have my doctor give me her blessing. Physical therapy has been proceeding very well, thank you for all the good wishes. I plan on being down here for the rest of the summer and into the middle of October. Anyone planning on visiting the Finger Lakes region, give me a call or send me a text. We are actively seeking to buy instruments in this area and have a good amount of money waiting to pay well for quality vintage guitars, banjos, mandolins, ukuleles and violins. Give us a try. Text 584-733-2429.
Sincerely,
John Bernunzio and Julie Schnepf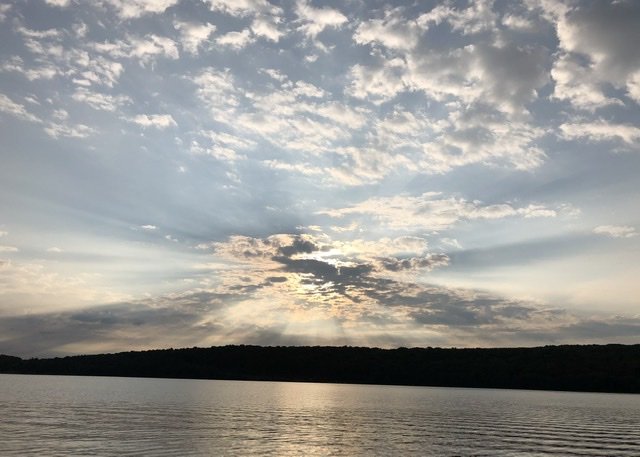 When clouds and sun are in the mix it is always a better view. There of been many cloudless days and many fully cloudy days but it's always when there is a mixture of the two then beauty puts a foot forward...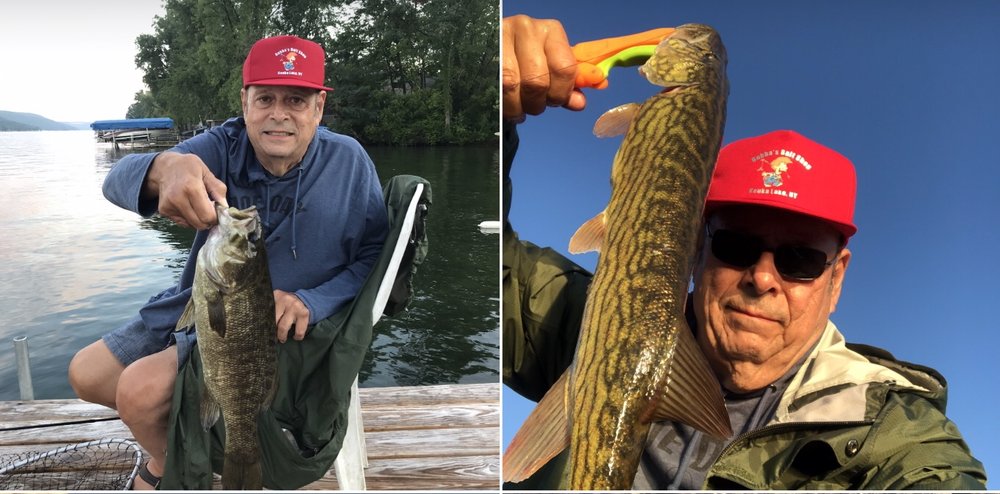 For those keeping track of my fishing exploits I have to say that even though the number of fish have slowed down, I have landed some really "lunkers" this past week. On the right, is the largest pickerel I ever caught measuring about 24 inches. The bass on the left was also the largest one of the season at 4+ pounds...not bad for a smallmouth. They both went back in the water for the next time.
In the words of comedian Ron Swanson, "Fishing relaxes me. It's like yoga, except I still get to kill something."