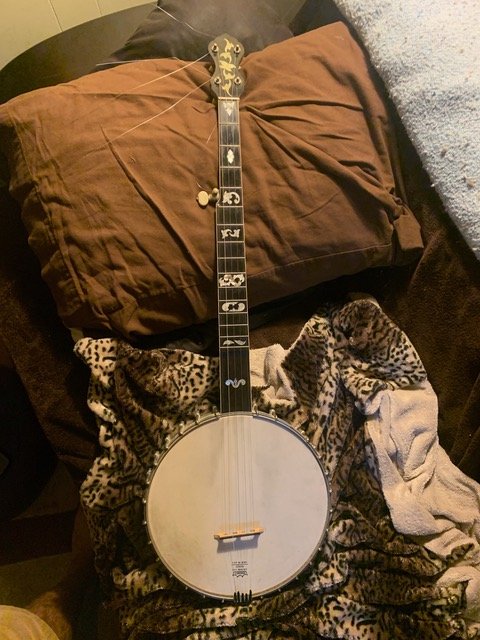 Providence Guitar and Banjo.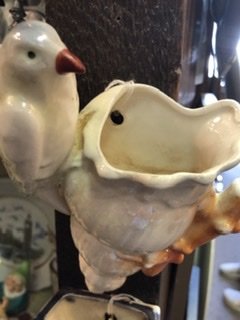 This weekend I went into a little antique shop in Hammondsport. I hadn't been in an antique shop in many years. I asked the proprietor if they had any old instruments and of course they didn't. As I wandered around the shop I saw this little wall pocket. Now for some reason Julie and I collected ceramic wall pockets made in Czechoslovakia in the 1920s. When we sold the big house on East Avenue all the antiques and everything went with it. I picked this up, took a picture of it and was going to send it to Julie and then I put it back. I guess it's too late to start a collection.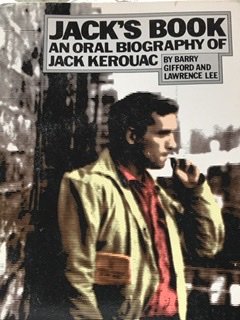 Well this one's been on my shelf for about 40 years. I packed a few things away to take down here because now I have the time!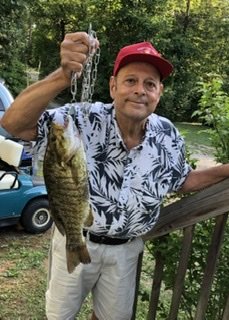 The fishing may have slowed down but this old guy still landed a 4+ pound smallmouth bass!
NEWSLETTER "Two roads diverged in a yellow wood and sorry I could not travel both...."
August 3rd,, 2020
Good Morning Folks,
"Two roads diverged in a yellow wood and sorry I could not travel both...."

Those words by Robert Frost keep ringing in my head these days. Perhaps it is the age, I'll be 73 in October. I keep thinking about things that I could've done or should have done or might have done.....or just done differently. I suppose that all comes with aging. And I'm sure it's a good thing to let those memories stir around in your cranium. Where would those roads lead?
In 1968, driven by the antiwar sentiment and also by the call from John F Kennedy to spread some peace in the world, I applied for and was accepted into the Peace Corps. To my parent's dismay, I promptly dropped out of college. My training was in Fresno, California where I spent a very hot summer of '68. I was preparing to go to the country of Iran. I was learning to speak Farsi and to be a chicken farmer! Now I loved learning new languages but chicken farming was a whole set of skills that I don't think were ever going to get through to my brain. I left at the end of the summer, came back kind of brokenhearted and finished off my college education. I shall never forget that summer nor the folks that I met there and were never to be seen again.

"I wish, I wish in vain that we could sit simply in that room once again".
In the early 1970s while hunting old banjos, I stumbled on a shop in Providence, Rhode Island. They had fine old instruments and they built custom necks. They advertised in Mugwumps and I was looking for a piccolo banjo for my young daughter, Kara. The owners were Leo Coulson and Michael Allison. Leo builds fine copies of Fairbanks banjos. Now this was nearly 50 years ago and I'm telling the story because recently a customer said they inherited an old banjo and wanted to know its value. They sent pictures to Ryan Yarmel, our manager and he forwarded them to me. He wanted to know what this "old" banjo might be and what it's value might be. Now to be fair, when this banjo was built Ryan's parents were probably still in high school! Sometimes the old guy with the old experience just knows. It was an electric style rim with a beautiful mahogany neck with style three Fairbanks inlays. Authentically stamped on the dowel stick it said "Providence Guitar and Banjo".
Our July sale has drawn to a close and I must say it was very successful. The store remains open only by appointment, phone and online but we are considering other options. We sold as much in July dollarwise as we do normally. The number of transactions was down considerably because there are not people walking in but when people do come in they come in with a purpose. The online portion of the business has also picked up. We are in the process of acquiring two large collections of instruments and the second half of the year promises have a familiar ring to it!
With the beginning of August, dog days of summer are upon us and fishing has slowed down. Julie and I have decided to try our old style of fishing. That is fishing for vintage instruments. We have decided to run an ad campaign in all of the local newspapers in the Finger Lakes Region looking to buy any and all quality American made fretted instruments. Will buy entire collections or consider consigning any special instruments that you may have. We would buy things in any condition and we will quote on the spot an amount that we will pay in cash. I can always be reached by phone or text at 585-733-3429.

Sincerely,
John Bernunzio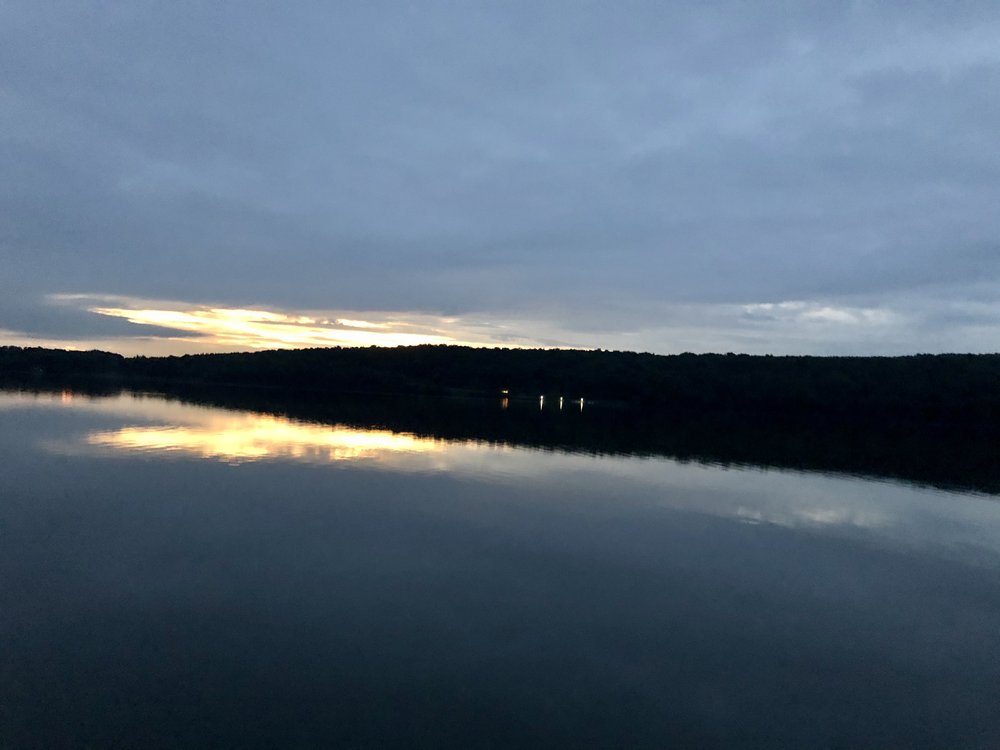 Breaking Dawn Keuka Lake....Sunday morning as God intended it to be.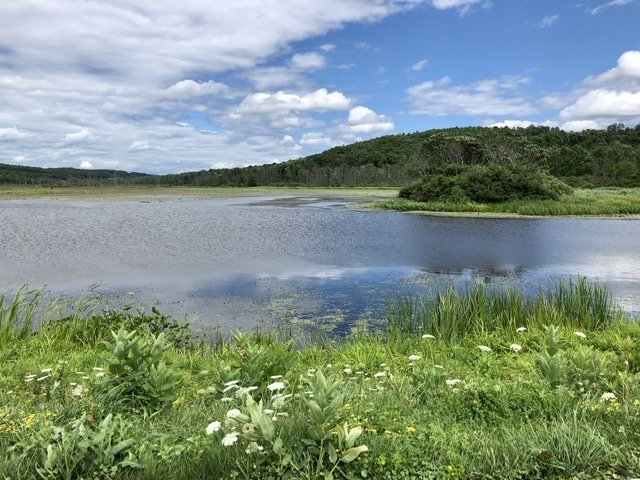 One of our favorite, off the grid spots, is Birdseye Hollow State Forest. This park in part of the Finger Lakes Trail and is just south east of Hammondsport. The big pond supports a floating dock with a bridge to it so people can fish. My daughter Grace and I watched an eagle swooped down and suck up a fish. It was excellent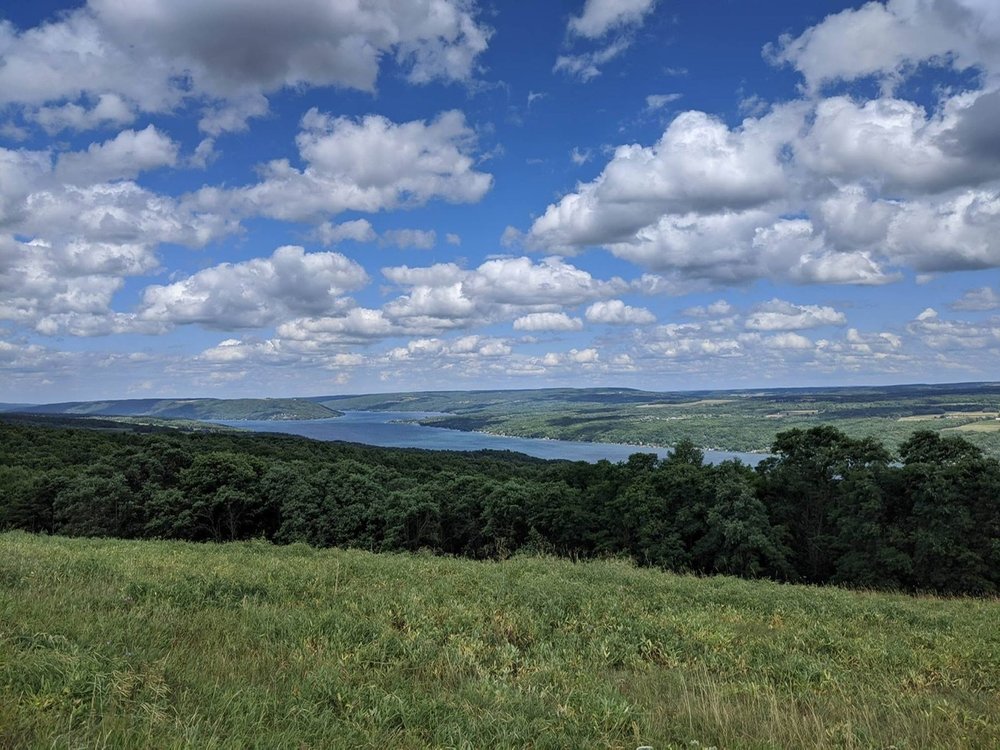 Oh I can't help it....one last view of "The Bluff" from in front of Walter Taylor's house at Bully Hill.