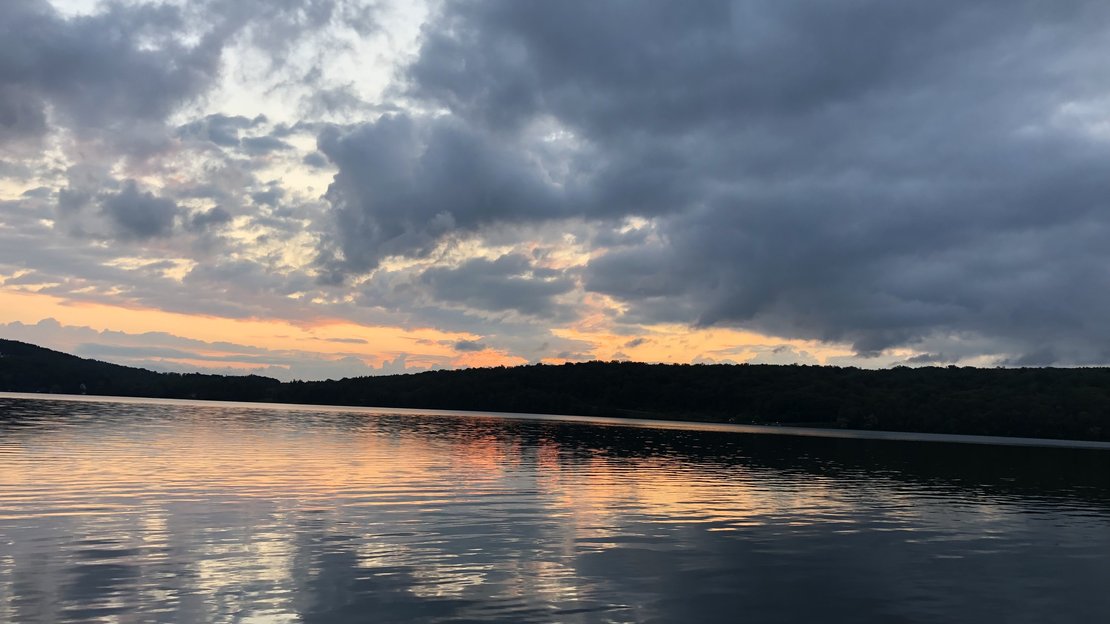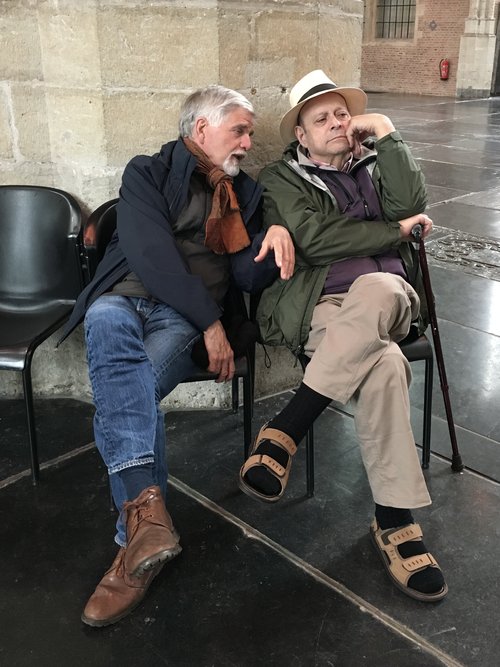 Old friends…. We sat on the park bench like bookends….Yesterday was Howard LaBrie's birthday.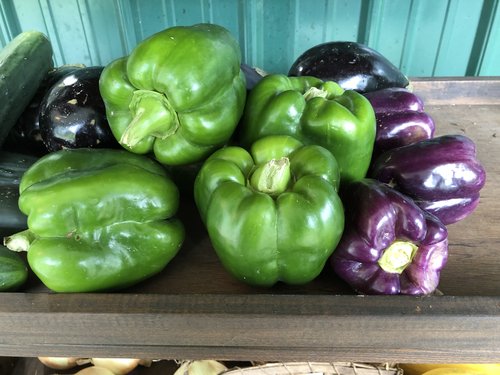 The abundance of local produce has got us cooking all sorts of things. These purple peppers were a tasty mouthful as well as a great thing to say….how many packs of purple peppers can porky people pick!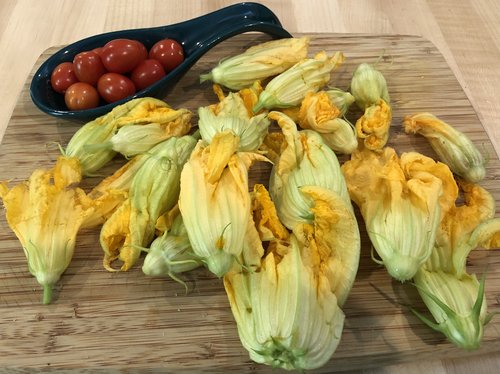 Squash blossoms have always been one of my favorites. My grandmother taught me how to make them. They are much tastier than their mature adult form. With the overabundance of squash, we saw a sign up that said… "squash FREE for the taking". Better to harvest the blossoms then have to cook the squash I say.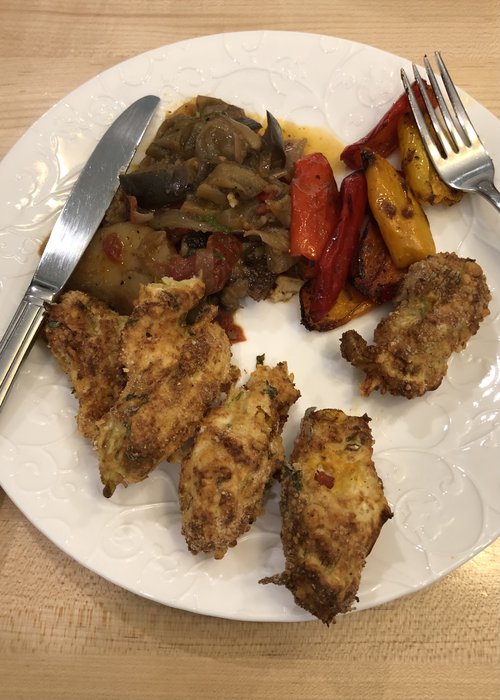 The finished product: squash blossoms done in the air fryer. They had the crispiness of chicken wings.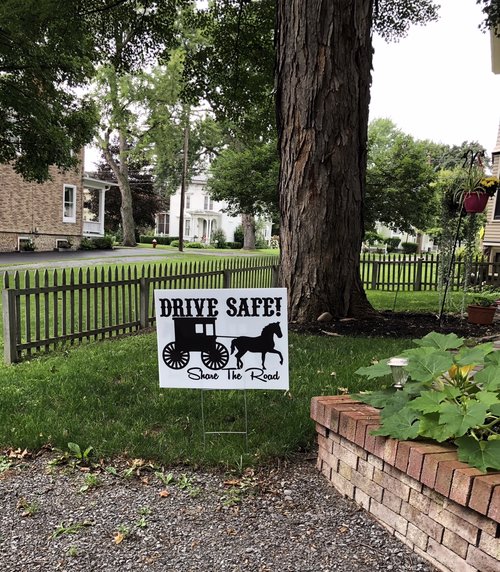 These signs have been popping up all over the county as there has been an increase number of tragic accidents involving horse and carriages and distracted automobile drivers.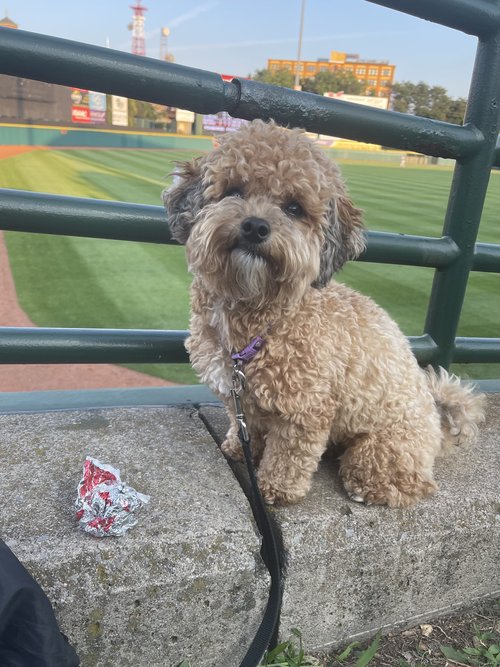 My favorite all star at the baseball game…..Penny. I heard, from a reliable source, that she was the star of "Bark in the Park"!
NEWSLETTER old man shuffle…life is a race
August 2nd, 2021
Good Morning Folks,
I'm an old man. I'm resigned to it. I've got the "old man shuffle" and I'm starting to slow down. Now, now, I know, I've heard it all……"you're not all that old","it's all relative" "it's all how you feel", "you don't look your age"…. I've heard all the stories. The thing is, I don't mind being an old man because I'm a forward looking old man. I plan on being that way until I can't go forward any longer. I have stepped into an advisory role in the business and I'm content with that. I had a beautiful time on Saturday at the store seeing old friends and all the great guitars, mandolins and banjos that have just come in. And dealing with a local musician…and telling him to take a mandolin home for the weekend so he could compose something on it. But, every day I get a little older. The long-term goals are a thing of the past. It's OK…. I'm enjoying it. Living in a simple town like Penn Yan makes it all the easier. People wait for you when you approach a crosswalk. The other day, with the flashing light gleaming "WALK" I proceeded into an intersection on my little orange mobility cart. At the same time a Mennonite couple with horse and cart was entering the intersection. He pulled his horse to a quick stop and wave me a cross and said "sorry friend". It was a touching moment, but I have a lot of them lately.
I have always felt that life was like running a marathon. We start off strong with agility and determination….but the at the end of the race time begins to slow down. My old friend Howard LaBrie told me that the relativity of time became very evident to him when he began running marathons. He told me the first 30 minutes of the race is a completely different amount of time than the last 30 minutes…..there is no denying it! When we are nearing the end of the race and time is slowing down, we need to enjoy every single moment. So this brings us to the Olympics. Now, I've never been much of a sports fan. I like to go to an occasional baseball game and I liked to play "pickup" sports when I was a kid. But the world obsession with sports has driven me further away from the love of the game. Especially racing….can you think about it what is a race …..is it trying to go from going point A to point B as fast as you can? My life has been trying to avoid hurrying (and jumping hurdles). I don't want to get to the end. If life is a race who wants to finish it! Can you imagine if it was the object of musicians to get to the end of a piece faster than other players? See who can play Pachelbel's Canon in D faster than anyone else? "Speed kills" as the use to say back in the day. No one, on their deathbed ever said "I wish I had worked a lot harder". My opinion about running the race is to slow it down and NOT finish it faster than anyone else. Not to belittle the Olympics and people with great athletic skill, they deserve all the praise, honor and "royalties" they will earn. I just want to slow things down…that's probably why I moved to Penn Yan.
Take it slow…
John Bernunzio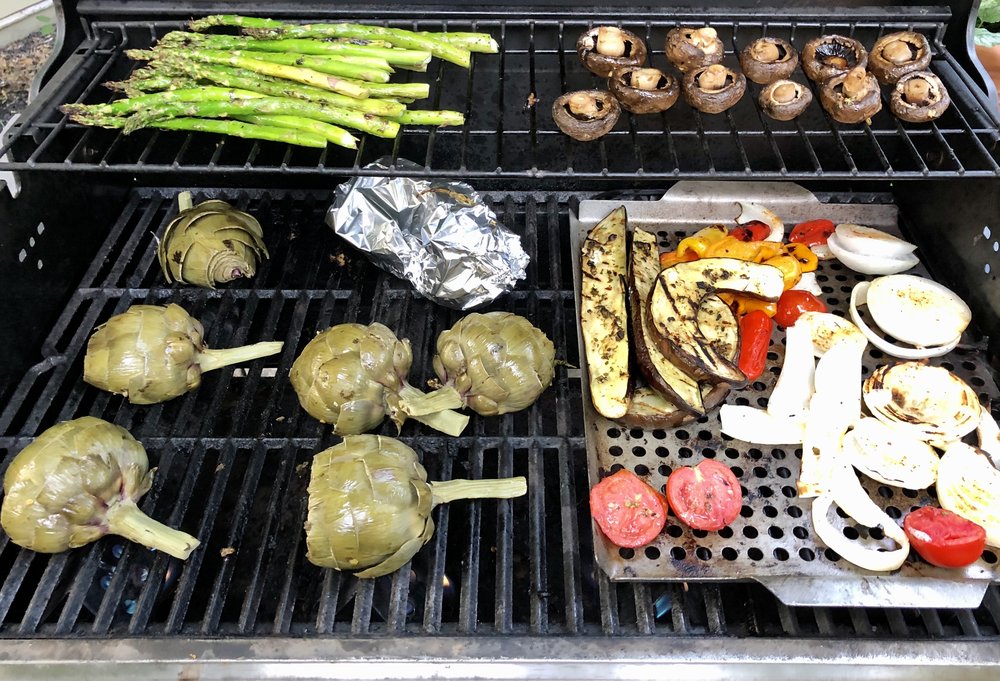 Veggie time on the grill…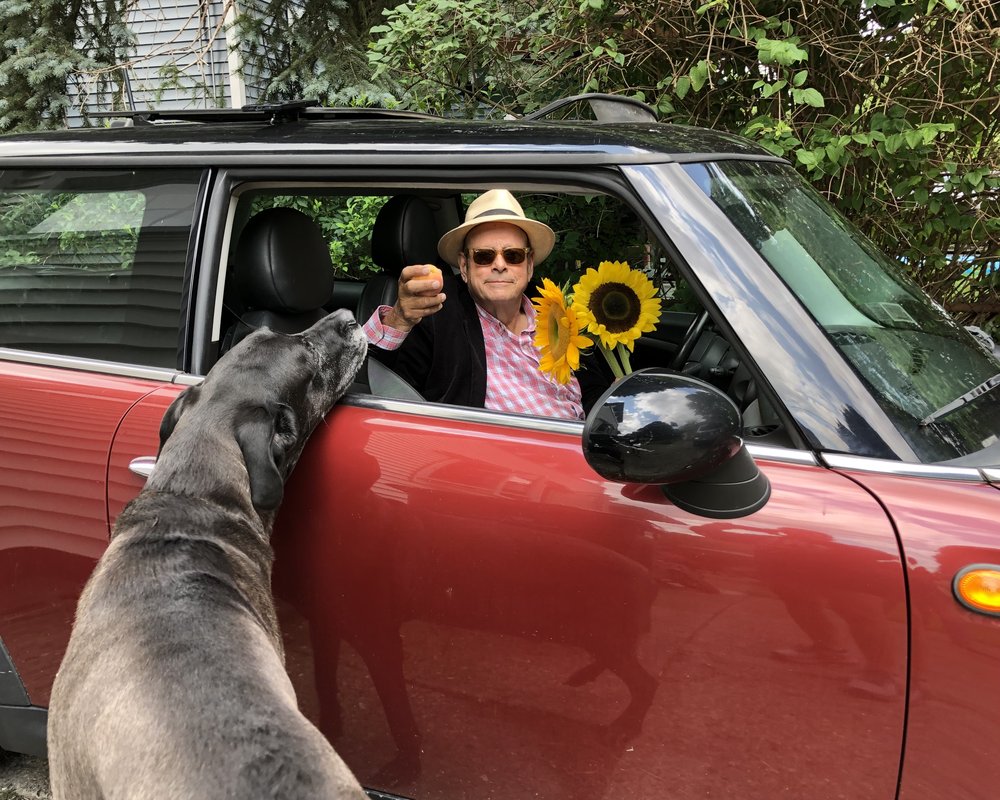 Can a man tame a Great Dane with a peach and a sunflower?