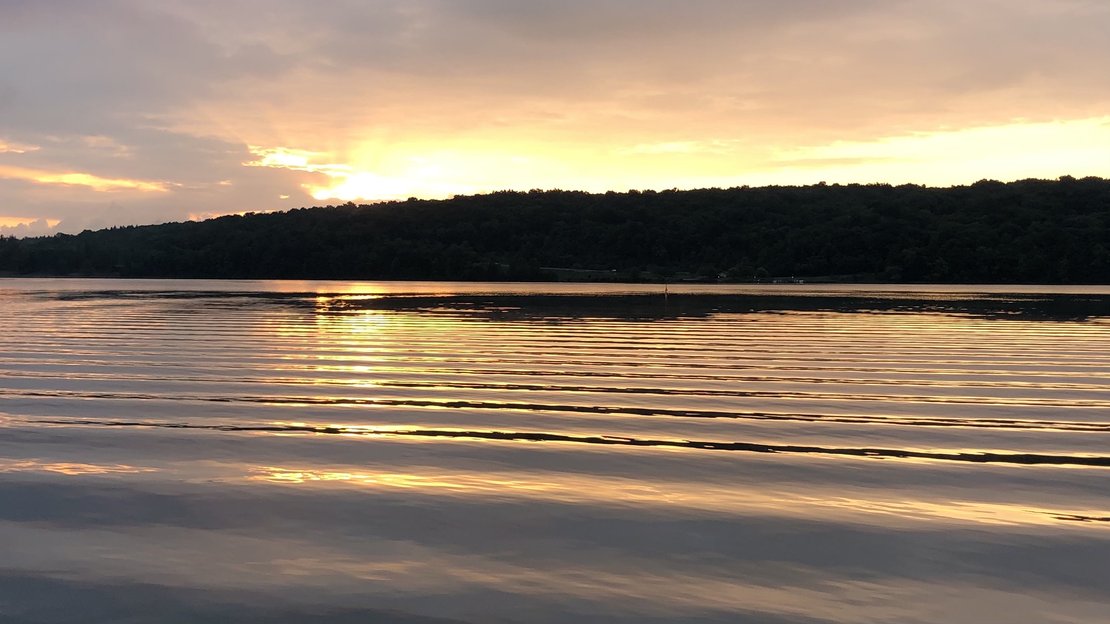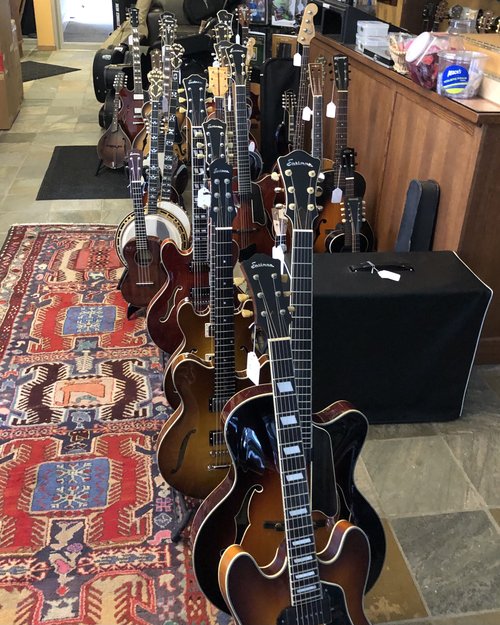 Just a few of the Eastmans along with other stuff that were catalogued recently.
My new favorite, off the path, garden store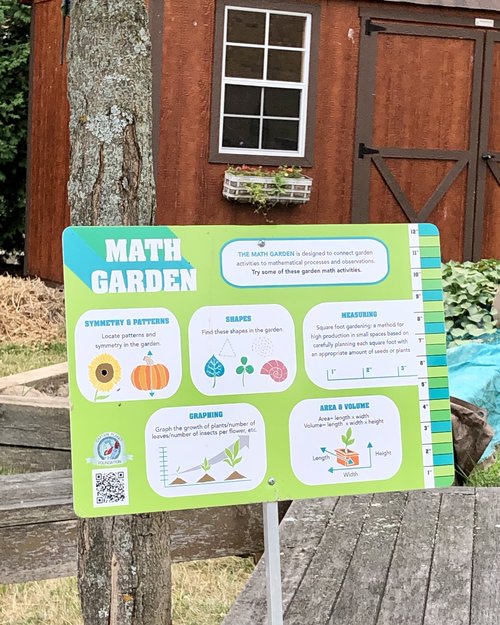 A unique way of teaching mathematics in a farming community. This is outside the elementary school in Penn Yan at the entryway of a large community garden.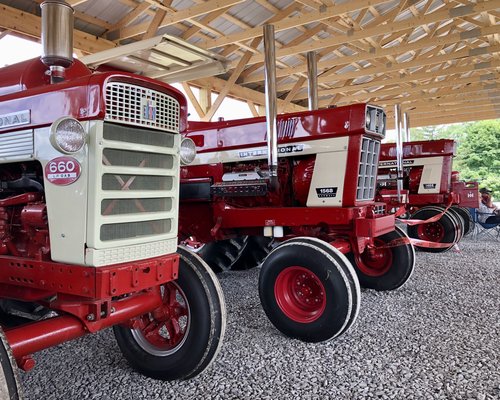 We ventured to the Yates County Fair this week. We didn't stay for the tractor pull or the hog races but we did enjoy this exhibit of antique tractors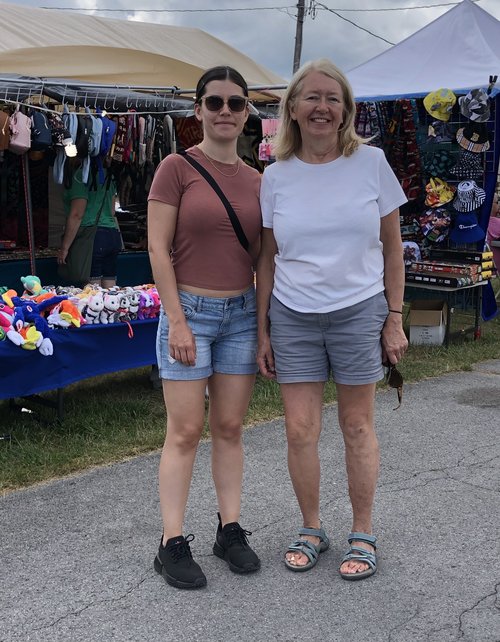 Rose and Julie at the fair. Rose came down and spent some time with us at the lake….she always has a calming influence on us!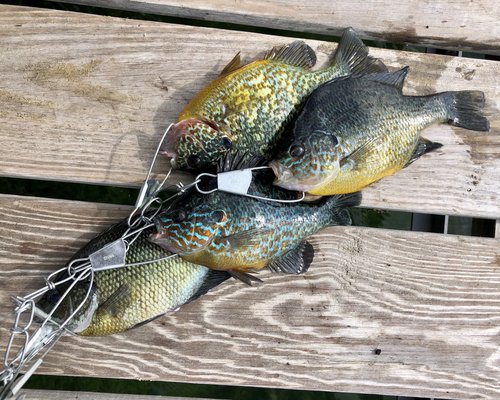 Lately I've bee keeping and eating small fish. I watched old guys sitting at the pier in Sicily fishing and they always kept little fish. I will be making some tasty recipes for sunfish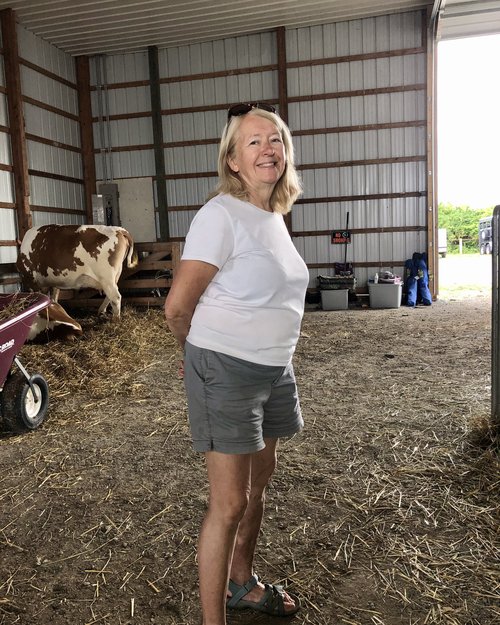 Julie wanted her picture taken at the dairy exhibit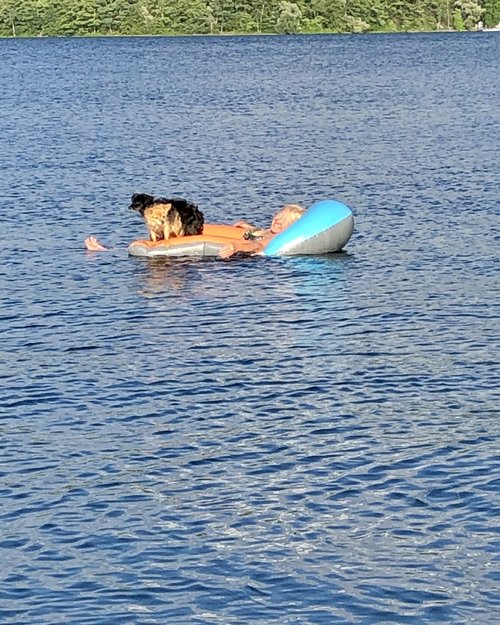 The lake has been perfect for swimming and floating.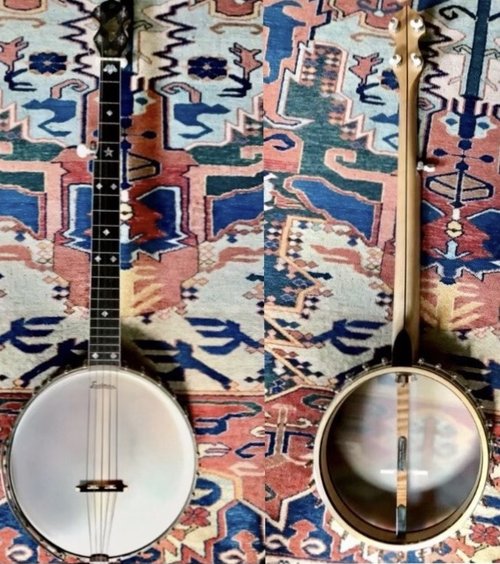 My "Eastman" Whyte Laydie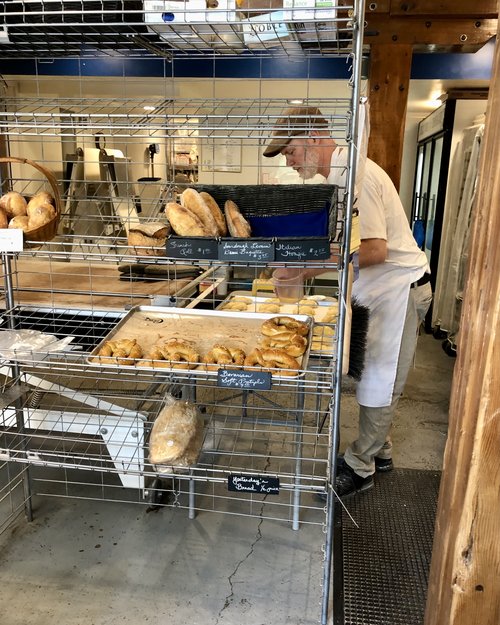 My friend Todd at the local Blue Heron Bakery is looking for some help. Anybody with any baking skills or just general work skills give him a call.
Vacation Week in Branchport and Thoughts on Eastman Strings
July 18th, 2022
Good Morning Folks,
This week Julie and I spent some time at our place in Branchport which is the other "arm" of Keuka Lake. From Penn Yan it is about 15 minutes away so we can go back-and-forth if we choose. We have a small serviceable "tin cottage" there with accessibility to the lake for fishing and swimming. (Especially now that I have a new golf cart as a present from my wonderful wife….it is necessary to get down to the lake from our cottage which is high up the hill). There are very few people down there during the week so our choice time is Monday through Thursday.
Even though we were on vacation this week I had a reason to stop by the store on Friday as I had a doctor's appointment in Rochester. I was glad I was there because our "Eastman Strings" order had just landed. As you know these, instruments have been very difficult to get due to problems with transportation and supply chain etc. etc. We have had a standing order for quite some time. We now have 75 Eastman instruments listed! It made me think about my relationship with this great company.

Around 20 years ago a good friend of mine and owner of California Vintage Guitars, Dan Duehren, called me one day and told me that I should try an Eastman mandolin. I snobbishly retorted that I didn't buy cheap Chinese instruments, I only sold quality American vintage guitars, banjos and especially mandolins. He kept persisting and saying they were really good and then, one day he just sent me one. It was an F style with an oval sound hole and actually sounded quite remarkably good. Additionally, the price was unbelievably low AND it played like butter. This of course piqued my appetite and soon there was a regular flow of mandolins and then archtop Jazz guitars. I honestly settled for the "B stock" items because the price was even better and they kind of fit in with my vintage things which always had a scratch or ding. I became awestruck. I was amazed at the quality and sound against a vintage instrument. We soon fully endorsed their entire lineup, especially their arch top guitars. Local ESM teacher Bob Sneider decided that "Eastman" was a brand for him. We sold his pride and joy Gibson Johnny Smith and he is now the teacher endorser on the "Eastman" website.
The real coupe for us was, of course, opening a store and having the "Eastman" company as our signature brand. It seems they were always willing to work with their dealers and listen to them in terms of what products to make. And then there was the trip to China. The people at Eastman Strings especially Saul Friedgood organized a trip for certain dealers to go to China and see the factory. Not only did I go but Julie and our daughters Rose and Grace all went, complements of "Eastman. We visited China for 10 days and of course it was a life changing experience. What we saw there was a factory that looked similar to the Gibson factory of the 1920s. People were working at benches and carving instruments with hand tools. I remember saying to the foreman don't you have a CNC machine? He replied that they had one but they didn't know how it worked and they had people instead of machines. Then he called me over to a cupboard where instruments were stored. He pulled out a beautiful black face Gibson F-4 from 1915. I said where did you ever get this? He replied "we bought it on eBay so we could copy it!".
It was a few years later, I was in Santa Monica and had dinner with the head of the company. He told me the entire story of how it began. He was a young boy growing up in Beijing and when all the turbulence happened he was sent to the "countryside" to live and learn like a peasant. Unfortunately, he was humiliated in school by the teachers because his family had wealth and education. Eventually the family smuggled him back to Beijing where he was raised by his grandparents. With a fondness for music, he was accepted at the Berkeley School as he wanted to study flute. While he was there he needed some way to pay for his expenses. He got the idea to write to his father and ask him about the violin makers that lived in the area of the country where they once lived. He said maybe they could send some violins and he could sell them in America and pay for his expenses. His father sent a half dozen violins which he brought local violin shop. They frankly told him they were garbage and to throw them away. But he asked a question: "why are they garbage?" and they listed about 10 things that were wrong. Determined, he wrote back to his father and said these are the problems with the violins can they correct them? Soon another half dozen violins arrived and he brought them to a shop who said the same thing…these are junk throw them away. He persisted and wanted to know why they were junk so they gave him a new list of things to correct. After about a year of this, the violins were so good that his father shipped entire container to America and he and his father drove around to shops selling "Eastman" violins appropriately named because he was a man from the "East". And that's the story I got from Chen, the owner of the company, in a conversation at a table in Santa Monica.

We soon became one of the premier "Eastman" dealers and have sold thousands of their instruments. For me a personal achievement came when they agreed to make a banjo to my specs. They made an exact copy of a 1903 A. C. Fairbanks instrument…..the banjo most coveted in my youth….the Whyte Laydie. It was a costly job and they produced about 1000 banjos, I believe. They are no longer making banjos at Eastman and used ones seldom come to the market. I'm saying this because I have my personal "Eastman" banjo that I have kept for many years. I can no longer play as my fingers just don't move (not that I could play very good anyway). This is my banjo and I'm selling it outside of the store from my house in Penn Yan. It has been upgraded from an original with cobra style hooks, an adjustable armrest and ivoroid tuner buttons. It's set up with Nylgut gut "red" strings. It's the best Eastman there was. I am selling it also to put money towards my trip to Trapani this fall. The price is $1650 including shipping anywhere in the continental United States. Pictures upon request.
Sincerely,
John Bernunzio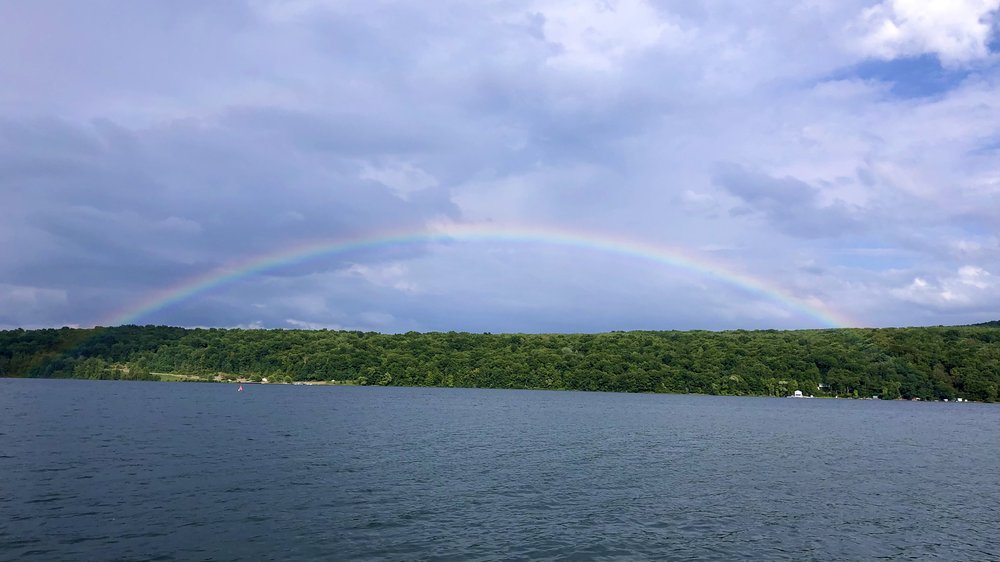 Rainbows are what make life so interesting.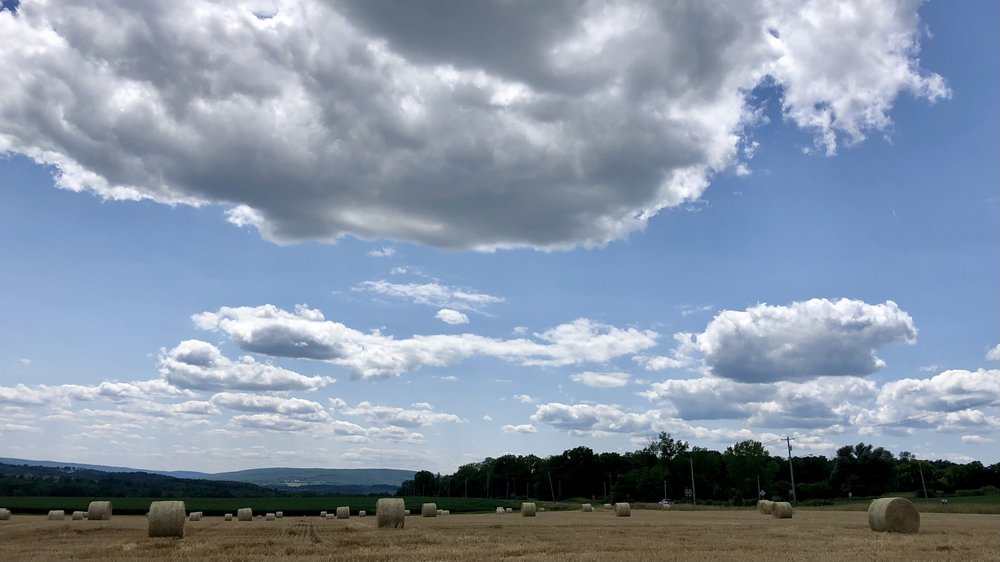 Hay baling on East Swamp Rd.