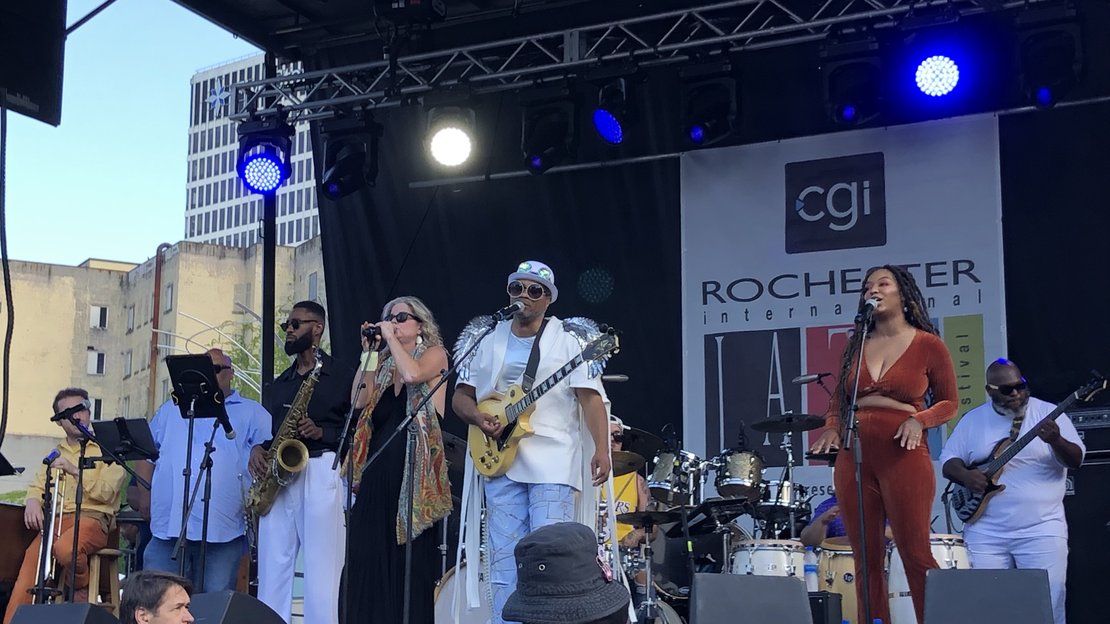 We shared a very special dinner/evening with an old friend. Victoria Deng was in town and called on us. She went to school with Grace at the Genesee Community Charter Cchool and later on to Our Lady of Mercy High School. Victoria, her two sisters, her mother and brothers are immigrants from South Sudan. Her mother had walked 1000 miles with her children after her husband was slain and lived in a concentration camp in Kenya until she had an opportunity to come to America. Victoria graduated with honors from Saint Lawrence University, received a degree in Spanish from The University of Valaparasio, spent two years in the Peace Corps in the Dominican Republic and worked for two years with Housing and Urban Development in Puerto Rico. Now she tells us she is going to try her hand at the "private sector"….she is relocating to the Big Apple, although she plans on traveling and adding onto the list of 30 countries she's already visited. Oh, those immigrants…..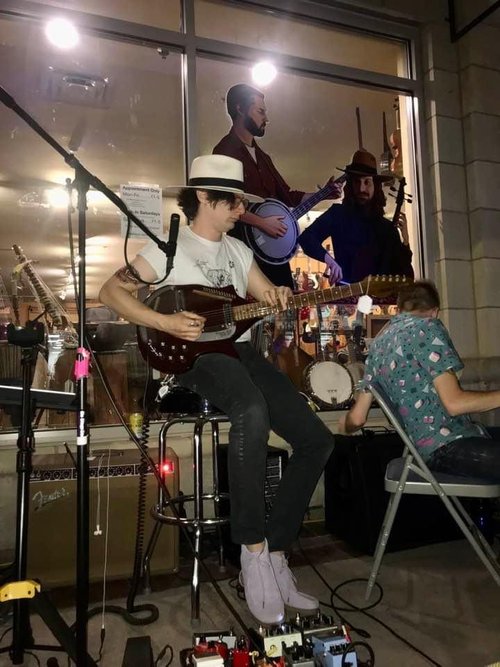 Sam Snyder put together an all-star band that performed for two nights in front of our store. To me it was a most energetic and mystifying show…..yes, that is an original 1967 Danelectro Vincent Bell, Coral Sitar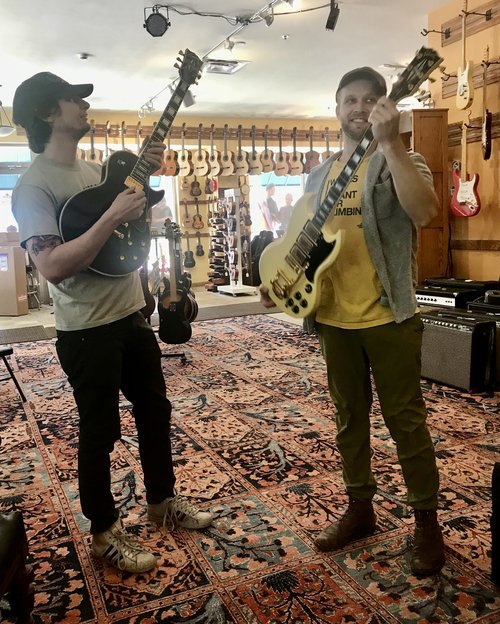 SHOW OFFS!!! Sam Snyder and Ryan Yarmel are running things at Bernunzio Uptown Music and I am so grateful to them for the work they do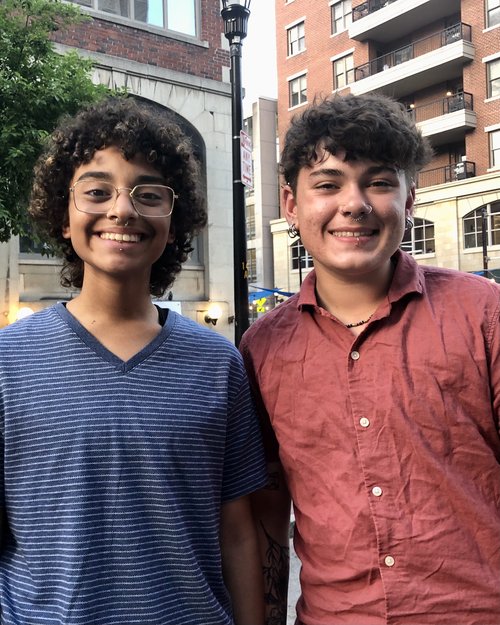 If I wasn't walking I wouldn't have run into this wonderful pair taking in the sights and sounds of the town!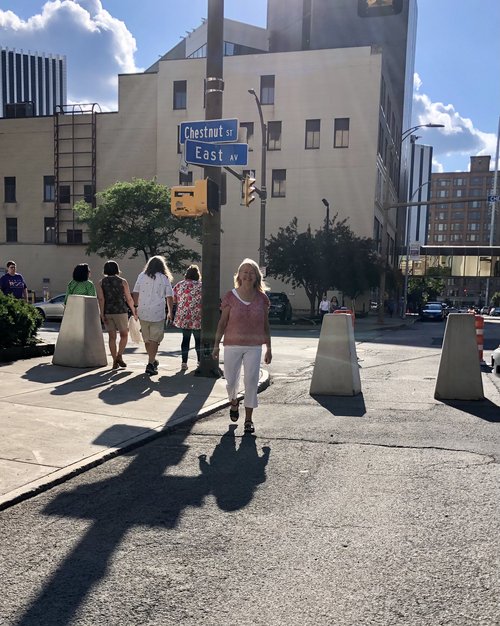 My main walking partner, Julie Ellen Schnepf…she's got a great stride!
WALK, DON'T RUN
June 27th, 2022
Good Morning Folks,
The 19th edition of the Rochester International Jazz Festival has drawn to a close and they are already planning the 20th . The Covid pandemic canceled the past two years. There were so many folks who we hadn't seen in 900 days….my how we have ALL changed. This year, the promoters tweaked the venues, changed the format and had a rousingly successful festival with 200,000 people downtown over the course of nine days. That's 200,000 people who were mostly walking around the downtown area of Rochester for nine days straight and let me tell you something there was no violence, no fights and not even a crossed face….just music, food, laughter and camaraderie… The downtown footprint of Rochester's Eastside was transformed into a walking paradise.
Now, I have had the store on East Avenue for 16 years but sadly I had never walked downtown from this location mainly because I suffer from arthritis which is crippling. This time it was different however. I threw caution to the wind and brought my trusty Optimus mobility cart with me. That may seem like a simple solution to many people, but, for me, it's been a difficult resignation. For years I had a persona that I had nurtured…the hat, the white suit, the owner of an exclusive guitar store. For me to all of a sudden be seen as a disabled person was a difficult pill to swallow. Perhaps it's one of the reasons I actually moved to Penn Yan, NY where I am just "that old guy on the orange electric scooter". No one here knows me in any other way. At any rate, I tootled around downtown and saw it in a way that I hadn't seen it in many years. Of course I've driven through downtown Rochester thousands and thousands of times and I've bicycled through downtown Rochester many many times over years while I lived on East Avenue but there's something about walking that allows you to see things as they REALLY are and might have been. Walking affords time for introspection, contemplation and examination. So, here is a little walking tour of the east end of Rochester from my new point of view.

Sincerely,


John Bernunzio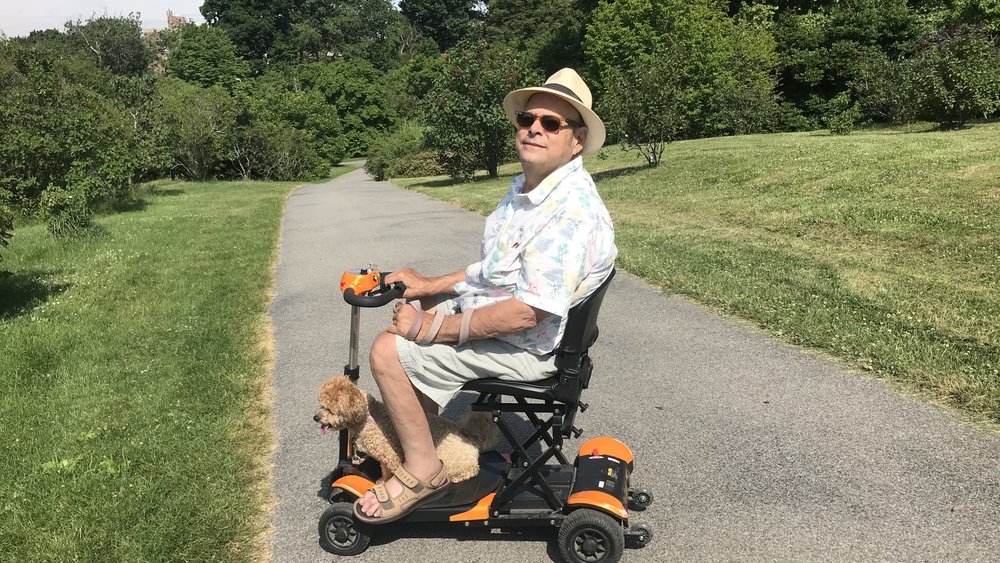 On Sunday after the festival we took a little stroll in Highland Park. We have been staying at my daughter Rose's house as she was visiting friends and family in San Francisco. It is such a beautiful warm home. Sunday was a hot and humid so I had to give Penny a ride.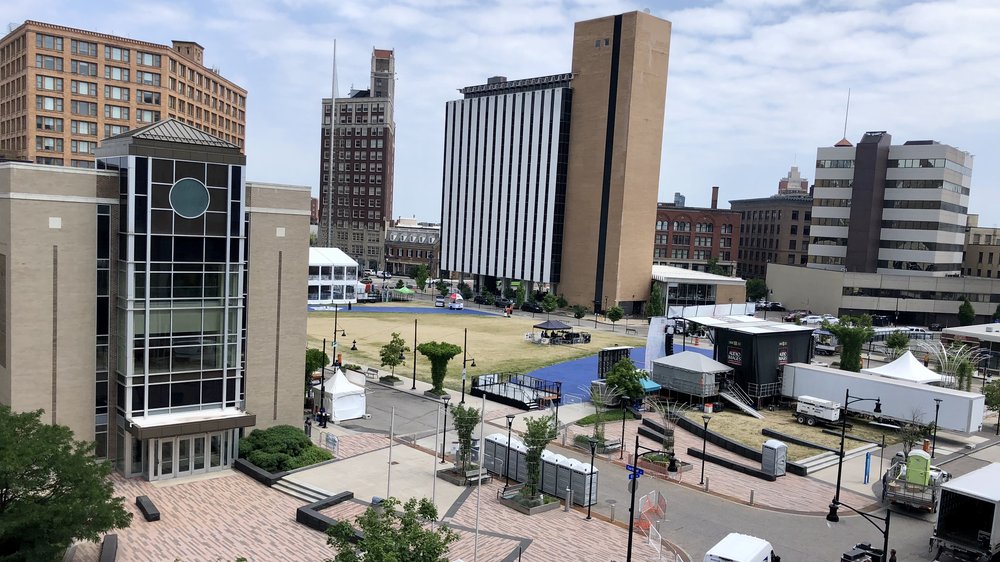 The patch of grass in the center that's a bit burned out is what is referred to as "Parcel 5". When we lived downtown we were embroiled in the controversy that revolved around turning that open space into a hotel, performing arts center and luxury apartments (which I always thought were rewards for political favors)….In the end the city conceded and did just what we asked….plant grass and see what grows organically. It has grown into the best festival site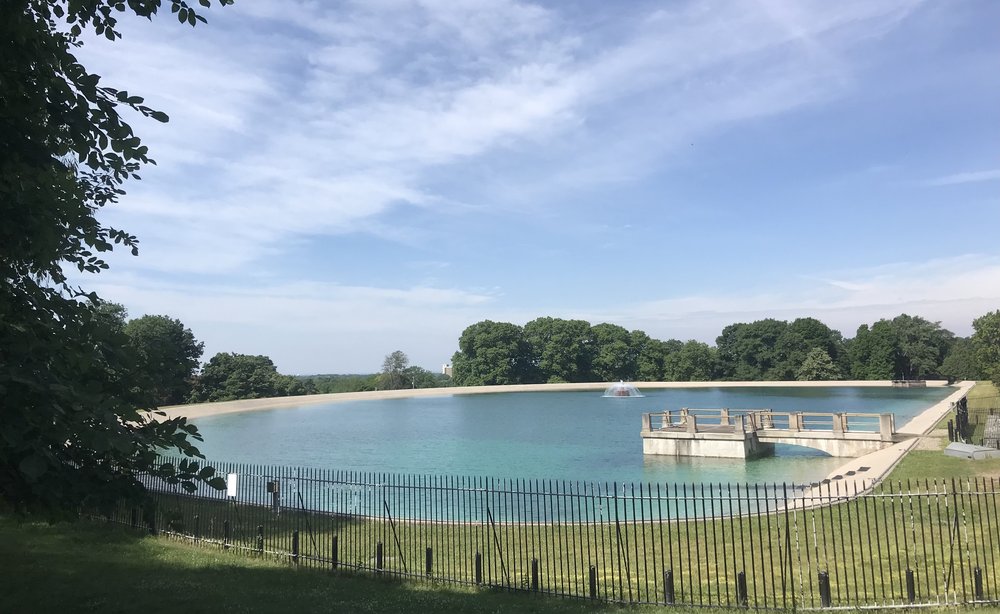 The reservoir at Highland Park….One of two in the city supplying clean water from the Finger Lakes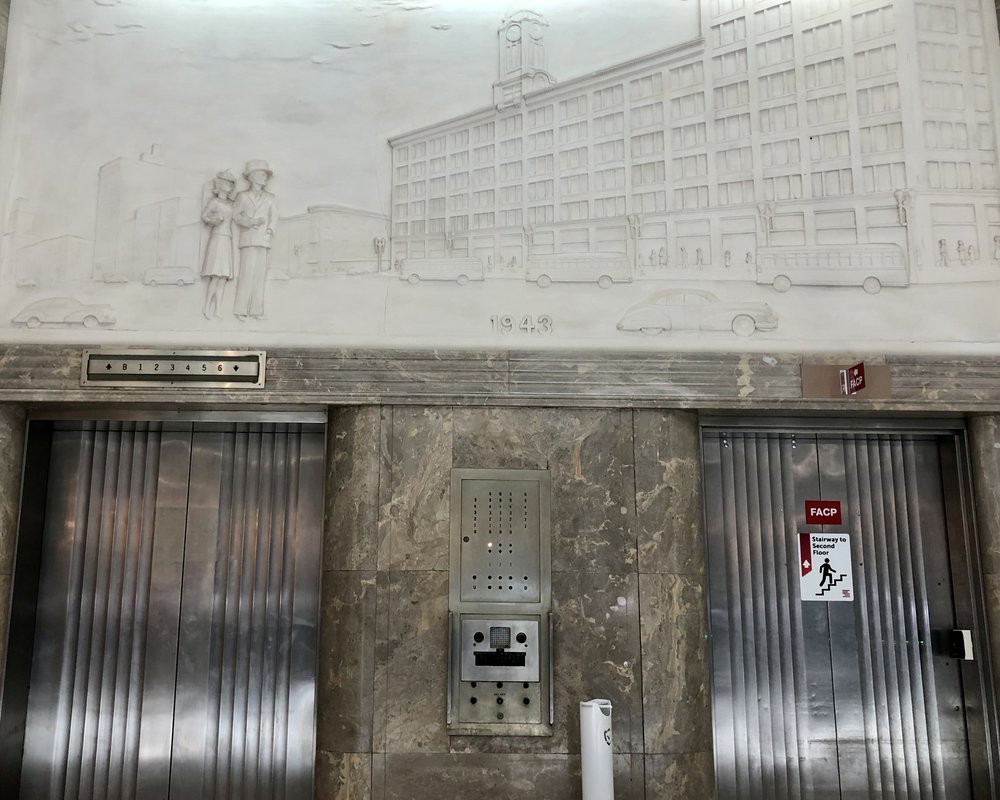 The elevators in the Sibley building at the very center of downtown are decorated with beautiful murals. It was the department store of my youth, and now been tastefully re-purposed into apartments and food court for start up businesses. It is a landmark.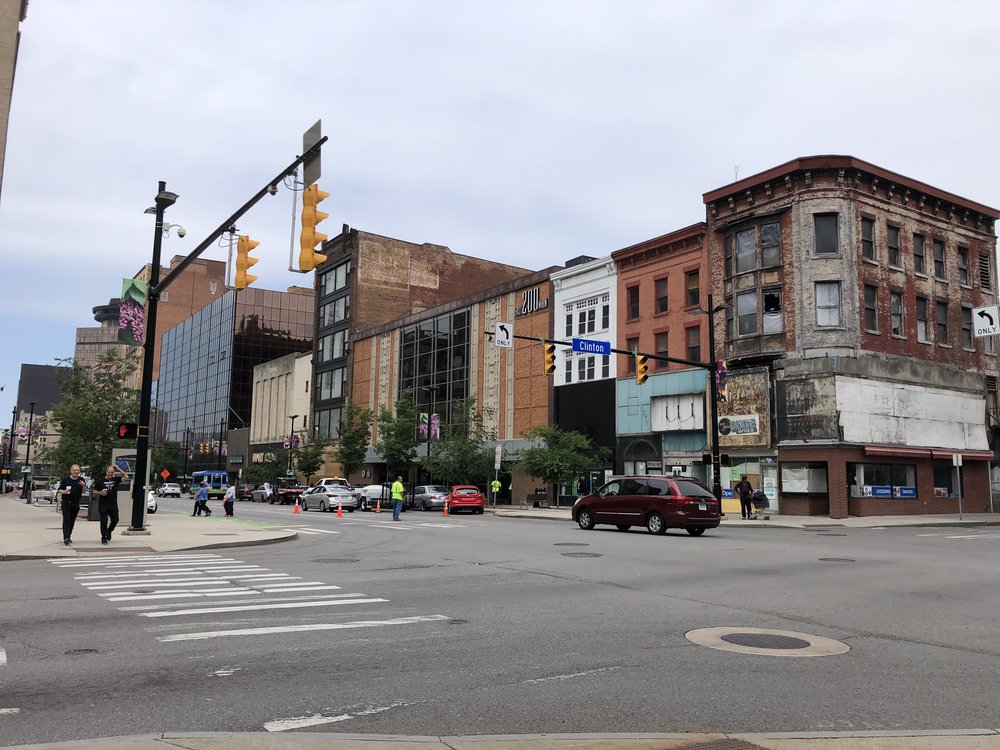 Not every spot in Rochester is a gem, that's for certain. It is a city, like most others in the Northeast, with its issues. Sadly, this is the main intersection, the FOUR corners in town and one….has never been restored. I'd put money on the fact that it's a political entanglement.