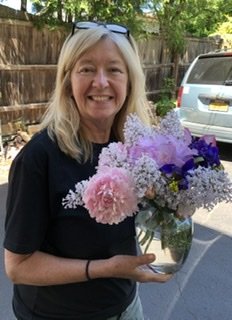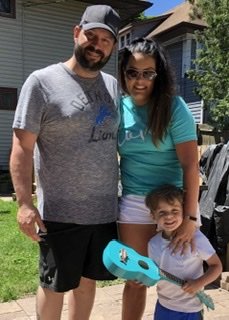 A family visit to cheer John up.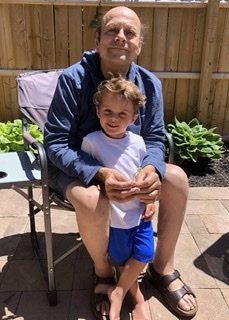 Grandson Rocco came to visit.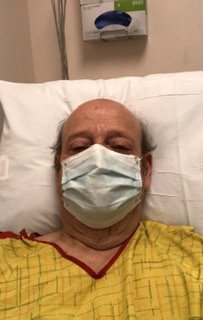 Johnny and his mask in the hospital.
---
Newsletter After back surgery
June 9th, 2020
Hello Folks,
This is Julie writing today. John is recovering from a laminectomy to relieve the severe back pain he has suffered for many years. The operation went well and he was very impressed with his doctor and also all his caregivers at the hospital. He had nurses and technicians from Vietnam, Cuba, India, Africa and the US. They were all competent and compassionate. Of course, he asked them lots of questions and got some firsthand Global perspective on current events. I'm sure he will share more on that when he feels up to it. Feel free to send him a message. His recovery will have ups and downs and contact with friends, customers, relatives, etc., definitely cheers him up.
About BERNUNZIO UPTOWN MUSIC REOPENING Friday, June 12 from 1 pm - 5 pm
Limited Open Hours: Fridays 1 pm - 5 pm & Saturdays 1 pm - 5 pm until further notice.
Our business falls in the NYS Phase II reopening plan. At present we are working to develop an opening strategy that will provide our customers the opportunity to shop and test drive our instruments while maintaining a safe and healthy environment and social distancing. Disinfection of our inventory is not an easy task given many of our banjos, guitars, mandolins, etc., are considered "vintage" or "antique". We are currently researching ways to do this effectively. Here are some guidelines for shopping at Bernunzios:
1. Customers, visitors and staff must wear masks at all times within the store.
2. We reserve the right to limit the number of people in the store if social distancing cannot be maintained.
3. We cannot allow large groups (4 or more) to enter together.
4. Appointments are encouraged and can be made during or outside of the public open hours.
5. We will do our best to disinfect all instruments after use.
6. Feel free to wear soft, protective gloves when handling the instruments, although this is not required.
7. Online ordering and curbside pickup will continue. This has been a successful shopping solution for many of our customers.
8. Guidelines can and will change as we ease into the "new" retail model.
Thank you to all who have supported us with purchases, well wishes, kind words and great suggestions during this interesting time. We look forward to serving you in the future and remember - All Are Welcome Here.
Julie and John