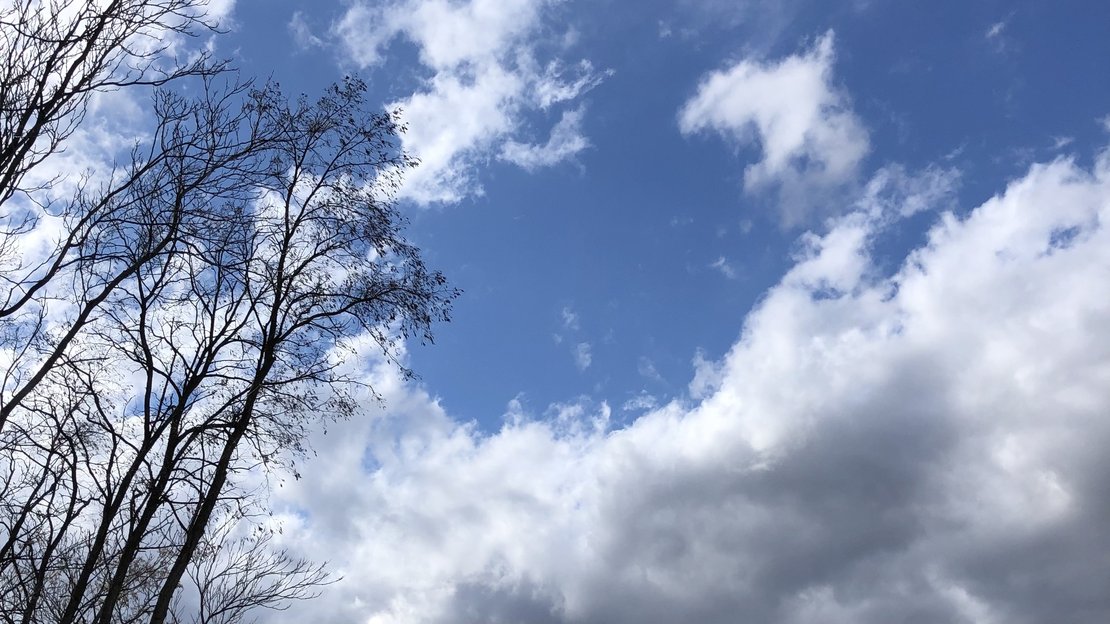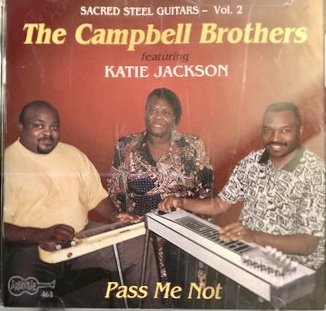 This was a CD that I picked up off the floor in the van. It carried me right around the lake blasting at full volume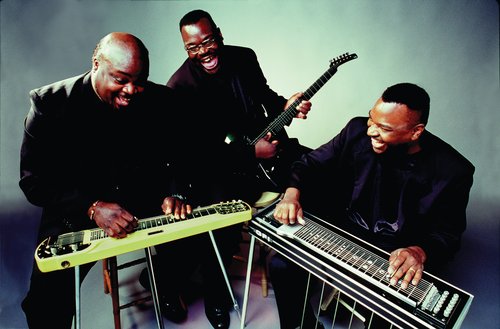 A definitive article on the Campbell Brothers by Jeff Spevak, Rochester's music critic and writer for the Rochester City Newspaper can be read here.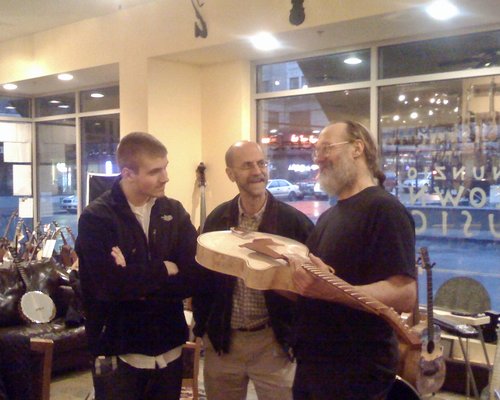 Ken Parker shows off his new archtop to fans Jackson and Dave Frenzel
The Campbell Brothers
April 4th, 2022
Good Morning Folks,
While treating myself to a drive around Keuka Lake on the warm sunny day we had last Thursday, I grabbed a CD off the floor of the van and stuck it in the player and listened to my friends the Campbell Brothers. The Campbell Brothers are an internationally known sacred steel band that found its origin in Rochester, New York. The sound of the steel guitar paired well with the singing voices in black churches and the genre has expanded to the point where the Campbell have played festivals worldwide. The loss in 2020 of Darick Campbell to COVID-19 was a family tragedy. The band has since regrouped and is coming out of the Covid pandemic and ready to go on tour. Most of my interaction with the band has been with pedal steel player Chuck Campbell who I met in 1996 and this is a story about our relationship.
When we began the restorations on the big house on East Avenue one of the issues we had were gas lines paired with some of the electrical lines in the house. That is because the houses from that era used both gas and electric for lighting. I asked my father-in-law, Henry to replace the light in the living room and when he started to unloosen the stem that was holding the light, gas poured from the fitting. Well, we needed to call Rochester Gas and Electric to do a safety check. In a very short time the response to the emergency entered the front door. There was Chuck Campbell filling the doorway with a hard hat, boots and gas meter in hand. He took one reading and said, "We've got to go in the basement". Now I had recently purchased an enormous collection of banjos and ephemera from the Tsumura collection that was housed in Beverly Hills. They were selling the mansion and asked me to come and make an offer on all of the contents of this mini museum which contained an enormous amount of black ephemera, some of which is of course, highly offensive. It was all stored in the basement… statues, paintings, photographs and other banjo related items. I gulped at the thought of going into the basement with Chuck. We headed down the long stairs and he was confronted with all of this stuff along with our guitar room which we used for sales and repair. He looked at me and said "I know what you're into". Beads of sweat started to form on my brow. I said, "you do?". He said, "you're into old guitars! I am looking for a 1962 Fender lap steel". I let out a deep breath and said, "…and this other stuff?" He just smiled and said I don't give a shit about that, find me a '62 Fender.

About 10 years later when we open the store, we held a series of events with guitar makers. The esteemed Ken Parker, of the "Fly" guitar fame was in town to show off his newly designed archtop guitar. The event was well attended with a diverse group of players from all around the county. Chuck Campbell happened to be there because he knew Ken Parker when he lived in town. Also attending was finger style whiz Kinloch Nelson. As the evening progressed people broke up into little jam sessions and I happened upon Chuck and Kinloch who had just met, noodling around on a couple of guitars. They struck up a nice little jam on the Jimi Hendrix song "Hey Joe". It was then that I asked them if they would be interested in playing together in our store. Now they had never met and never played together and their universes did not intersect. Kinloch was a suburban guy and Chuck was a city man. Kinloch said it would be fun to put a little group together and they asked bass wizard Brian Williams to accompany them. Here is a poorly shot but nice sounding YouTube video of that group playing 13 years ago. It's the only time they ever played together and it's worth a listen. If you can't get the link just go to YouTube and search for Bernunzio/ Campbell/Nelson.
A few years later one of the Campbell's cousins came into the store and said if you really want to hear them play you should go to their church which is now out in Rush, a suburb of Rochester. I took my daughters Rose and Grace to the Church the next Sunday. It was Christmas time and we had never been to a "black" church. We were the only white folks there and the pastor, the Campbell's father, invited us to come and sit up front. The music was simply amazing at one point dad turned to his son Philip and said give these white folks some Silent Night on your Strat-o-caster Philip. Needless to say it brought tears to our eyes. I think it was an experience my daughters will never forget.
Chuck is now retired to Florida and comes back to Rochester usually during the jazz festival. The pandemic has canceled the festival for the past two years and I haven't seen Chuck in a while. The last time he stopped in the store was after hours and he came in with a player who was performing in town with his wife. Chuck asked if they could come in and look at some guitars and I opened the doors. Chuck immediately spied a '62 Fender lap steel like the one he wanted years ago. It was in MINT condition and a bit expensive. He said, "John this is the guitar I always wanted can you hold it for me cause I'm going through some tough times now. I could pay you a little bit at a time." Immediately, his companion, Derek Truks, whipped out his credit card and offered to buy the guitar for Chuck. Chuck adamantly protested and said you can't do that, and then Derek simply looked at him and said, "I still have the steel guitar that you gave me and taught me how to play on, this is the least I can do." TRUE STORY.
Sincerely,
John Bernunzio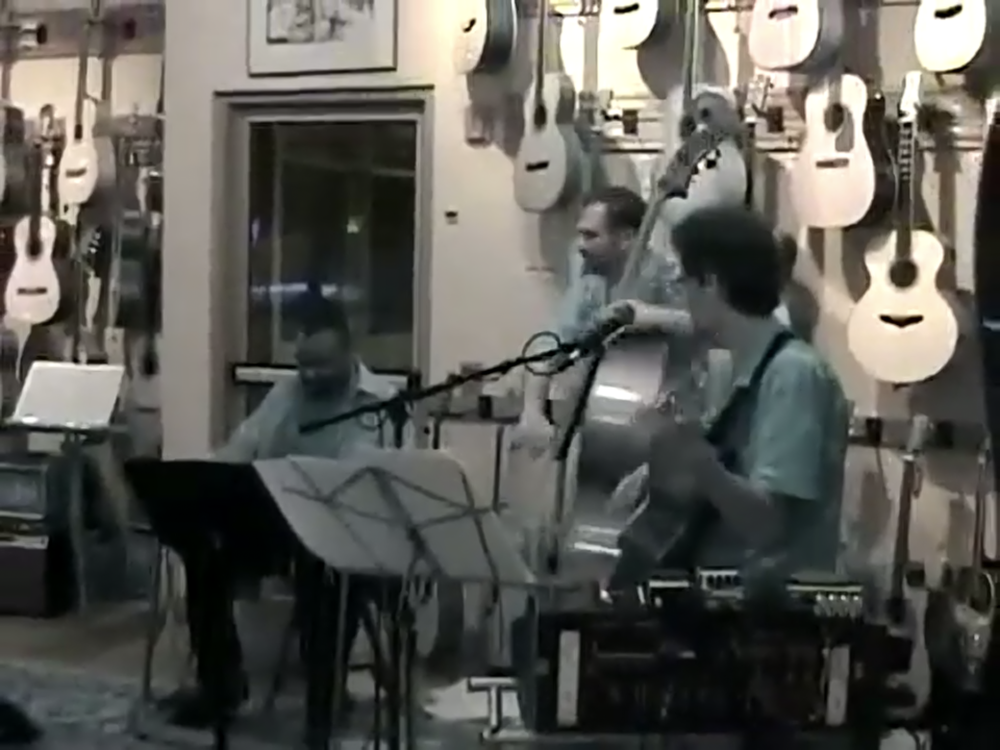 super group…Chuck, Brian and Kinloch