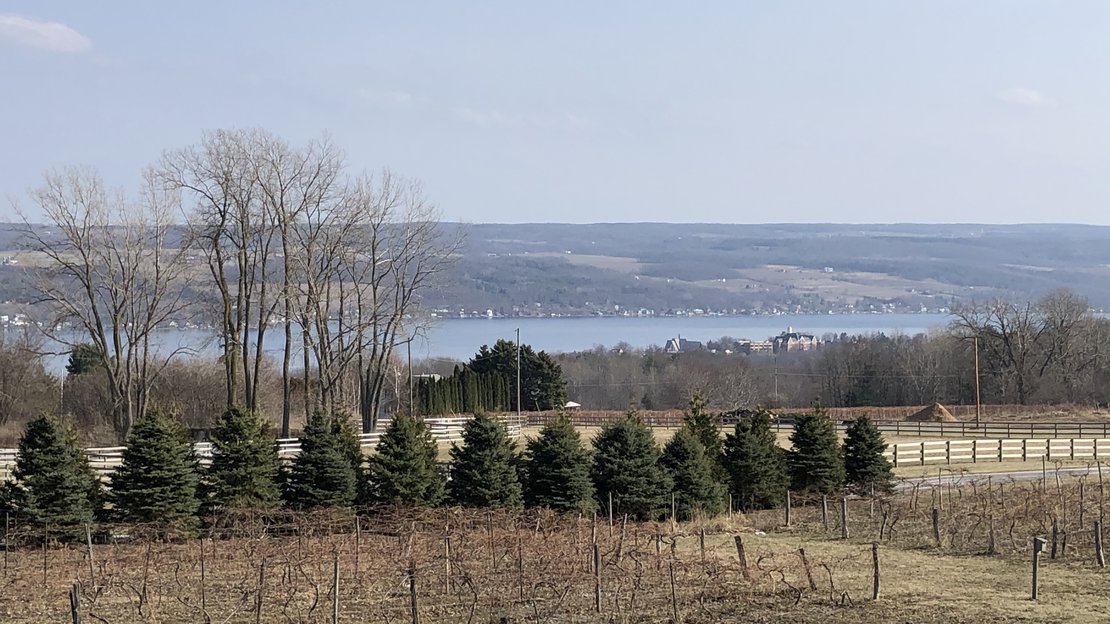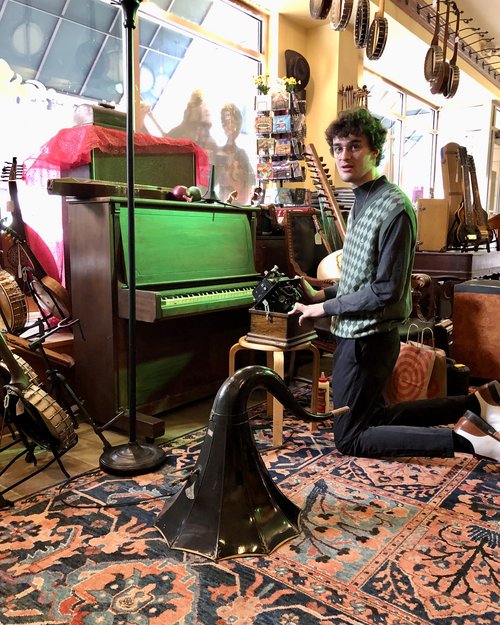 Gavin with the Edison Fireside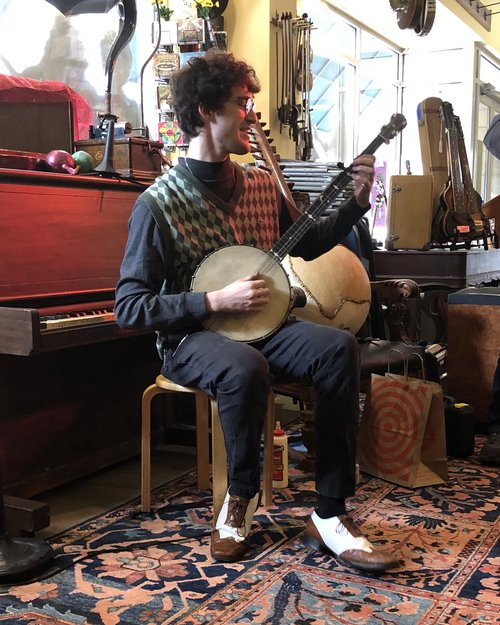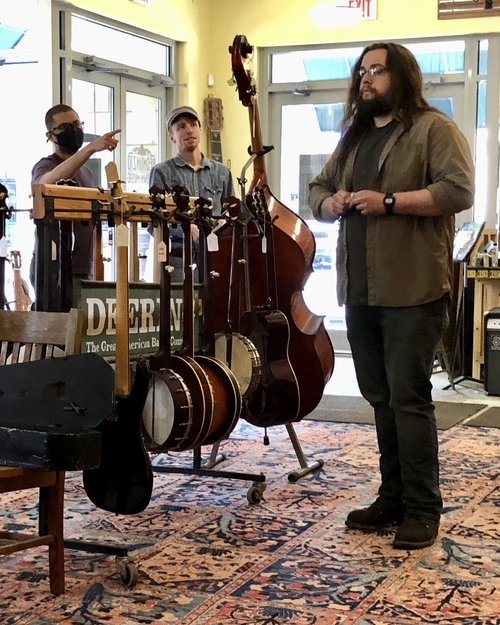 Old customers are starting to come back, out of the woodwork… unshaven, long haired and ready for the Bluegrass jams to return.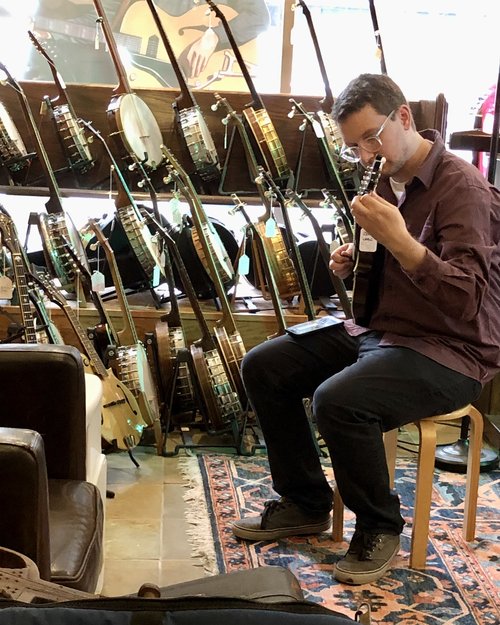 This young man drove in from Utica to check out a banjo and left with a great Vega from the 1930s as well as a new Eastman mandolin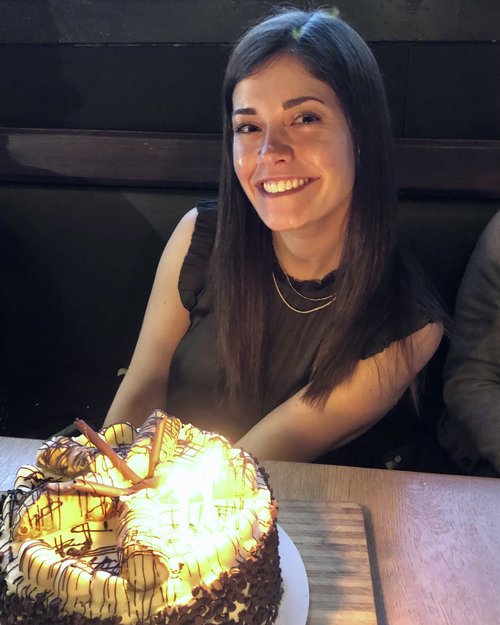 Thursday was the birthday of my daughter Rose Katina Bernunzio. Her husband treated her to a cannoli cake…he is learning what makes her happy.
Some Thoughts on the Store
March 28th, 2022
Good Morning Folks,
I am always open to making new friends and acquaintances. That has been one of the exciting parts of opening the store 16 years ago. The countless new friends we make is the best part of the experience. Last Saturday a young man came in the store inspired by seeing our Edison Fireside wax cylinder player in the window. He said he's been fascinated by Edisons since he was 12 years old when he bought his first record player. His name is Gavin and he is a bass student at the Eastman School of Music. Gavin told me that he and his friend were interested in fixing up old Edisons and he could get mine running. It hadn't been working in many years as the belt was twisted. He also mentioned his interest in banjos but is on a very limited budget since he is a student. I pointed out a little Lyon and Healy banjo that was fairly complete but needed set up, a new tailpiece and bridge. It was marked at $295 but I told him I would sell it to for $200 as it sat. He made a quick text to "mom" to make sure that the purchase was OK and then bought the banjo. He said he had acquired some wax cylinder recordings by Vess Ossman and loved the music…the kid was definitely into the arcane.
As promised Gavin came in the store on Saturday morning with his little toolbox. He quickly took apart my Edison fireside but the diagnosis was a little more severe. It needed a new spring and he didn't have one at the moment but he said he would be able to get one in a week. We are looking forward to having our crank cylinder recorder working again. And then he added…."By the way, I got that old banjo working this week and I learned the Maple Leaf Rag!"…… which he promptly played for me. Oh youth!!!

Sincerely,
John Bernunzio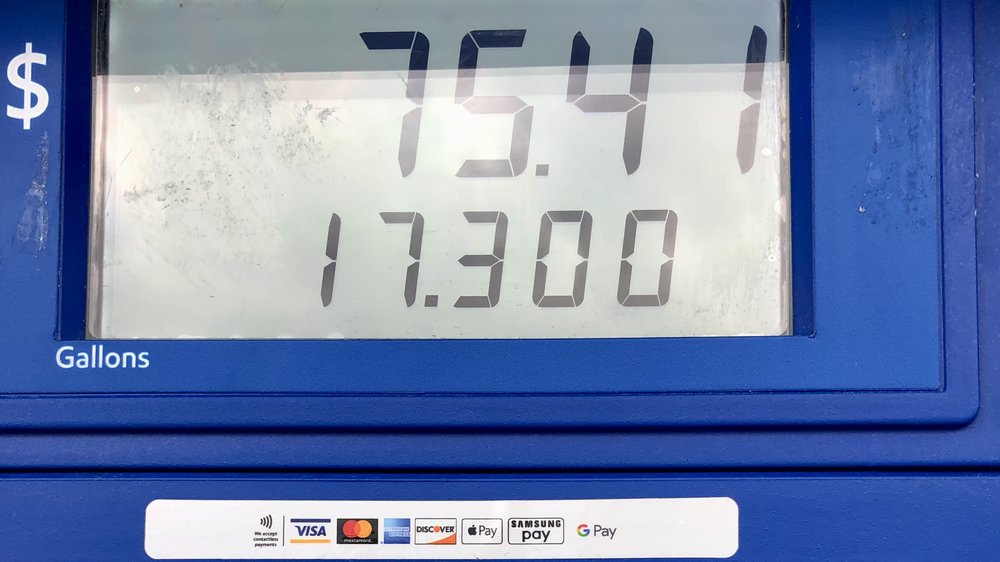 I filled the van up on the way home to Penn Yan on Saturday. This was a new first! However, with all of the complaints about the price of gas, I recall the early prices. When I was a kid I remember gas as low as $.19 a gallon. In the 1970s with gas prices going from $.30 a gallon to $.75 and more, people were outraged. Something had to be done! So what was done? We lowered the speed limit on the Thruway to 55 and within a year more fuel efficient cars were being introduced. In the past 20 years that is all been put by the wayside. People are driving big SUVs and pickup trucks getting 12 miles to the gallon…..idling while they wait in line at Starbuck's for a $5 latte!