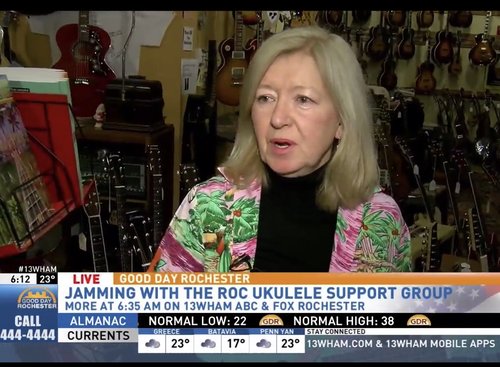 This past Monday the Channel 13 morning news show was broadcast from store and featured our Ukulele Support Group. Julie was there to greet them and give them a tour of the store at 5AM. I stayed home and watched on TV! See the whole thing here.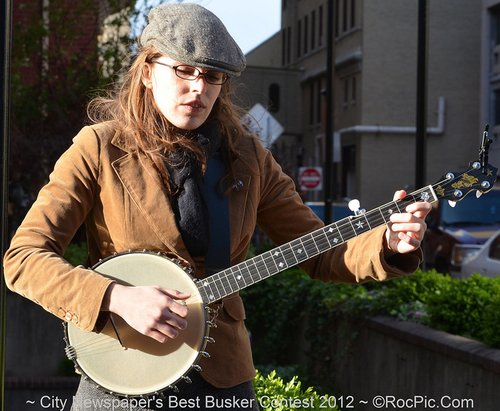 Michelle Younger in the early "busking days".
John's Corner March 11th 2019 Folkus Michelle Younger
Hello Folks,
This Wednesday we will be attending a concert at the Downstairs Cabaret Theater. This is part of a series of concerts put on by Rochester Folkus featuring all acoustic performances in an intimate setting. This week's performance is of special interest to us at Bernunzio's. When we first opened the store we used to frequent the little sandwich shop around the corner called Java's. There was a young woman working there by the name of Michelle Younger. She was a guitar student at the Eastman School of Music studying for an advanced degree in classical performance. Michelle shyly approached us about the possibility of working at our store. Julie and I both agreed it would be good to have a woman working at our store and a young face that was connected to the university. Well, Michelle worked for us for 10 years and during that time she organized our point of sale, our books and accessories and many other aspects of the business. She attended the NAMM show in Southern California with Julie and I and was a very important part of the business. But most importantly Michelle learned to play the banjo. Being from Virginia, she was naturally drawn to the instrument. She asked me if she could borrow a banjo for the weekend she took it home on Friday and Monday morning she was a master of clawhammer style. The banjo had stolen her heart. When it came time for her Master's degree performance at the renowned Kilbourne Hall at "Eastman", Michelle, dressed in a long black gown, gave a rousing rendition of some of the great classical guitar pieces. At the very end of her performance she surprised the audience and her professor as she opened a case on the floor and pulled out a 1901 White Lady No. 2 five string banjo and performed one of Morley's classic banjo pieces. Needless to say, her professor, parents and other students were stunned.
As the years went by Michelle joined an old-timey group called the Windsor Folk Family and later formed The Younger Gang (she's a distant relative of the outlaw gang!). They played at various festivals around the area. Once, when performing at a local venue, her parents approached me as they were up from Virginia visiting. Her mother said to me that she couldn't believe her daughter had given up classical guitar for the banjo! She had spent half her life studying classical guitar and seemed to have been given it all up for the simple banjo. Two years ago, after Michelle had been working for us for 10 years, she came to us with a tear in her eye. She told us that she had never quit a job before and never liked a job quite as much as she had working for us but she had been given a tremendous offer. A trio of women musicians called Harpeth Rising had just lost their banjo player. They recruited Michelle because she had studied at Oberlin College and had classical background as they did. Well, over the past two years Michelle has toured with Harpeth Rising around the world. She has just returned from a government sponsored trip to Cambodia and we are so excited to hear some of her stories. Success via the banjo ....this is what we like to hear.
All my best,
John

The Younger Gang in the early days searching for the "basement tapes".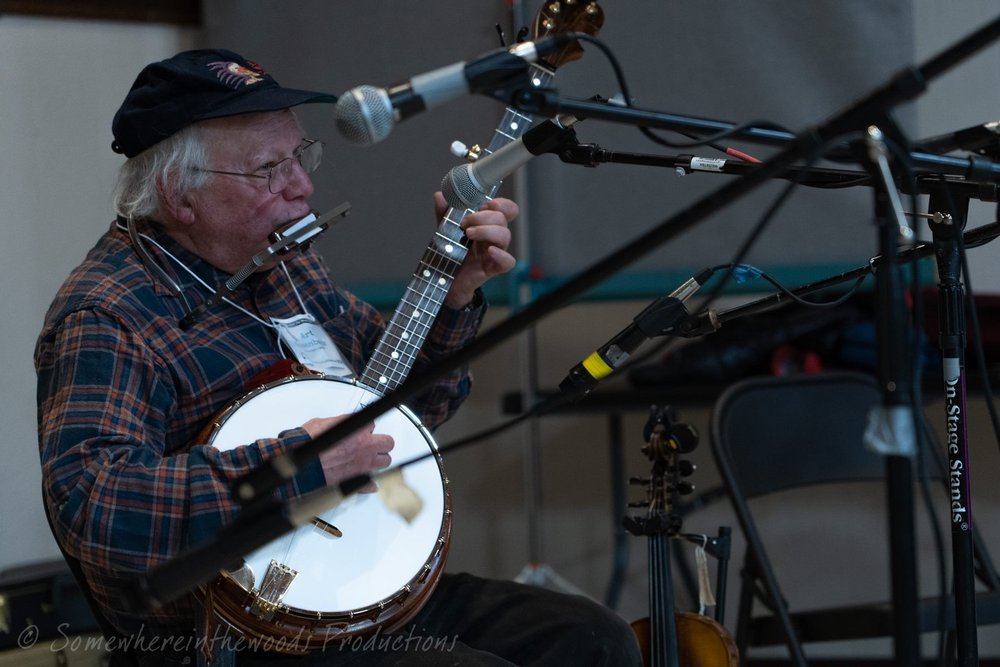 One of our early heroes of the five string banjo revival movement is Art Rosenbaum. His instruction book inspired a generation. This is a picture from Facebook showing him performing at the Nashville Old Time String Band Association's "Breaking Up Winter" gathering where received the well-deserved Heritage Award for his lifelong contributions to traditional music. Art is playing a rare, open back banjo made in Western NY by deceased luthier Charles Paddock. I remember it as a very sweet sounding instrument.