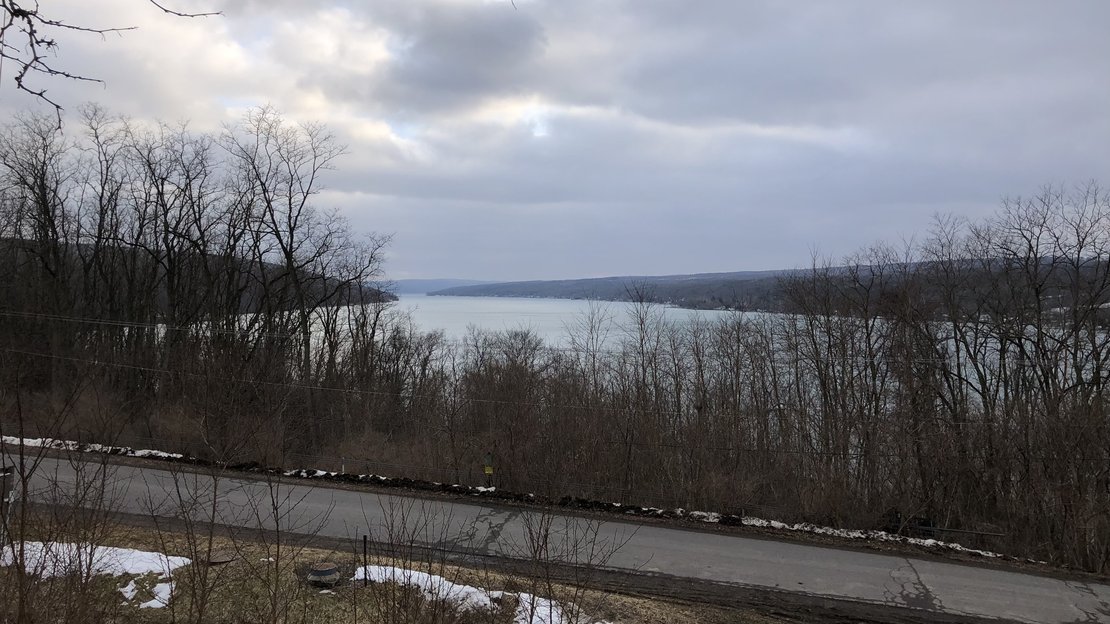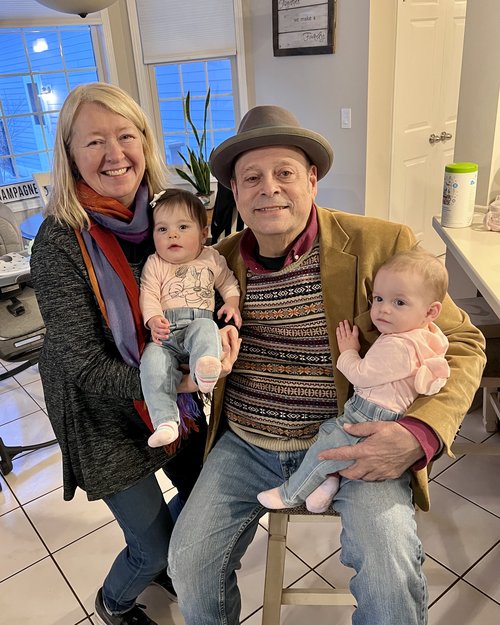 Grandma and Grandpa with Olive and Scarlet…the faces of the future.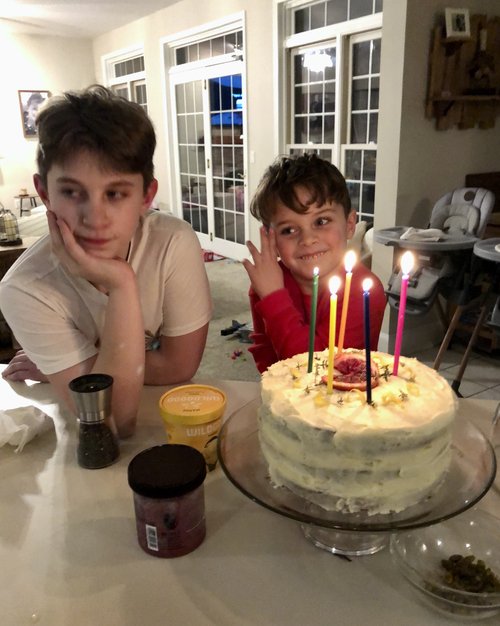 Henry and Rocco… cousins who have hardly seen each other in the past two years.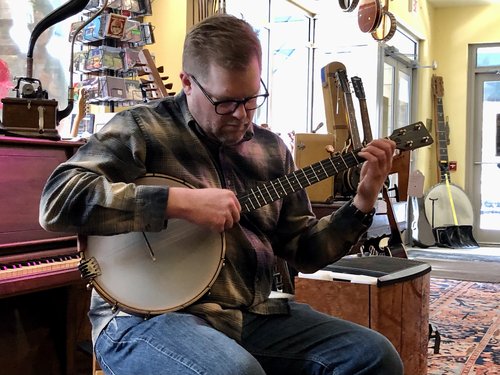 On Saturday we had a visit with our old friend Joel Boyer. He stopped to try out this beautiful Ome banjo made of native cherrywood. The rim and the neck were provided by Rochester "wood maven" Richard Newman.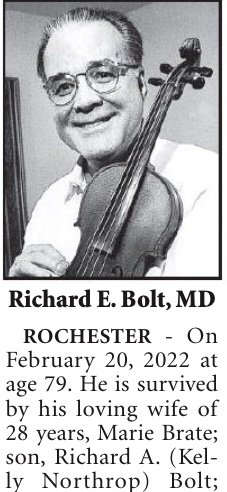 We mourn the passing of longtime friend Dick Bolt, Rochester fiddler and teacher. He was a kind soul.
Back to the Future
February 28th, 2022
Good morning Folks,
As I enter my 75th year of life I reflect on war around the world….an unfortunate constant reminder of the darkest side of the human condition. I was born just after World War II and at the beginning of the Korean War. During my lifetime, violent conflict around the globe has been the rule rather than the exception. The current glorification for everything military, in all countries around the world, is a reflection of the humanity's appetite for violence. Wars are never won as is evidenced by the violence that is going to on in the Ukraine today…WWI was "the war to end all war" and by extension WWII should have given us clear evidence of the horror that people can inflict upon their fellow humans. And, as with most conflicts, it all boils down to our two greatest flaws: human greed and mankind's inability to accept those who are different. I have been struggling with a way to express this without spiraling into complete pessimism, but to even mention that we are on the brink of another world war is to submit to our darkest side…we cannot survive as a species if we cannot see beyond war. The past 75 years have seen wars of greed and ethnic cleansing so tragic that mere words are inadequate.

When I was a young high school student at McQuaid Jesuit, our group developed a strange way of dealing with peers who were being just intolerable. We would look at them as if they were a television set by drawing a box in the air around their face. When they started pontificating we would simply motion that we were turning the TV off with a flick of the wrist. It was an immature, but interesting way of isolating really obnoxious behavior….and it worked, often to the shouts of "please don't shut me off!". I see a interesting parallel with the current events. Ostracizing countries that wage war can work very well if all the world can stick to a plan. Hopefully the sanctions that are being put in place will be strict enough for countries to think a second time before engaging in conflict. That said we must also take seriously the de-escalation of weapons. For the past 75 years we as a species, have spent far more on military installations, weapons and warfare than we have on education and welfare. My new slogan is welfare not warfare.
Now I'm saying this all because I'm really worried about the future. We spent a beautiful Saturday night together with my son Jay and his family for grandson Rocco's 5th birthday. We we're joined by my daughter Kara, her husband Mike and grandson Henry. It was an interesting time because we hadn't gotten together in almost 2 years and we had two additional people in the crowd.…the twins, Olive and Scarlet. As I look into their eyes, I am so worried about their future. If we can't find a way out of this mess what kind of world will be handing down to the next generation?
On a positive note and the reason for the title is that Julie and have I booked our flight to return to Europe. We are leaving April 10th, our 35th wedding anniversary and returning the first week in May. As you may recall, the pandemic began while we were on route to Sicily, the home of my ancestors. We were not allowed to travel and had to come back but still had the trip paid for and a voucher that was extended for two years. Well, once again we are going to attempt to make the trip….two weeks in Sicily and one week in the Netherlands. We hope to see many friends while we're there.
All my best,
John Bernunzio
Here are three comments on the topic from folks far more quotable than me.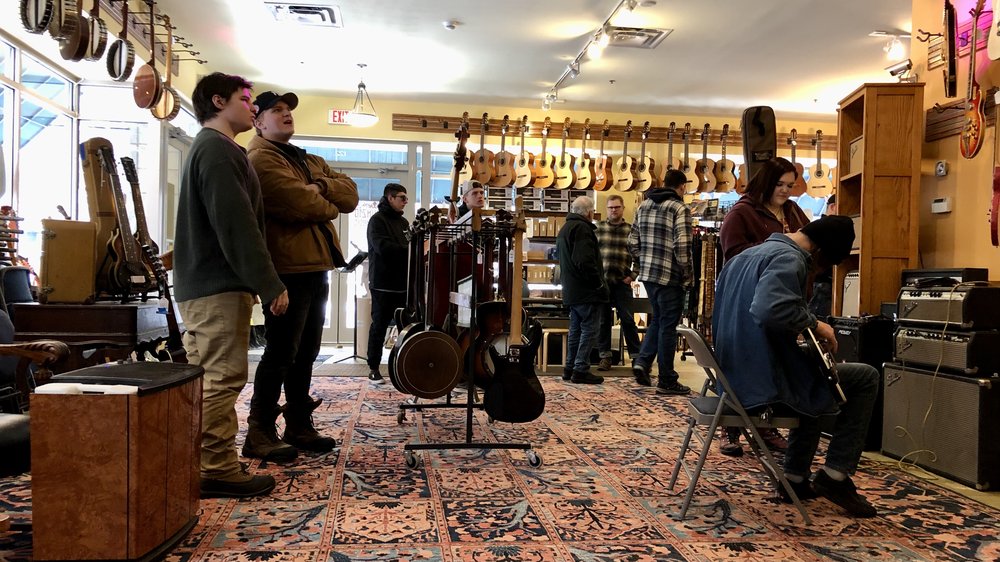 The store was packed on Saturday with many visitors coming from all over the state. It was the beginning of hope and some sense of "post-pandemic" normalcy.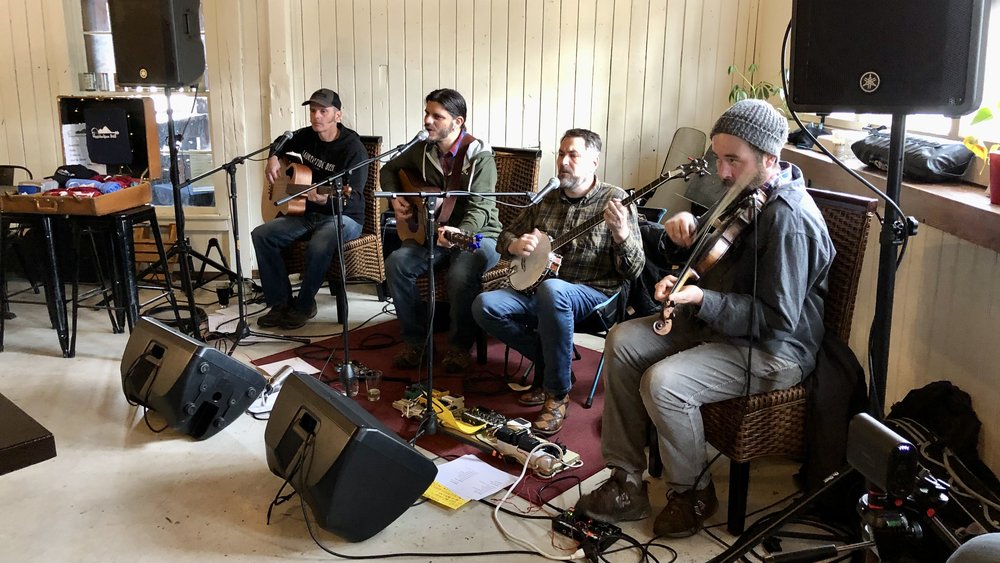 We closed out the weekend with a great concert by "Appalachian Still" of Northampton, MASS at Laurentide Brewery.