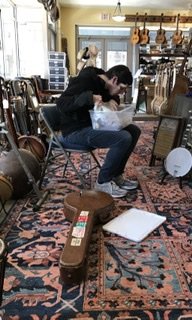 Sometimes people come from a long distance just a paw through our parts drawer to find that one piece that completes their instrument.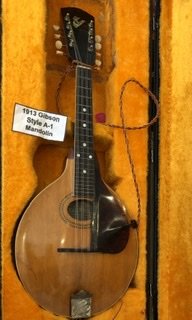 Folks from Jamestown, New York came in with this old Gibson mandolin that had been in their family since it was new in 1913. We were very glad to be able to purchase such a fine undisturbed instrument.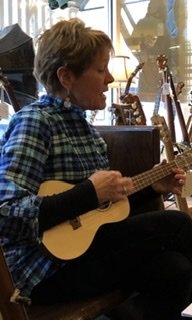 In preparation for travel Lynn tries out a Kala travel uke and goes home with it.
NEWSLETTER I don't go bowling
February 24th, 2020
Good morning folks,
The little corner I occupy on a typical Saturday at Bernunzio Uptown Music gives a unique perspective. I watch the comings and goings of the business that I created over the past 45 years and I see that it is good. Good doesn't just always translate into big profits but translates into a "profitable" experience. People come from all over. They try out instruments, they get good advice for maintaining and playing instruments, they come in to gather together to meet and play, and sometimes they come just out of curiosity, and of course people come to sell instruments to someone who knows what they are worth....and they come to hear the stories.

I had an interesting conversation with my old friend Fred Vine about the value of vintage instruments as he was trying out a beautiful 1944 Gibson L-7 arch top guitar. Fred has been playing guitar for over 50 years and he is a guitar junkie. There are a great many guitars available today compared to when we were young men seeking out fine old vintage instruments from under the bed or in the closet. Twenty-five years ago vintage instruments sold with a phone call. There was a feeding frenzy that drove the prices through the roof and in most cases beyond the means of the average player. Vintage instruments were sought after because they performed, played and felt better than anything was currently being manufactured. Now things have drastically influenced the market. The owners of these vintage instruments are starting to age and they have accumulated many examples. They are starting to put them on the market and there is a surplus of vintage guitars on the market and as a result the prices have dropped. Additionally, there's been pressure from new manufacturers who are producing guitars that sound and play great at remarkably reasonable prices. What's a guy to do? I referred Fred to a story that another old friend of mine told me. He has dabbled in guitars for many years, buying and selling between 20 and 30 a year. His wife would tell him at the end of the year, "Dave you lost $2000 this year buying and selling guitars". He would always reply, "Yes, but I don't go bowling!" The point being, as we get older it is our choice what we do our money. Twenty years ago that L-7 was a bundle of money..... very desirable but not very affordable. Today it languishes a bit but I think it will be scooped up this week at a reduced price of $2500, far below the old vintage price. It's a great time to be buying vintage guitars, the choices are vast and the prices are really reasonable and the passion will never go away.
Till next week,
John Bernunzio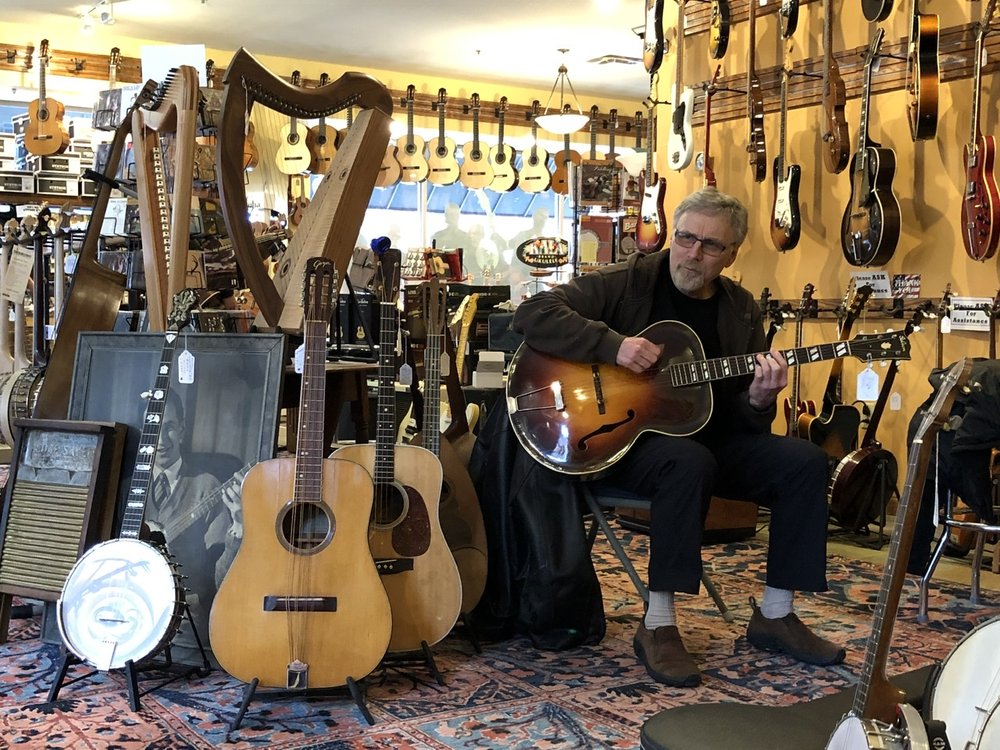 Fred Vine contemplates adding a nice old guitar to his arsenal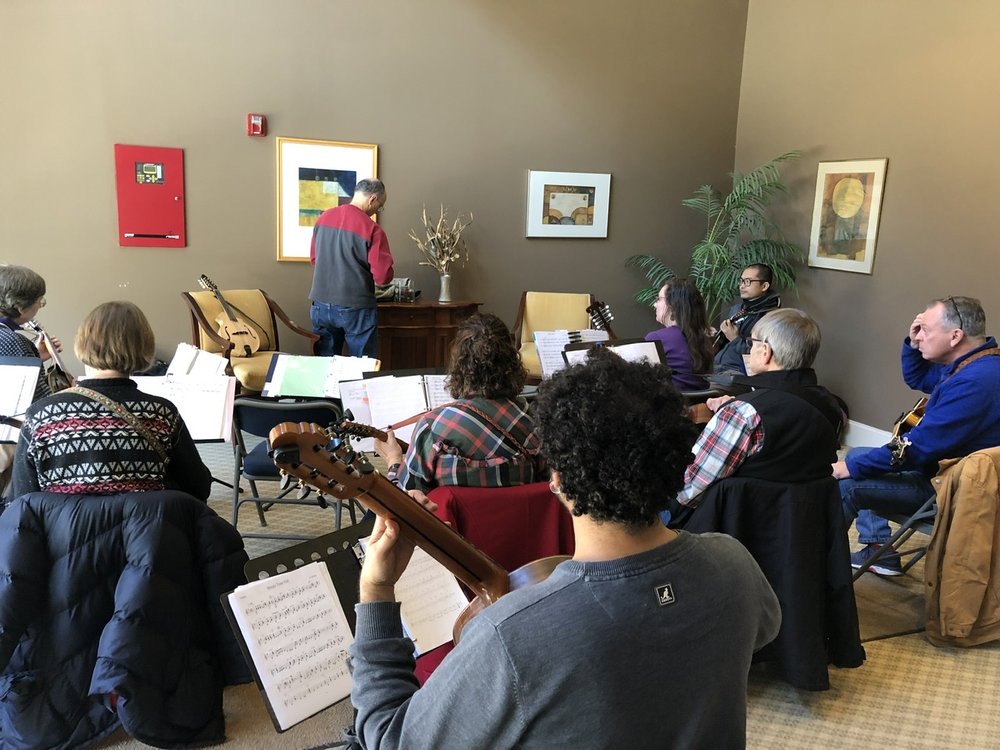 The Uptown Mandolin and Ensemble meets monthly in the back room