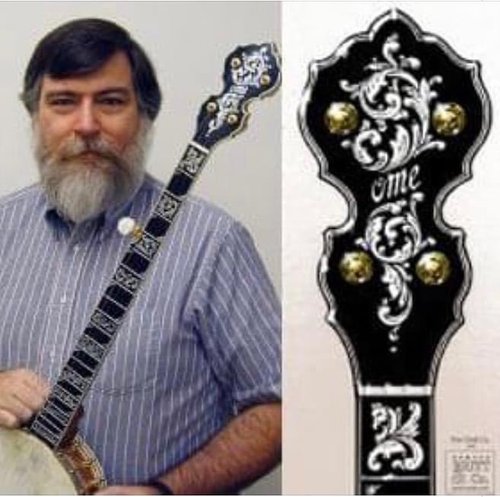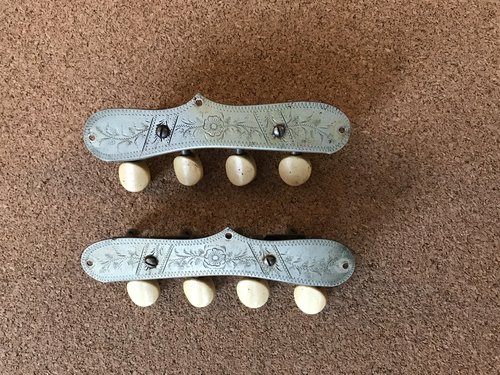 A set of tuners from a Martin style 5 round back mandolin
Original 1920s small shaft Planet tuners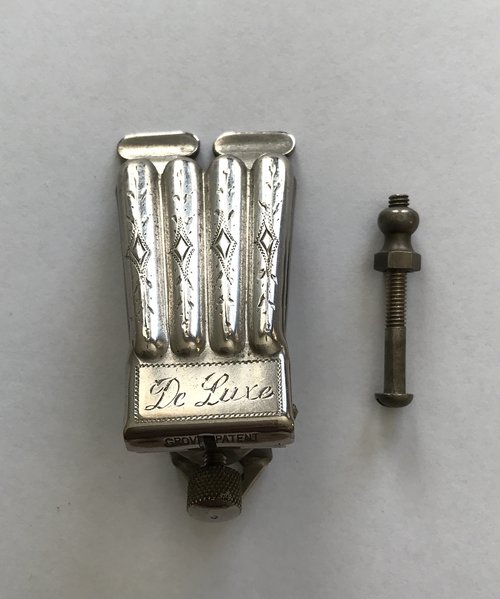 Original Grover Deluxe tailpiece engraved, nickel plated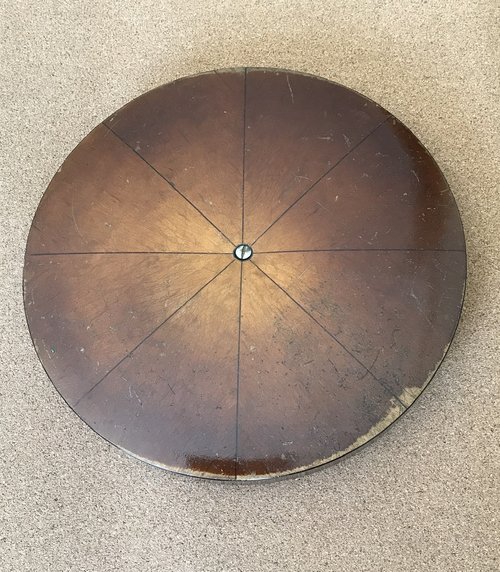 Original 1920s Vega pie/section resonator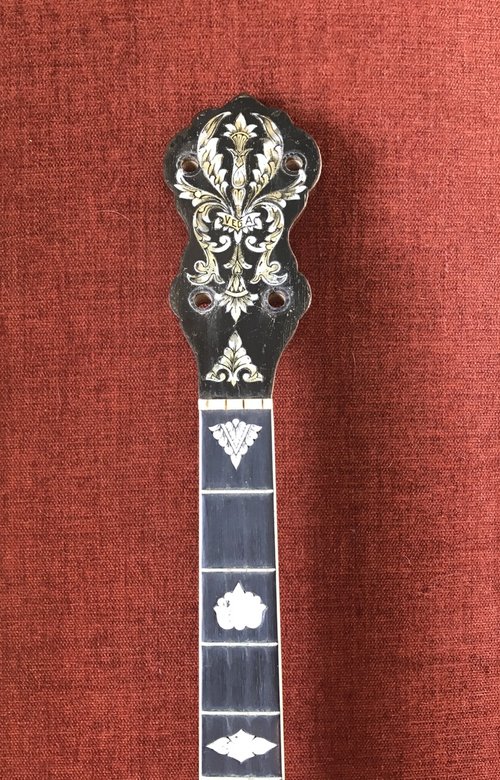 Beautifully inlaid Vega Deluxe tenor banjo neck in need of some restoration.
NEWSLETTER Ed Britt
February 22nd 2021
Good Morning Folks,
This week we received the news of the passing of our old friend and customer, Ed Britt. We first met Ed in the 1970s when he lived in Syracuse, NY. Ed was the consummate banjo collector and studied the instrument from a mechanical design perspective. His particular interest was the work of David Day and we had many long talks about the various banjos that Day had designed. Ed collected banjos from their design perspective rather than anything else. He was interested in how manufacturers came up with different ideas and solutions for their tonal objectives. Over the years he bought many banjos from me but these in particular stand out....and the likes of which we have never seen again. One the first banjos Ed bought from me, in the early 1980s, was a Fairbanks style C. This is a cataloged instruments but I've only ever seen one in 50 years. In physical appointments it was identical to a Whyte Laydie No. 2 but it had a carved heel and did not have a Whyte Laydie tone ring but a ring completely unique to that model. The second interesting banjo he bought was back in the early 1990s. We had quite a few words about. He told me I was being too aggressive on the pricing but I argued with him that he would be happy with this banjo for a long long time. It was an original Ashbourne fretless banjo from the 1850s....one of the very first manufacturers of the instrument. I told him the price was $1200 and he said that was really gouging but I said I'll never find another one and truthfully it's the only one I've ever owned. The last one I saw change hands was over $15,000. One of the more unusual banjos Ed got from me was a very interesting Orpheum style banjo but it had the name David Day inlaid in the peghead and had been purportedly owned by Day himself at the end of his life. I purchased it from a collector in Florida and Ed had to have it because of his obsession with David Day. One of the last banjos that Ed bought from me was a very early ODE long neck in Brazilian rosewood and all engraved metal parts. Ed had an association with the OME Banjo company which had previously operated under the name ODE. Eventually Ed worked with OME. Here are words shared by his long time musical partner, Don Borchelt, "Ed was a product design consultant by trade; some of the work he was most proud of were his designs for the OME Banjo Company in Boulder, Colorado, including the design of their top-end Renaissance model..... He was a noted banjo historian, and certainly the leading expert on David L. Day, perhaps the most important single contributor in the development of the modern banjo. A great advocate for the five-string banjo has now gone silent."

Sincerely,
John Bernunzio
I have listed in the photos some of the items that we are selling this week on eBay. You can follow auctions by searching for seller name "elleneast" or going to the link here.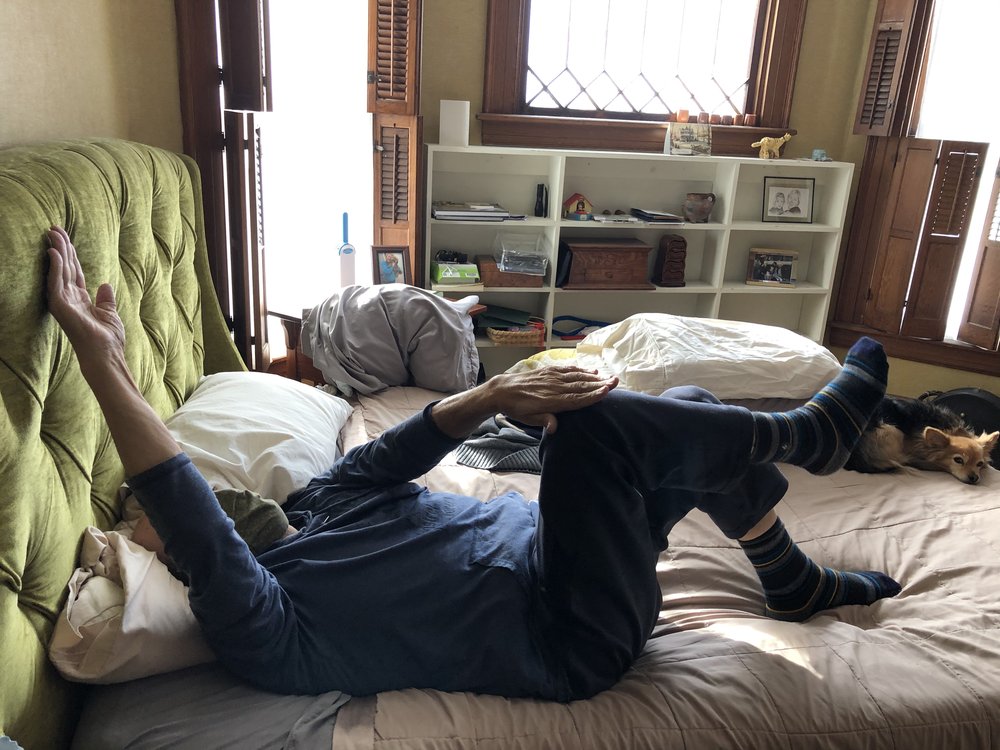 Doing my rehab faithfully every day under the close supervision of "Ike". I am finally walking on my own without the assistance of a walker or cane. There's a long way back but I think I'm on the way.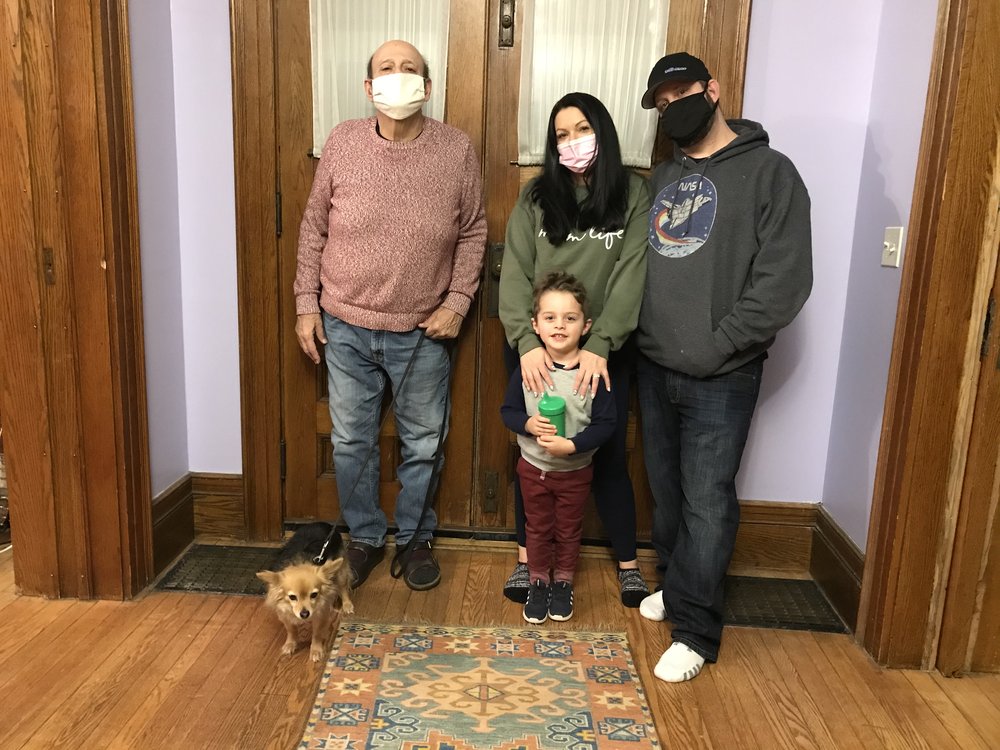 My oldest son Jay with his wife Taylor and my grandson son Rocco John came for a visit on Sunday. In July they'll be a family of five! Just sayin'