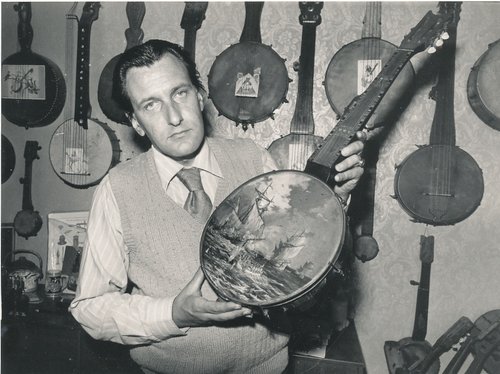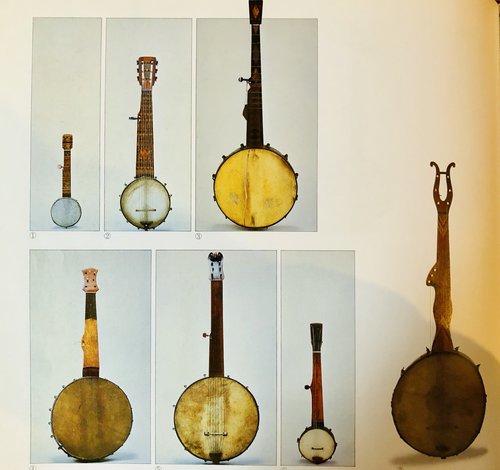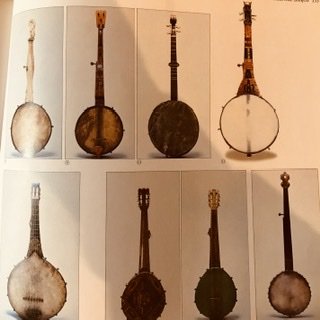 NEWSLETTER
February 3rd, 2020
Good Morning Folks,
This week I received a notice that long time banjo collector, Ruben Rubens, of London had passed away. Rubens accumulated a vast amount of early fretless banjos, mostly of English origin. He was a customer of ours in the 1970s and had bought a few fretless banjos back when we were sending out a paper catalog. Somewhere around 1987, Julie and I were traveling to London. We were actively buying antiques and frequenting most of the major markets around Portobello Road and Bermondsey. Somehow we had the idea that we would be antique purveyors and buy interesting objects in cities like London and Amsterdam would be able to sell them in Rochester, New York for a profit. It wasn't very realistic.
Julie happened to walk into a small shop that sold Delft blue China which was something we had an grown fond of. In the course of the conversation she mentioned to the proprietor that we also had an interest in early stringed instruments. He replied that a friend of his amassed a large collection of banjos and was contemplating selling. No sooner did I turn around than I bumped into a "Dickensian" looking character with a tweed cap pulled down over his eyes and his cigarette dangling from his mouth. He looked at me, shook my hand and said "banjos? Are you looking for banjos? I got lots of banjos kid."
He directed us to his house in southwest London. When we met him there, at a big old Victorian house where he resided, we viewed 800 fretless banjos in various states of repair piled like cordwood. He told us that he was done collecting and the major reason was that he had collected everything there was of interest in the country. Rubens did not play banjo but he found them interesting and had amassed one of the greatest collections in the world. But his interests changed and he was now collecting early kitchen appliances and he said it was time to make the banjos go someplace else. Though it was a long time ago I do remember seeing his father there, coming down a large Victorian staircase. He had a ponytail, was dressed in pirate garb and honest to God he had a parrot on his shoulder. It was a scene that I would never ever forget. Julie and I negotiated the price for a few hours with Rubens and we decided to purchase about 100 of his early banjos. That day I spent driving back-and-forth from North West London to South East London in an old rented Mercedes Benz hauling banjos to the apartment where we were staying. We proceeded to take each one of them apart putting necks in one box and rims properly labeled into other boxes. We were flying back to the US through Canada and we brought all of this back as luggage. At customs they gave us some strange looks but we said we were not staying in Canada and we were headed towards the border of the US. When we got to the border with US customs asked us if we purchased anything in Canada that we are bringing back to the United States and we told him we bought nothing in Canada which was the truth. We were able to enter the US with 100 banjos in parts and were able to avoid the customs paperwork that might have been necessary. There was no duty because these were antique items but going through all the boxes would leave a lot of explaining. Of course these were pre-9/11 days when air travel was much easier.
When we got back to Rochester we put the banjos together and listed them in our catalog.They were every kind of banjo you can imagine. Tunbridgeware decorated seventh stringers, imported Lyon and and Healys, and many many of the early banjos like those that ended up in the first book by Akira Tsumura who had recently bought Ruben's prized fretless Stewart presentations. When a collection starts to unwind it's usually the top things that go first but we were interested in any type of early banjo. However, the market was just not ready for minstrel era banjos in 1987. It took a long time to convince people that banjos from the 1850s and 1860s were of interest. One in particular was a handmade instrument with a daguerreotype of the maker holding the banjo inlaid into the fingerboard! It came in the original wooden hard case but it brought barely $400 at auction. The market was just not ready for it. It wasn't till 20 years later that the rage for early banjos seemed to catch up...and so it goes.
Many of Reubens' minstrel-era banjos are now in the collection of the Hamamatsu Museum of Musical Instruments in Japan.

Until next week,
John Bernunzio