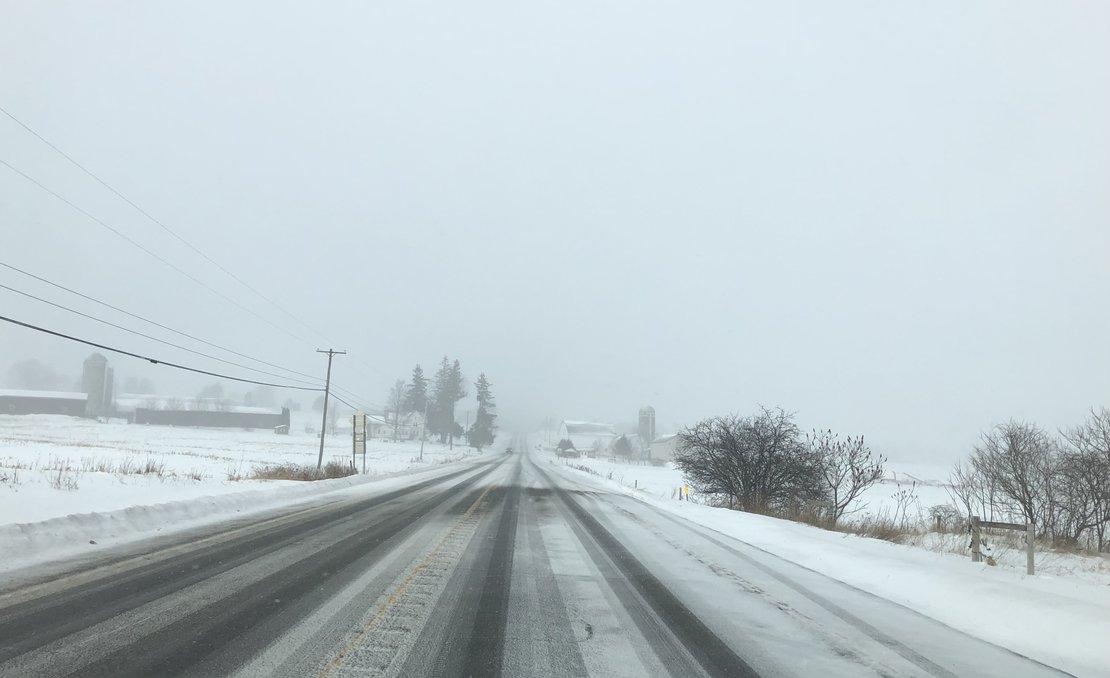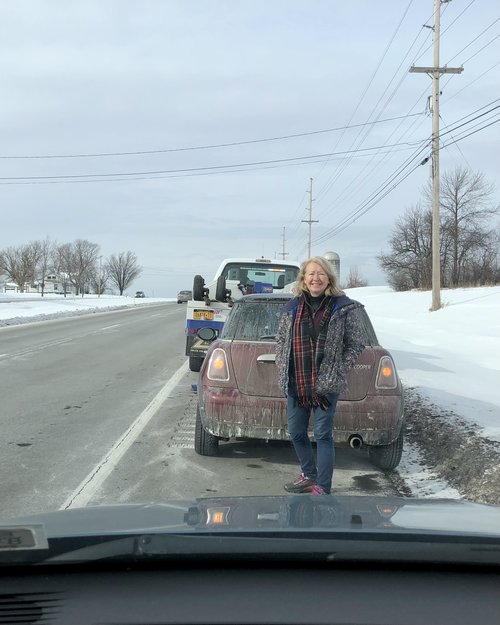 Julie stranded by the road but always optimistic
The Imperial Stout at Laurentide Brewery is smoking!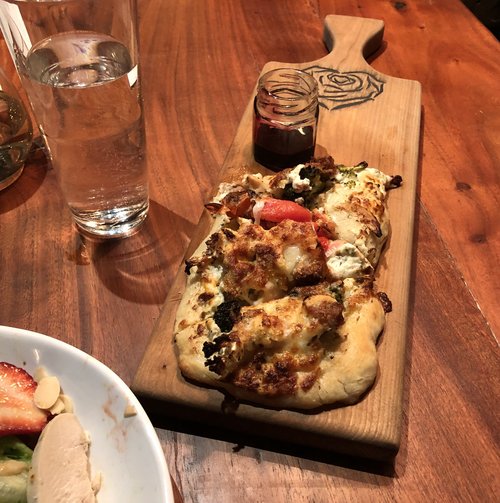 A fine dinner at The Burnt Rose Wine Bar, owned by our neighbors Chet and Rose. Their flatbread pizza with wine reduction sauce is outstanding…as is all the rest of the menu.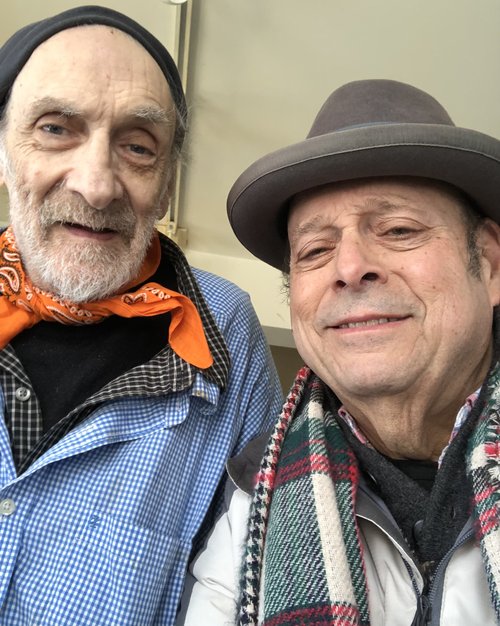 On Saturday I spent the day at the store. It was work! Lots of people came in buying and selling. I left a little bit early to spend some time with my dear friend Charles Jaffe. I delivered a lightweight banjo for him to tinker around with it in his spare time. Bernunzio's make house calls.
NEWSLETTER car troubles!
January 31, 2022
Good Morning Folks,
Julie has always been a tenacious gal. She's adventurous yet practical. When we we young and living in the Netherlands in the mid '80s we purchased an old Mercedes Benz as our family car to drive around on trips. Adventurously, we took it as far is Rome, Italy driving through the Alps to be there for Christmas vacation. It wasn't very reliable transportation and it always had lots of problems. We had a trusty mechanic, Johnny Vandelft, who always seem to be able to keep it running. One of the last trips we decided to make was a car trip to Düsseldorf, Germany to visit her uncle George Hoffmeier his wife Sylvia and their son Martin. We packed our three kids and our large, Bouvier Des Flanders dog into this battered 'Benz and headed East. Around halfway there the car made a loud, groaning noise and I pulled over to the side of the road. Now if you're familiar with the Autobahn in Germany everything is moving at a ridiculously fast pace. There are also safety boxes where you can make phone calls at various places by the side of the road. We called for roadside assistance and the mechanic was there within short time. Now I studied four years of German two years in high school and two years in college. I wasn't great with languages and I didn't learn very much. The extent of my vocabulary was extremely limited. The crusty mechanic open the hood, looked briefly and then came back to the drive side window and said one word which was sadly in my vocabulary…"kaput". Yes, it was curtains for the old Benz. We had insurance so we scheduled it to be towed back to our town in the Netherlands. Needless to say I was extremely bummed and went into a downward spiral. "That's the end of our trip", I moaned… "no sense in doing anything but riding back in a broken car." However Julie had a different approach, more in line with her spirit. She quickly replied, we're not going home and sit around all weekend moaning about a broken car. We're going forward, we're going to visit my uncle!". We hopped the next train to Düsseldorf and had a great weekend with family.
Flash forward to the present moment. Every Thursday morning Julie packs her little Mini Cooper and heads to Rochester for three days. I always get a little despondent. I feel lonely and I miss her terribly, but it's the arrangement we have made for running the business. This Thursday around a half hour after she left I got a very desperate phone call. She had broken down on a major highway and was pulled off to the side of the road with tractor trailers whizzing by at 60 miles an hour. She called AAA and they were backed up for an hour and a half. Well I got an old trusty "Vanna blue" and drove a snowy half hour to Canandaigua and picked her up. We left the car in the hands of the AAA towing service and drove back to Penn Yan. Once there, we could have sat around and moaned about another bad car and another waste of time. Instead, with Julie's spirit always bright, we decided to make an evening of it and enjoy an unexpected holiday. We made a stop at Laurentide Brewery where they were having celebrity bartender night. Peter Beksiz, a Vice President of Keuka College was tending bar as part of a fundraiser. We had amazing time and were able to hobnob with presidents and vice presidents and college leaders. I must say they exude a great camaraderie and raised quite a bit of money for the student scholarship fund. After working up a bit of an appetite Julie and I decided to head down the street to the Burnt Rose Wine bar for a great dinner. This woman certainly knows how to react to a crisis. When life hands you lemons make a cocktail! I love her…

Best wishes,

John Bernunzio