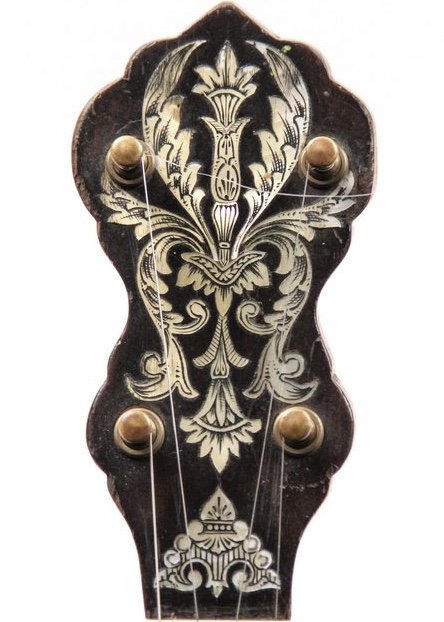 Fairbanks high grade banjo with ornate pearl in the peghead.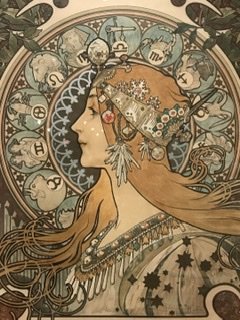 The classic "Art Nouveau" poster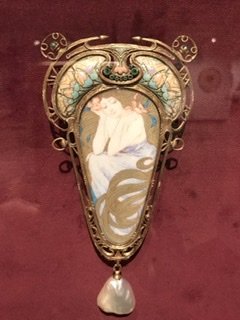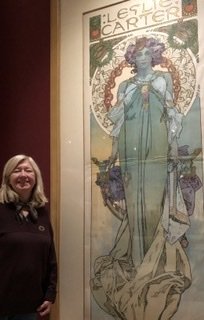 NEWSLETTER
January 20th, 2020

Good Morning Friends,
This past weekend Julie and I paid a visit to the Rochester's Memorial Art Gallery to view the wonderful exhibit on Alphonse Mucha. As some might recall, Mucha was one of the most important artists of the Art Nouveau movement at the turn of the 20th century. His life sized posters of the great actress, Sarah Bernhardt catapulted him to stardom in Paris and beyond. It was a time of experimentation in art and design and the ability for that art to reach the masses was accelerated with advancement of industrialization. The irony of course, was the flowery design of Art Nouveau was a reaction to the looming mechanization of the modern age. Nonetheless, it became the definitive trademark of the times and entered into all phases of modern life. From jewelry to tableware to candy tins, everything seemed to be sprouting the "tree of life". Nowhere was this more evident than the field of musical instruments....especially banjos. What was once a spartan instrument from the days of Minstrelsy was suddenly adorned with mother of pearl artistic design right out of the Mucha handbook. The engraved embellishments on the presentation grade instruments of Fairbanks, Cole, Bay State, Stewart and other manufacturers are the same organic design of the art of the times. The ideas of the art nouveau school were eventually replaced by the more stringent designs of "Arts and Crafts" movement with its meticulously made, but simple and unornamented ware. Tastes change but each era has its signature esthetic and the finest work of any genre will always stand the test of time. We are proud to have for sale some of the finest instruments from those "golden eras" when craftsmanship and artistry were hand-in-hand. We will continue to seek them out, make them playable and offer them for sale as we have been for the past forty-five years.

As a side note, back in the mid '70s I was out hunting the antique shops for old guitars and banjos. I got into an old barn outside of Oswego, NY. The proprietor had a pile of stuff around and I managed to uncover a broken old Stewart banjo which he gladly sold me for $40. As I was walking out of the shop, I noticed a very strange oil painting of a "Rasputin" looking guy in monk's garb. The dealer looked at me and said,"Kid, if you like it I can sell it to you for sixty dollars. It's signed Sarah Bernhardt. She was in a convent you know." I didn't have $60....so it goes.

All my best,
John Bernunzio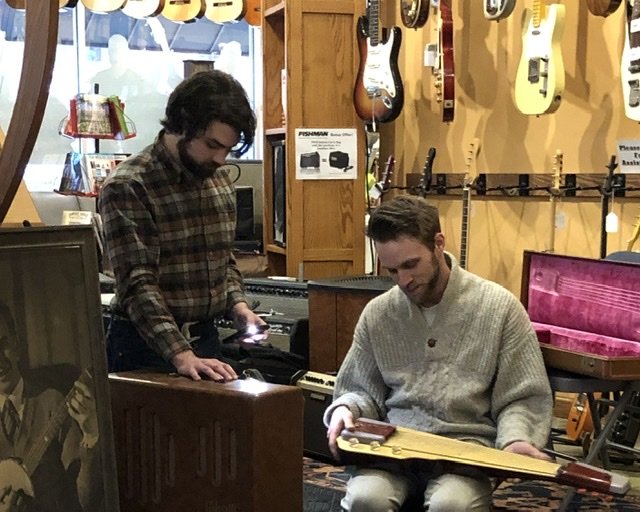 The excitement never ends.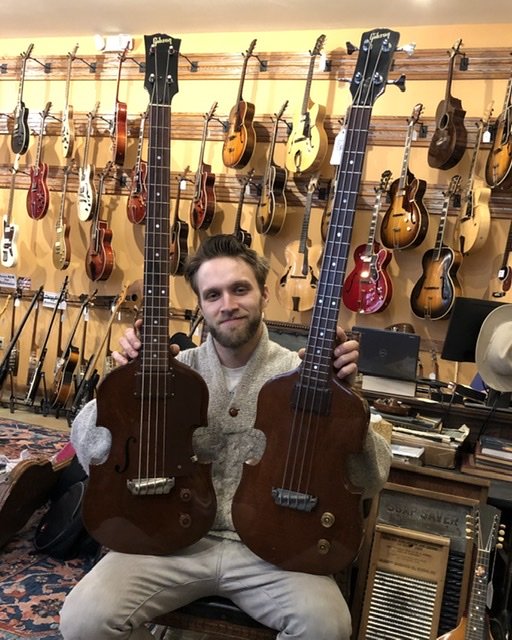 Having in stock two extraordinarily rare, early 1950s, Gibson basses gives bragging rights to Ryan Yarmel, but his real business savy was shown in the dozen "vintage" washboards that he also purchased!