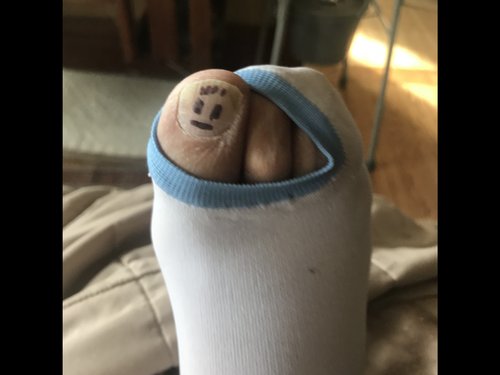 ---
John's little friend - I will give him a "smiley face" on Wednesday.
NEWSLETTER after knee surgery surgery
January 18th 2021
Good Morning Folks,
This is Julie writing to you today. John asked me to say a few words while he is recuperating from surgery. Many of you have reached out, sent kind and reassuring messages and shared your own similar experiences. We are so grateful!
Even though total knee replacement is considered an "elective " surgery, john's knee was shot and needed to be swapped out. However, the thought of being in the hospital during this time was very scary. When he was offered the opportunity to have the operation at the surgical center instead of the hospital, he quickly agreed. So, Thursday morning at 6 am I dropped him off. The nurses kept in contact during the day and by 4 pm he was ready to be picked up. I drove him back to Penn Yan as quickly as possible. Despite a few hiccups with medication and instructions, everything else went very well. We have had calls and visits from nurses and physical therapists from Lifetime Health and they all have been amazing.
John is making a remarkable recovery so far. He is walking and doing his exercises despite a fair amount of pain. I'm really proud of the effort he is putting in. After years of decreasing mobility, he is determined to walk and ride his bike again, if at all possible. I'm hopeful, too!
I will admit that being a caregiver 24/7 has been challenging. After only a few days, I have a new found respect for those who are caring for family members or work in nursing facilities. This is not an easy job, especially now. I won't be making the weekly commute to Rochester to help out at the store but I'm sure my staff will easily carry on without me for a couple of weeks.
Speaking of Bernunzio Uptown Music, we want to sincerely thank everyone who has supported us over the last 10 months. We are still "afloat" as they say and keeping our excellent and dedicated employees paid. New inventory is flowing in every week so keep your eye on the website. If you have anything to sell or consign, please don't hesitate to call or send an email to the store. John is always happy to take calls and chat, too, even while he is convalescing. You just can't stop him from talking shop and he really enjoys connecting with friends old and new.
Please be safe, be kind and be hopeful.
Julie and John