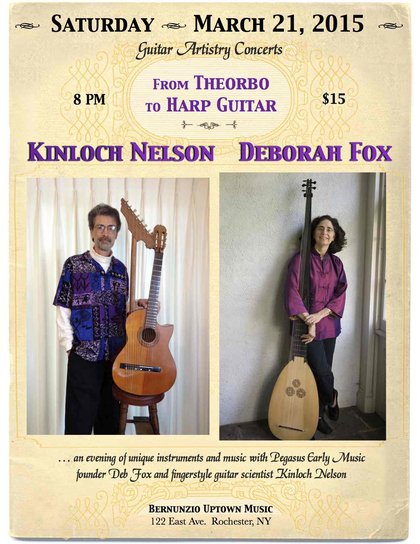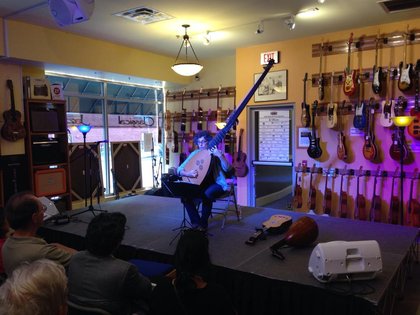 March 21, 2015
8 p.m. - 10 p.m.
From Theorbo to Harp Guitar: An Evening with Kinloch Nelson and Deb Fox
Saturday, March 21st, 8PM, $15
Kinloch Nelson's Guitar Artistry Concerts continues with an evening of theorbo, harp-guitar, baroque guitar and modern fingerstyle guitar featuring Renaissance, folk, jazz and popular music with guest artist Deborah Fox, artistic director of Pegasus Early Music.
Deborah Fox is the Artistic Director and founder, in 2005, of Pegasus Early Music, Rochester's early music concert series. She is a lutenist with a span of repertoire ranging from medieval to baroque music.  She has performed with the major early music ensembles and festivals in North America, including the Carmel Bach Festival, Glimmerglass Opera, Les Violons du Roy (Montreal), Spoleto Festival, Opera Atelier, Aradia, Tafelmusik, Concert Royal, Brandywine Baroque, Music of the Baroque and Callipygian Players, and others. She has made frequent trips to Australia to work with Pinchgut Opera in Sydney.   She received the Certificate of Advanced Studies in Early Music at London's Guildhall School of Music, specializing in the improvised accompaniment practices of the seventeenth century. She performs as a regular member of the baroque chamber music ensemble Fioritura.
Kinloch Nelson has been playing guitar for fun since 1956, seriously since 1968 and professionally since 1973. Born in 1950, Nelson grew up during the tail end of the jazz era, the high point of the broadway-to-the-movies musicals, the blooming of TV with its youth-focused American Bandstand and emphasis on cowboys and Indians, the heyday of AM radio and the beginning of "underground" FM radio.  The ever expanding music landscape in these years served as the backdrop to Nelson's guitar explorations, and the foundation of a 45 year performance career playing folk, classical, R and B, rock, country, ragtime, and jazz music in bands, ensembles, and as a solo performer.

Recently Nelson has been an in-demand player at the Healdsburg, Montreal, Newport, Miami and Woodstock Guitars Festivals.  He can be heard as guitar demonstrator on the websites of noted guitar builders Ken Parker (Parker "Fly" Guitars), Bruce Petros (Acoustic Guitar Magazine award winner), Julius Borges (founder of Newport Guitar Festival) , Bernie Lehmann, Bryan Galloup and David MacCubbin.  Nelson can be heard on Heartland Records, BKNjr Records, and Sampler Records.
Share this Event on Facebook.