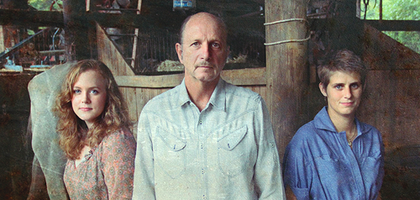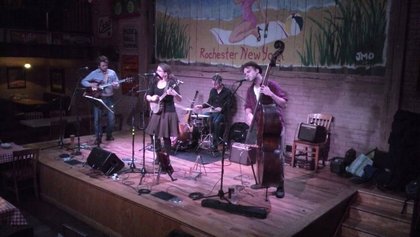 May 27, 2014
7:30 p.m. - 9:30 p.m.
The South Carolina Broadcasters perform in the showroom at Bernunzio Uptown Music with local favorites The Younger Gang, on Tuesday, May 27th from 7:30-9:30, $10. Tickets are available in advance by calling 585.473.6140 or emailing counter@bernunzio.com, and at the door. Doors open at 7PM.
The South Carolina Broadcasters are not just another group dipping into the deep pool of traditional music in hopes of being trendy. Nearly every facet of the group is subservient to the style of music they present. Hailing from Charleston, S.C., but with roots in the sacred Mt. Airy region, they are a three-piece group, comprising David Sheppard on guitar, Ivy Sheppard on fiddle and banjo and relative newcomer Sarah Osborne on banjo and guitar. They each provide vocals to create distinctive harmonies; in person, it sounds as if every member has just stepped from a dusty old 78 RPM platter, ready to sing again. With many similarities to the early Carter Family, the Broadcasters dig deep into traditional gospel numbers and old-time tunes that originated from the mountains of the Carolinas and Virginia. The Broadcasters tour constantly through the Southeast and across the country. And with each release, they become tighter, somehow closer to reaching the heart of the music they obviously love. The harmonies are crisp. The playing is tight. The music is raw and raucous, heartfelt and beautiful. They are the South Carolina Broadcasters, and they are what is great about old time music." —Dan Schram INDY Weekly
"Rochester's own The Younger Gang describes itself as being, "based in the traditions of Old-Time Appalachia and classic Americana," while seeking "new interpretations of old music without losing touch with its roots." The Younger Gang combines the soulful lead vocals of Michelle Younger, of Windsor Folk Family, and a mix of traditional bluegrass instrumentation with electric additions that are not generally characteristic of a bluegrass band.  It is through this addition of electric instrumentation, and its members' wide range of musical backgrounds, that The Younger Gang makes music that both feels new and respectfully pays homage to its roots."-Leah Creary, CITY Newspaper
Share this Event on Facebook.