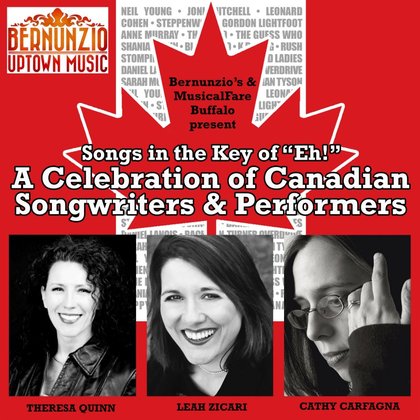 Sept. 17, 2017
6 p.m. - 7:30 p.m.
SONGS IN THE KEY OF "EH!" takes an entertaining journey through the Canadian songbook with songs by Leonard Cohen, k.d. lang, The Band, Neil Young, Sarah McLachlan, The Guess Who, Gordon Lightfoot, and many more, in celebration of Canada's 150th birthday. Award-winning Western New York musicians Theresa Quinn, Leah Zicari, and Cathy Carfagna – who brought the sold-out tribute to Carole King, Joni Mitchell and Linda Ronstadt to last year's Fringe – blend glorious harmonies and creative instrumentation in this must-see show.
Tickets are $20.
Purchase tickets through KeyBank Rochester Fringe Festival:
Online: rochesterfringe.com (no extra booking fees)
Phone: (585) 957-9837 (fees apply)
Box Office: One Fringe Place (corner of Main & Gibbs Streets)
In Person: Venue door one hour before start of show

Share this Event on Facebook.