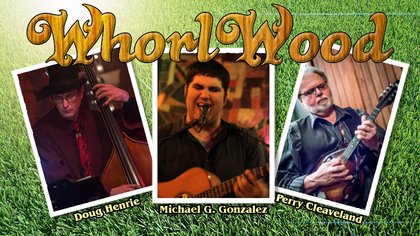 Feb. 13, 2019
7 p.m. - 10 p.m.
Rochester Folkus presents folk, traditional, old-time, bluegrass, and other acoustic music on the 2nd and 4th Wednesdays of every month at the Downstairs Cabaret Theatre, 20 Windsor Street, Rochester, NY (Near Eastman Theatre, convenient free parking, handicapped accessible, phone number for reservations (325-4370), website for information (www.DownstairsCabaret.com). $10 admission, benign and malignant beverages available.
This is an acoustic venue, no plug-ins or foot switches will be accommodated. We provide a single, broad-field microphone (like the old live radio show mikes), but that's all.
About WhorlWood...
WhorlWood is a dynamic acoustic project that tests the "boundaries" between traditional, roots, jazz, and world music. They feature original music composed and arranged by guitarist and singer Michael George Gonzalez. The group is comprised of some of the Finger Lakes best acoustic musicians including SAMMY Award winning artist Perry Cleaveland (mandolin + fiddle) and Doug Henrie (string bass).
Members:
Michael George Gonzalez (vocals + acoustic guitar + songwriter)
Perry Cleaveland (vocals + mandolin + fiddle)
Douglas Henrie (string bass)
Website:
http://WhorlWood.com
Audio Samples:
https://soundcloud.com/whorlwood
Live Video Samples:
https://www.youtube.com/playlist?list=PLtjuFSgoPbFnMF4eoHekMJcr2agPd-TNc
Share this Event on Facebook.