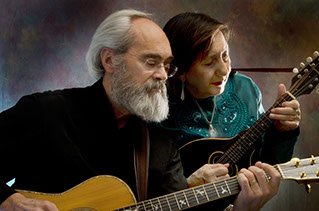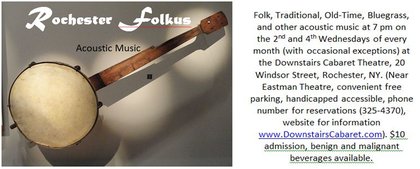 Nov. 13, 2019
7 p.m. - 9 p.m.
Rochester Folkus presents a concert with Magpie
Wednesday, Nov. 13 at 7 pm. Tickets - $10
Downstairs Cabaret Theater, 20 Windsor St., Rochester, NY
Rochester Folkus – Rochester's premier folk, blues, and bluegrass listening venue, will continue its third season with a concert by Magpie (Terry Leonino and Greg Artzner) on Wednesday, November 13. The concert will be held at the Downstairs Cabaret Theatre, 20 Windsor Street, Rochester, NY. All concerts begin at 7 pm and occur on the 2nd and 4th Wednesdays of every month (with occasional exceptions). Reservations are accepted (but not required) and can be made by calling 585-325-4370. For more information go to https://www.facebook.com/RochesterFolkus or www.DownstairsCabaret.com. Admission is $10.
MAGPIE (Terry Leonino and Greg Artzner) are consummate singers, songwriters, and musicians featuring traditional and contemporary songs covering a wide spectrum of Americana. With two strong voices in harmony and superb instrumental arrangements, their sound is powerful and moving. Award winning recording artists, singers, songwriters, musical historians, playwrights, actors, and social advocates, Terry and Greg are proud to be, as Pete Seeger said of them, "…more links in the chain", dedicating their lives and music to leaving this world a better place.
Share this Event on Facebook.