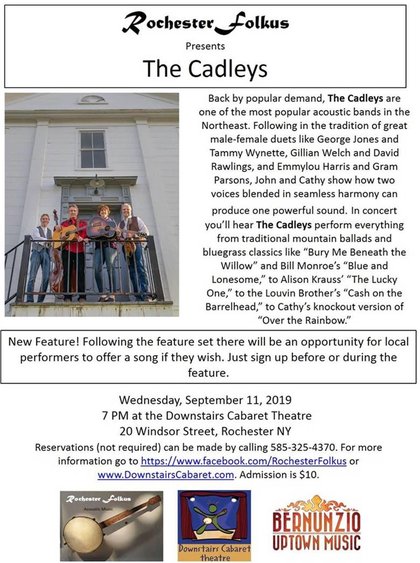 Sept. 11, 2019
7 p.m. - 10 p.m.
Rochester Folkus – Rochester's premier folk, blues, and bluegrass listening venue, will present its next concert of the 2019 season with a performance by The Cadleys on Wednesday, September 11, 2019. The concert will be held at the Downstairs Cabaret Theatre, 20 Windsor Street, Rochester, NY. All concerts begin at 7 pm and occur on the 2nd and 4th Wednesdays of every month (with occasional exceptions). Reservations are accepted (but not required) and can be made by calling 585-325-4370. For more information go to https://www.facebook.com/RochesterFolkus or www.DownstairsCabaret.com. Admission is $10.
Back by popular demand, The Cadleys are one of the most popular acoustic bands in the Northeast. Following in the tradition of great male-female duets like George Jones and Tammy Wynette, Gillian Welch and David Rawlings, and Emmylou Harris and Gram Parsons, John and Cathy show how two voices blended in seamless harmony can produce one powerful sound.
In concert you'll hear The Cadleys perform everything from traditional mountain ballads and bluegrass classics like "Bury Me Beneath the Willow" and Bill Monroe's "Blue and Lonesome," to Alison Krauss' "The Lucky One," to the Louvin Brother's "Cash on the Barrelhead," to Cathy's knockout version of "Over the Rainbow."
Following the feature set there will be an opportunity for local performers to offer a song if they wish. Just sign up before or during the feature.
Share this Event on Facebook.