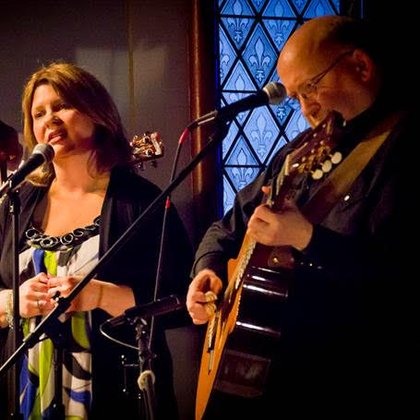 Oct. 9, 2019
7 p.m. - 10 p.m.
Rochester Folkus – Rochester's premier folk, blues, and bluegrass listening venue, will continue its third season with a concert by Leslie Lee and Steve Gretz on Wednesday, October 9. The concert will be held at the Downstairs Cabaret Theatre, 20 Windsor Street, Rochester, NY. All concerts begin at 7 pm and occur on the 2nd and 4th Wednesdays of every month (with occasional exceptions). Reservations are accepted (but not required) and can be made by calling 585-325-4370. For more information go to https://www.facebook.com/RochesterFolkus or www.DownstairsCabaret.com. Admission is $10.
In 2007, Leslie Lee and Steve Gretz moved to Rochester, New York from the Boston area where together they ran The Mozaic Room coffeehouse for eleven years. In 2003, they started recording and performing together as a duo. Their music combines their backgrounds in traditional, country, Americana, and gospel music with their taste for contemporary singer/songwriters. Their performances feature simple but tasteful arrangements of timeless melodies, and together they have written several beautiful and timeless songs. Steve's guitar is often supplemented by other traditional instruments, but the focus is always on thoughtful lyrics and beautiful harmonies.
Share this Event on Facebook.