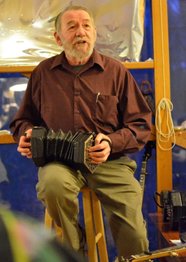 Jan. 23, 2019
7 p.m. - 9 p.m.
Rochester's premier folk, blues, and bluegrass listening venue, will present its first concert of the 2019season with a performance by John Roberts on Wednesday, January 23, 2019. The concert will be held at the Downstairs Cabaret Theatre, 20 Windsor Street, Rochester, NY. All concerts begin at 7 pm and occur on the 2nd and 4th Wednesdays of every month (with occasional exceptions). Reservations are accepted (but not required) and can be made by calling 585-325-4370. For more information go to https://www.facebook.com/Roche... or www.DownstairsCabaret.com. Admission is $10.
John Roberts a wonderful singer of folksongs from the British Isles. Born and raised in Worcestershire, England, of a Welsh family, he currently lives in Schenectady, NY. He came to the USA many years ago to go to graduate school at Cornell, where he met Tony Barrand, and the two toured the country for years as perhaps the best known British folk duo performing in the U.S. In recent years, John has been performing solo accompanying himself on banjo and Concertina (English and Anglo).
Share this Event on Facebook.