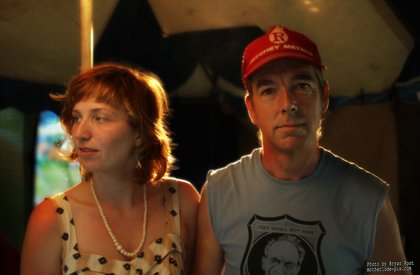 April 9, 2014
8 p.m. - 10 p.m.
On WEDNESDAY, APRIL 9th from 8-10PM, we welcome Michigan's Red Tail Ring (www.redtailring.com) and Ithaca's Richie Stearns & Rosie Newton (www.rosienewtonmusic.com) for an evening of Americana folk and old-time. Tickets are $10 and can be reserved in advance by calling (585) 473-6140.
Red Tail Ring has made haunting, close harmonies a centerpiece of their performances, which they support with a bed of intricate instrumentation on fiddle, clawhammer banjo, mandolin, and guitar. Michael Beauchamp and Laurel Premo have traveled increasingly farther in their musical ramblings, playing shows throughout the Midwest, East Coast and Southeastern United States. Working as stewards of the traditional music that they love, the duo performed and taught in Denmark in 2011, and took a 19-day tour of Germany in 2013. Red Tail Ring is part of the Earthwork Music Collective which houses many members of the vibrant Michigan music scene.
Richie Stearns and Rosie Newton are a dynamic duo performing music rooted in the Americana tradition. Over the past four years they have collaborated in various projects and formed the duo after hours of jamming in Stearns' kitchen, experimenting with traditional and original songs. Stearns is a legendary banjo player and singer, and has led bands including the Horse Flies, and Donna the Buffalo. He has also played with countless others, and tours with Natalie Merchant. He is steeped in the traditions of American old-time music, Appalachian folk, blues, African, rock, and country music. Rosie Newton is a talented fiddler and singer at the beginning of her music career. She recently graduated from Ithaca College with a degree in viola performance, and has become an integral part of the Ithaca old-time music community. She has performed in various bands including her own project called the Pearly Snaps, and Ferintosh, an internationally touring Celtic music band. Richie Stearns and Rosie Newton take the fiddle, banjo combination to new levels as they continue to expand he boundaries of this tradition.
Share this Event on Facebook.