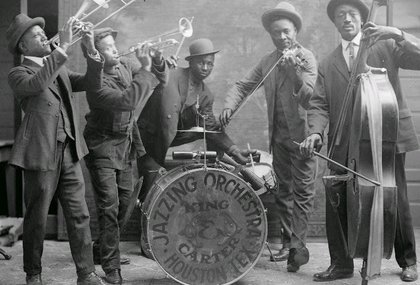 Feb. 27, 2015
6:30 p.m. - 9 p.m.
Downtown Rochester: Bernunzio Uptown Music is proud to partner with grassroots collective B.L.A.C.K (Building Leadership and Community Knowledge) and SUNY Empire State College to present an evening of discussion and celebration of black music on Friday, February 27th from 6:30-9:30PM at Bernunzio Uptown Music, 122 East Avenue. The evening will feature presentations and discussion regarding the origins and expropriation of black music, as well as entertainment from community musicians, artists, and performers, and raffle with prizes donated by local businesses. Refreshments will be served.

Discussion Moderator:
Natasha Alford of WROC Channel 8

Historical Presentations by:
Verdis Robinson M.A.-Instructor of History & African American Studies at M.C.C.
John Bernunzio M.A.-Vintage Instrument Expert and Historian
 
Performances by:
Dr. Charles T. Lunsford School #19 Strings for Success Violinists; Members of the North Star Players - Larry Singleton, Gaya Shakes Degwanda Gause, Robin Brown; K-Lon TheArtist, Shaun Flaimz, Banke the Author, Cammy Enaharo, Jahzi.

Raffle Prizes Donated by:
Holley's Café & Catering, A Gamers Nostalgia, Banke the Author, Beads & Bangels by Jaira, and INOVAtion3 LLC, Brown Sugar Pastries, 
A $5 suggested donation will be collected to benefit The Strings For Success violin program at the Dr. Charles T. Lunsford School #19 in Rochester's 19th Ward.
More on Strings for Success:
Strings for Success is a free school-based violin instruction program of The Center for Youth in partnership with Dr. Charles T. Lunsford School No. 19 in the Rochester City School District. Any interested student in grades 3-8 at School No. 19 can participate. Community violin instructors work closely with the school music teacher to provide individual and group violin lessons and opportunities to play in a violin ensemble.
Strings for Success helps students develop confidence, self-discipline, perseverance, solid work habits and positive social skills like cooperation, respect, and working as part of a team. The young violinists also develop a love of learning and positive goals for the future.
http://centerforyouth.net/index.php/programs/strings-for-success/
PERSPECTIVES: A Discussion and Celebration of Black Music
Friday, February 27th, 6:30-9PM
$5 Suggested Donation to benefit Strings for Success Violin Program
Share this Event on Facebook.