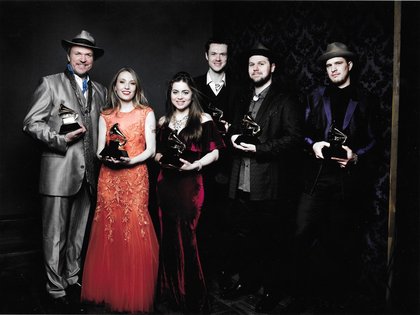 Jan. 19, 2018
8 p.m. - 10 p.m.
The Grammy Award-winning O'Connor Band, featuring iconic fiddler and composer Mark O'Connor, will put on an engaging, dynamic concert showcasing compelling arrangements, virtuosic solos, and tight vocal harmonies on Friday, January 19 at 8pm in the Kodak Hall at Eastman Theatre. Guitarist Chris Wilson is the opening act.

The O'Connor Band's debut album, Coming Home, reached No. 1 on Billboard's Top Bluegrass Albums chart in 2016 and won Best Bluegrass Album at the 59th Annual GRAMMY Awards in 2017. In addition to Mark, the band features Maggie O'Connor (fiddle/vocals), Forrest O'Connor (mandolin/guitar/vocals), and Rochester native Kate Lee (fiddle/vocals), as well as Joe Smart (guitar) and Geoff Saunders (bass/banjo).

Tickets can be purchased through the Eastman Theatre Box Office. To receive a 20% discount on the price of a single ticket, use the promotional code fiddle when checking out.
Share this Event on Facebook.