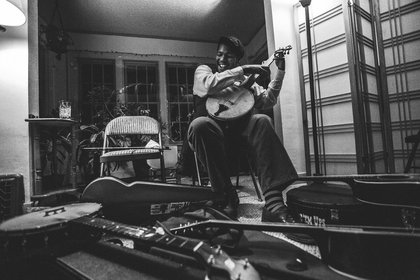 Jan. 23, 2015
2 p.m. - 4 p.m.
We are pleased to welcome old time multi-instrumentalist JERRON "BLIND BOY PAXTON" to Uptown Music for a "MEET & GREET" in support of his evening performance at Sticky Lips BBQ Juke Joint. Join us at 2PM at Bernunzio Uptown Music, 122 East Avenue, for this special event. 
"Paxton seems to effortlessly embody the spirit of early music, including ragtime, '20s jazz and Dust Bowl-era blues, delivering them through a dizzying display of virtuosity on guitar, piano, banjo and lately, fiddle. And his delivery in dress, manner, speech, and humor of the period is so spot-on that it seems impossible that it is all contained within one so young"-Bill Steber, Living Blues Magazine
Blind Boy Paxton performs at Sticky Lips BBQ Juke Joint on Friday, January 23rd. Old-time stringband The Downhill Strugglers open up the show at 9PM.
Tickets are $15 in advance, $20 at the door. and are available at the following locations:
Sticky Lips BBQ Juke Joint, 830 Jefferson Rd., Henrietta 14623
Bernunzio Uptown Music, 122 East Ave., Rochester 14604
The Bop Shop, 1460 Monroe Ave., Rochester 14618
Share this Event on Facebook.