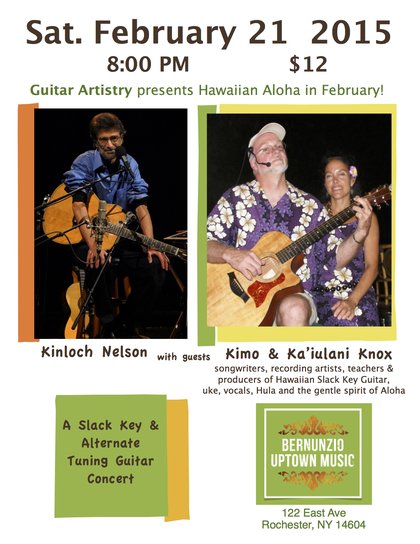 Feb. 21, 2015
8 p.m. - 10 p.m.
Kinloch Nelson's Guitar Artistry Concerts presents: Hawaiian Aloha in February!
A Slack Key and Alternate Tuning Guitar Concert with guest artists Kimo and Ka'iulani Knox

(The previously scheduled Guitar Artistry concert with Kinloch Nelson and Matt Cochran has been rescheduled for later this spring due to a conflict.)

"Kimo & Ka'iulani are performers, songwriters, recording artists, teachers & producers of authentic traditional Hawaiian Slack Key Guitar, Ukulele, Vocals, Hula and the gentle spirit of Aloha."


8 PM Sat Feb 21 at Bernunzios 122 East Ave $12
TICKETS ARE $15 and are available via phone at (585) 473-6140 or in person at Bernunzio's, 122 East Avenue, ROCHESTER.
KIMO KNOX & KA'IULANI VISIKO...Slack Key Guitar/Alternate Tunings, Ukulele & Vocals

Kimo & his wife Ka'iulani are performers, songwriters, recording artists, teachers & producers of Hawaiian Slack Key Guitar/Alternate Tunings, Ukulele, Vocals, Hula and much more. They perform and teach in New York State, Canada, Hawaii and beyond.

"Kimo teaches Slack Key Guitar and Ukulele privately in their Gallery Kaua'i Studio. Originally trained as a classical musician, Kimo studied flute at the Eastman School of Music. He then took up bass guitar and played with Jazz musicians Joe Locke, Dick Delaney and Tom George in Rochester, New York. He started playing classical guitar in high school, and took up lute in college, playing with the Terpsichore Consort at the University of Rochester. Kimo feels that there are many interesting parallels between lute and Slack Key guitar, with the use of alternative tunings, deep bass notes and tablature that was popular in medieval and renaissance lute music. It was with this background that Kimo took up the Slack Key guitar style in 2001. He has studied In Hawaii      with Keola Beamer, John Keawe and Kevin Brown Kimo.  He also plays ukulele (concert/baritone), Ipu Heke, To'ere, and various other percussion instruments, and is currently learning the Hawaiian steel guitar.

Ka'iulani is a lyricist, vocalist, actor and professional Hawaiian dancer with many years of experience on off Broadway and in Hawaiian cultural productions.   She teaches vocals in Hawaiian & English and authentic Hula in their Gallery Kaua'i Studio.

Gallery Kaua'i Hawaiian Performing Arts & Recording Studios located in Pittsford, NY & Kaua'i, HI "
Kinloch Nelson has been playing guitar for fun since 1956, seriously since 1968 and professionally since 1973. Born in 1950, Nelson grew up during the tail end of the jazz era, the high point of the broadway-to-the-movies musicals, the blooming of TV with its youth-focused American Bandstand and emphasis on cowboys and Indians, the heyday of AM radio and the beginning of "underground" FM radio.  The ever expanding music landscape in these years served as the backdrop to Nelson's guitar explorations, and the foundation of a 45 year performance career playing folk, classical, R and B, rock, country, ragtime, and jazz music in bands, ensembles, and as a solo performer.

Recently Nelson has been an in-demand player at the Healdsburg, Montreal, Newport, Miami and Woodstock Guitars Festivals.  He can be heard as guitar demonstrator on the websites of noted guitar builders Ken Parker (Parker "Fly" Guitars), Bruce Petros (Acoustic Guitar Magazine award winner), Julius Borges (founder of Newport Guitar Festival) , Bernie Lehmann, Bryan Galloup and David MacCubbin.  Nelson can be heard on Heartland Records, BKNjr Records, and Sampler Records.
Share this Event on Facebook.