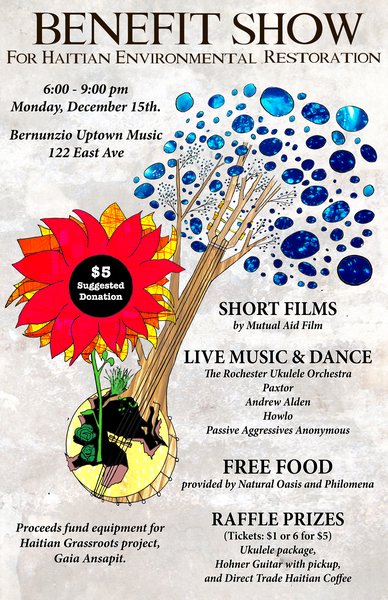 Dec. 15, 2014
6 p.m. - 9 p.m.
!!!LIVE MUSIC!!!FOOD TASTINGS!!!SHORT FILMS!!!RAFFLE PRIZES!!! 
HOPE FOR HAITI
Monday, December 15th, 6PM-9PM
$5 SUGGESTED DONATION
 Bernunzio Uptown Music and Mutual Aid Film are teaming up to raise funds for Haitian reforestation and community gardening project, Gaia Ansapit. Proceeds go to large-scale gardening equipment costs.
RAFFLE PRIZES INCLUDE:
Hohner Guitar with Fishman Pickup (worth $350)Kala Soprano Ukulele with gig bag and electronic tuner (worth $100)...and Two Chances to Win:Two 12oz. bags of Direct Trade Haitian Coffee (medium and medium-dark roasts)
Raffle Tickets are $5 each or 10 for $3. Smaller prizes will be raffled off the night of the show for $1 per ticket.
MUSICAL PERFORMANCES BY:
The Rochester Ukulele Orchestra, PAXTOR,  Howlo, Passive Aggressives Anonymous, Andrew Alden
PLUS a mini dance workshop with Rayla Meshawn
SHORT FILM SCREENING:
Featuring Mutual Aid Film
GET FED!
Food tasting by Natural Oasis and Philomena!
Share this Event on Facebook.