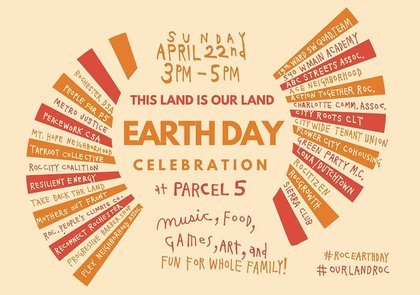 April 22, 2018
3 p.m. - 5 p.m.
Join us for an epic Earth Day celebration at Parcel 5! There will be music, games, food, and fun for the whole family.

This year's Earth Day celebration will focus on the responsible and sustainable use of the land we live on.

Seating options at Parcel 5 are limited, so feel free to bring a lawn chair, or get yourself a piece of sod to sit on. Our goal is to cover enough of the gravel with sod to make it picnic friendly, a soft place to play and fall, and to beautify the space... for everyone.
Here's how you can "sponsor some sod:"https://www.crowdrise.com/o/en/campaign/sponsor-some-sod-for-our-land-roc-earth-day-celebration-2018/rocpcc?modified=1
Our Land Roc is a coalition of community groups and local residents seeking to cultivate a more equitable, sustainable, and collaborative approach to development in the City of Rochester. We identify and advocate for land use practices that promote the long-term health and stability of our communities, rather than policies that privilege a few. We seek permanently affordable, sustainable development in our neighborhoods.

Share this Event on Facebook.