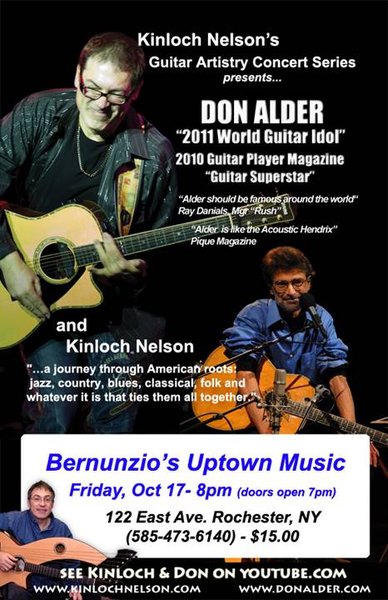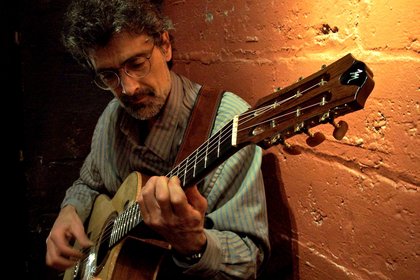 Oct. 17, 2014
8 p.m. - 10 p.m.
Kinloch Nelson's Guitar Artistry series continues with award-winning Canadian guitarist Don Alder. 
TICKETS ARE $15 and are available via phone at (585) 473-6140 or in person at Bernunzio's, 122 East Avenue, ROCHESTER.
Don Alder is the only guitarist in the world to win all 3 major fingerstyle guitar competitions: 2007 International Fingerstyle Championships, 2010 Guitar Player Magazine Guitar Superstar Competition, and the Guitar Idol (London,UK).  This year Don also made it to the top round (out of 6000 contestants of) Canada's Got Talent TV show.  He has been featured in Premier Guitar, Fingerstyle Guitar, Acoustic, Snap, Guitar Player magazines (and others!)
KINLOCH NELSON, a solo fingerstyle guitar player, creates a synthesis of folk, jazz, classical, rock, American popular music, and original compositions. His programs range from J.S. Bach to the blues and may include references to Miles Davis, Franz Schubert, John Fahey, The Ventures, The "folk scare," Flatt and Scruggs, and the occasional TV theme. Nelson has appeared in concert at The Wolftrap Center for the Performing Arts; Washington DC's Glen Echo Dance Theater; Maryland Center for the Arts in Baltimore; National Association of Music Manufacturers in Nashville & in Los Angeles; Montreal Jazz Festival; Art Park Buffalo, NY; Time/Warner Jazz Festival in Rochester, NY; Owen Sound Folk Festival; Akron Folk Festival; Golden Link's Turtle Hill Folk Festival; North American Folk Alliance; Fretted Instrument Guild of America; Newport, Healdsburg, Montreal and Woodstock Guitar Festivals; and appearances in Peru, Canada and Ireland.
Share this Event on Facebook.