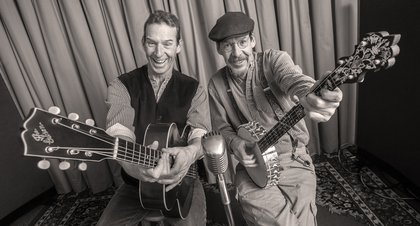 March 18, 2017
8 p.m. - 10 p.m.
Dady Brothers St. Patrick's Day Celebration
Saturday, March 18th, 8-10PM
DOORS: 7:30PM/TUNES 8:00PM
$15 DOOR / $12 ADV / $10 STUDENT
seating is limited, please call (585.473.6140) or stop in the store to purchase advanced tickets
This year the Saint Patrick's Day weekend celebration continues with a concert of traditional Irish music by Rochester's own Dady Brothers. John and Joe will perform folk songs and traditional tunes they've collected on their many trips to the Old Sod, as well as some of their original creations. As always, they'll feature a wide variety of instruments and a fair bit of Irish charm.
The quaint atmosphere of Bernunzio's Uptown Music Stage is the perfect setting for this wonderful evening of music and good craic.
Share this Event on Facebook.